10 best games with sophisticated fishing mechanics
Long gaming adventures – saving the world, killing criminals or even committing atrocities – quickly get bored. How to relax in your favorite game, being a little distracted from routine, stressful affairs? For many players, the solution was fishing – this is a mini-game that allows you not only to relax, but also to get sometimes valuable things, gold or collectibles.
We have developed a rating of games with the most interesting fishing mechanics that will drag on for many days. Often this process is even more interesting than in real life, because it takes less time and there is a much higher probability of catching a trophy individual. At the same time, all the competitors on the list are not fishing simulators – they are full-fledged games in different genres, often with an open world, in which such mechanics are additionally built.
10 – Red Dead Redemption 2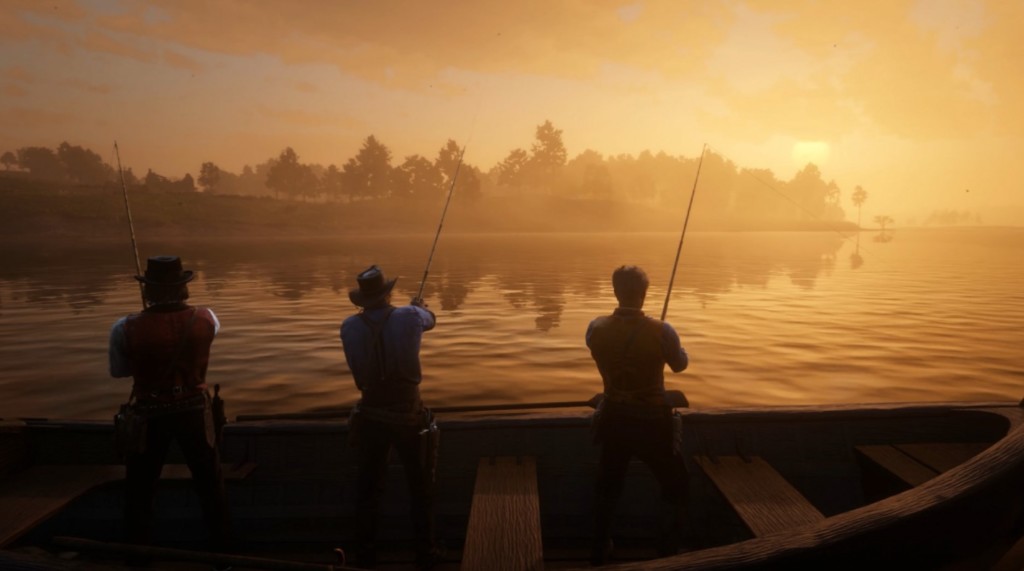 RDR 2 is very deeply worked out in many ways, including fishing. A fishing hobby is both rewarding and exciting. It is possible to use special baits, each of which works worse or better in certain conditions: depending on the time of day, terrain, type of reservoir, etc. Fishing also allows you to increase Arthur's health values.
Periodically themed events take place, where players fight for the title of the main fisherman. This is a very popular entertainment that will replace train robberies, escapes from police stations or shootouts with other gangs.
9 – The Legend Of Zelda: Ocarina Of Time
An interesting fact – a valuable catch in The Legend Of Zelda is a fisherman's hat, which can literally be ripped off from a tackle seller. It catches various fish well. Fishing mechanics may not be as elaborate as in later additions, but it remains relevant to this day.
Fishing side quests are some of the most enjoyable and exciting in the game; you can happily spend several hours on them. Perhaps Link will be the chosen one who can kill Ganondorf.
8 – Stardew Valley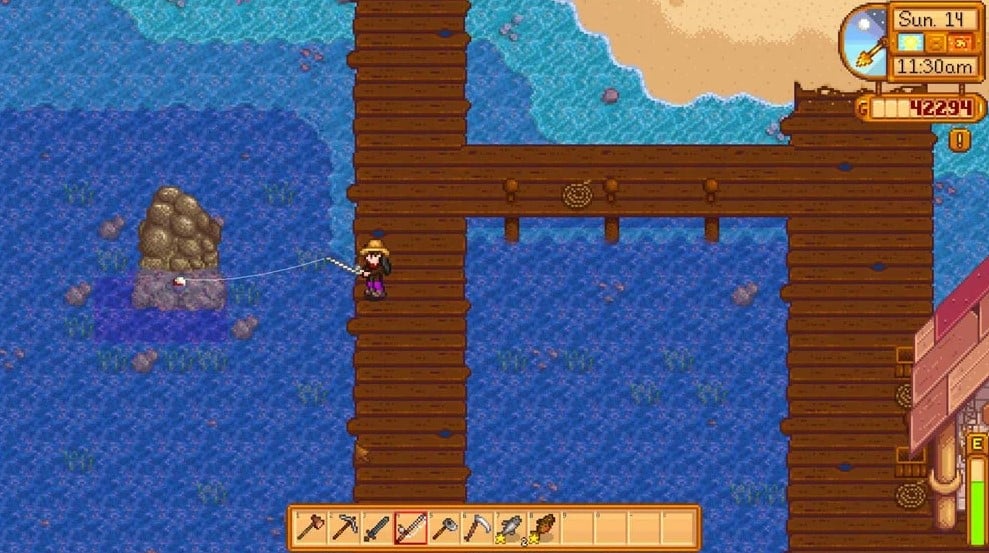 Despite the primitive graphics, the player can choose a lot of activities to their liking: farming, mining, fishing, etc. Stardew Valley has a lot of entertainment and most players willingly go fishing after completing the cycle of growing valuable vegetables.
Fishing is a must for anyone looking to collect all the trophies in the game. Capturing the entire list of legendary fish is rightfully considered one of the important achievements (by the way, we have a guide on this topic, you can read it here). There are regular seasonal events that take full advantage of fishing.
7 – Fantasy Life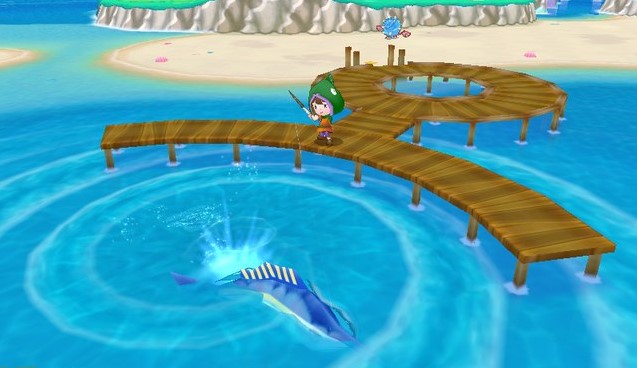 The game pays great attention to fishing, in most of the quest chains there is a need to catch fish. This is a full-fledged adventure that allows you to earn extra money and develop skills from an ordinary village fisherman to a professional. At the last stages of pumping, it will be possible to go out on a quiet hunt for the legendary fish that lives only in uncharted waters.
Fantasy Life gives you a deep sense of the progress system in any industry. The development of the hero, the improvement of his mastery skills – this is what we appreciate this game.
6 – Animal Crossing: New Horizons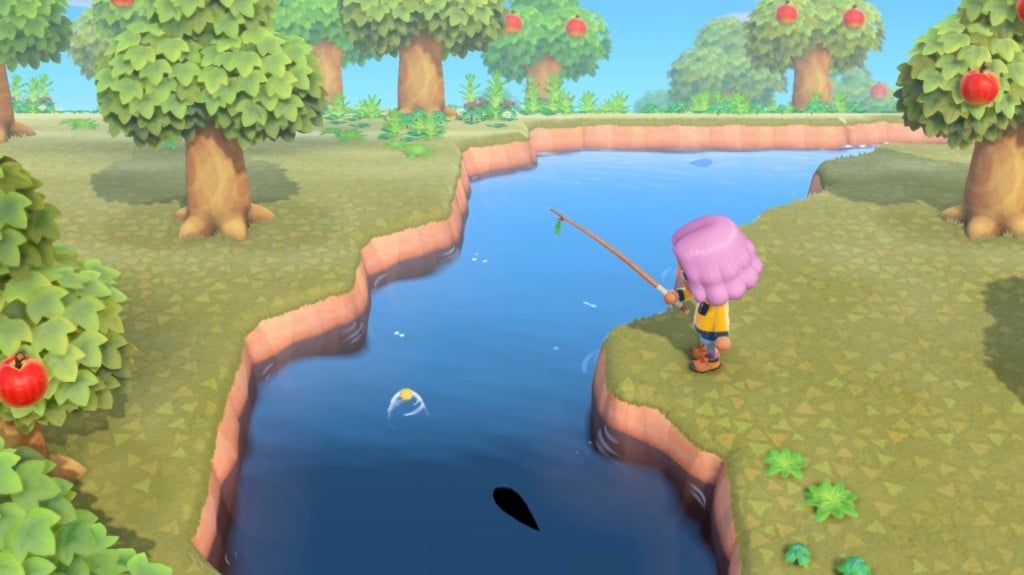 The sequel to the popular series is one of the best we've seen in this class. There are many options for character personalization and a lot of useful features and hobbies. Fishing may not be the main priority of life on the island, but it is a fun activity that cannot be ignored.
Fishing will allow you to pump your skills and get a few bells. As you fish the ocean, you will be able to find a shadow fish and earn a lot of money on this business.
5 – Pokemon Magikarp Jump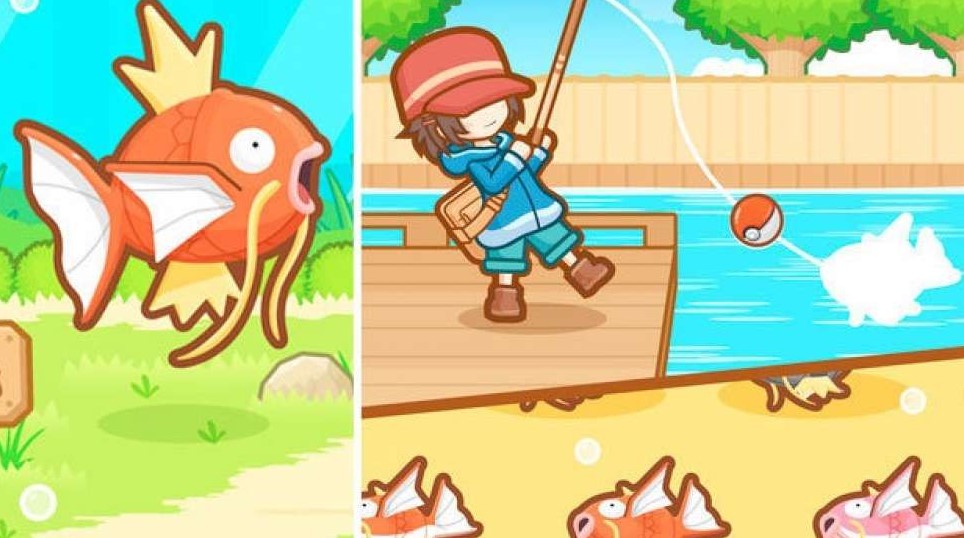 This is a truly unusual side game in the Pokemon series, but also one of the best. Players must catch the most powerful Magikarp in the world, which in the future they can use in competitions with other players.
Catching fish is an integral part of the game, because this way you will gradually be able to improve your tackle and catch more valuable fish. This is not the same Magikarp as in the original versions of the game, where he just splashes around and is a simple, common Pokémon. Here he can be a real giant.
4 – Sea Of Thieves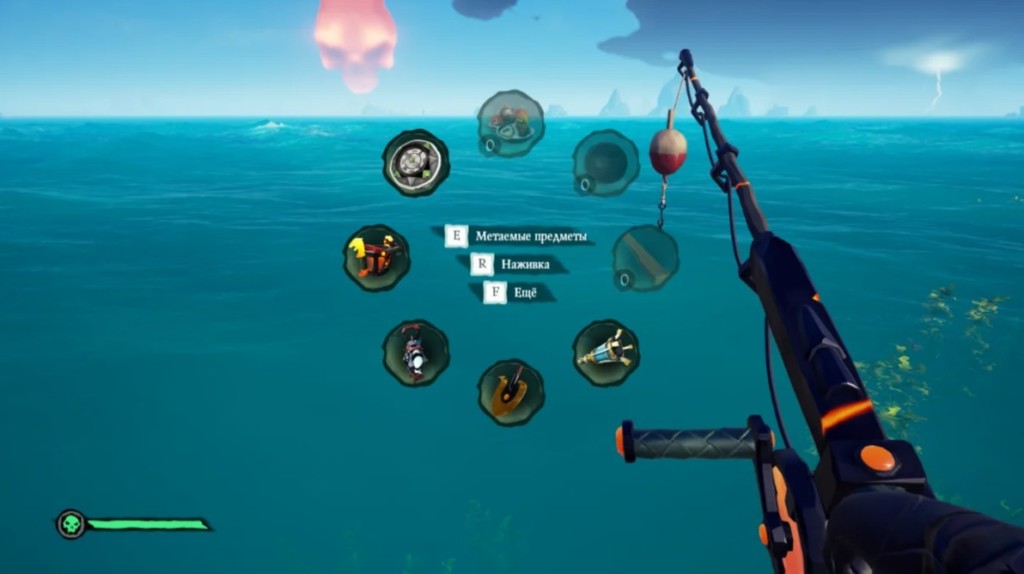 Fishing in Sea Of Thieves is a rewarding activity that will help you to relax after another robbery, destruction of enemy ships and treasure hunt. This is a great way to relax. There is a fishing master on each deck to help you learn the craft.
3 – World Of Warcraft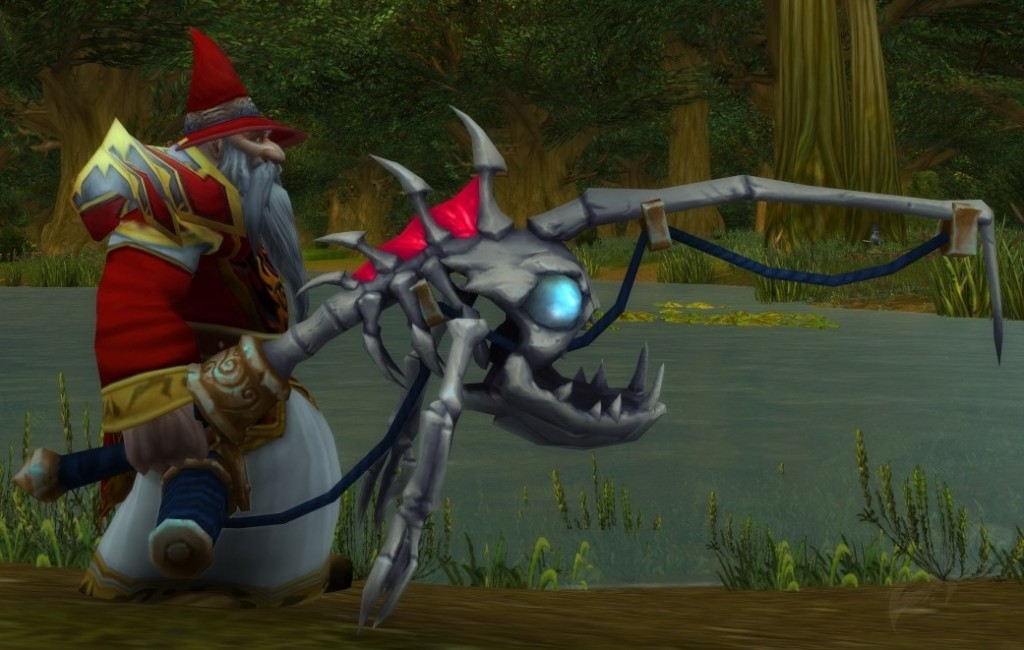 One of the most famous MMORPGs in the world has been around for 17 years and continues to be relevant, of course, thanks in large part to regular updates and content expansion. Here fishing is practically a separate full-fledged game.
The player has a decent selection of rods, lures and opportunities to develop personal fishing skills. There are also valuable elixirs that temporarily increase the player's fishing ability. To look the part, themed costumes are provided. This is one of the best hobbies in WoW.
2 – Far Cry 5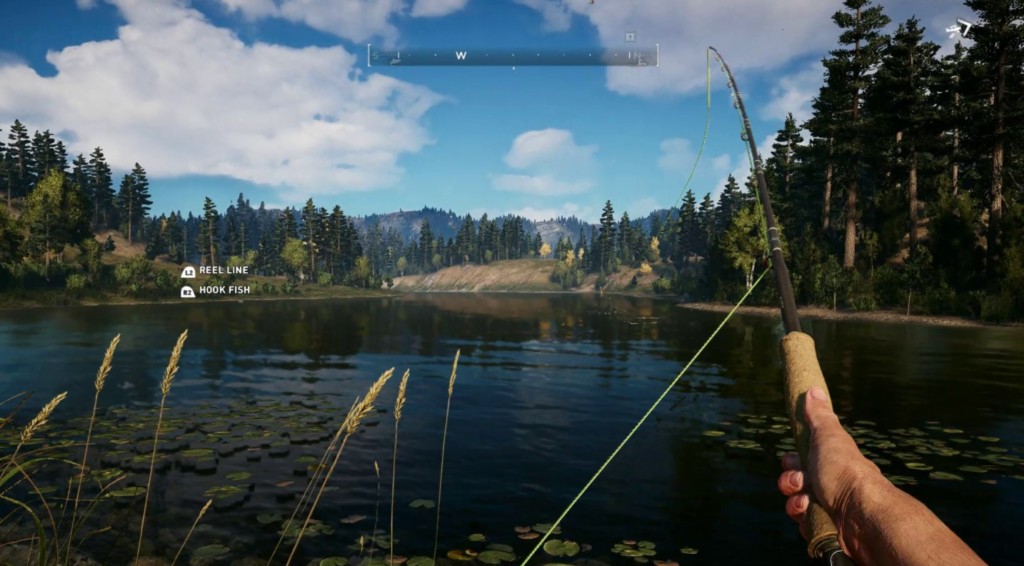 The fifth part was the first where the fishing mechanism appeared. This addition is one of the few, and it really expands the content of the game. Fishing is surprisingly well-designed, there is practically nothing to complain about, and in combination with beautiful graphics, you can get great pleasure from the process.
Collectors will enjoy tracking down and collecting all types of fish on the island. By gradually improving your rod, the catch will also become larger. If hunting, capturing camps and collecting other items in a location are bored, fishing is the perfect way to distract yourself.
1 – Terraria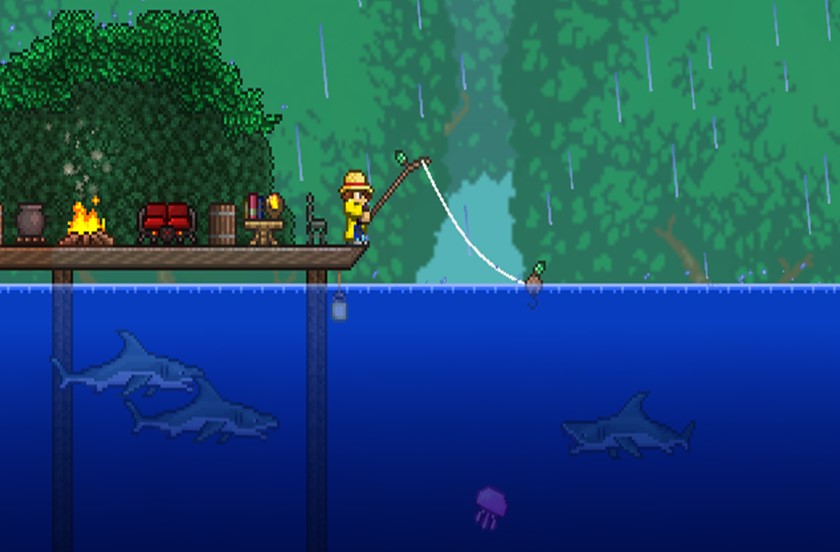 Fishing in Terraria can hardly be called a mini-game; it can practically be singled out as a separate add-on or part of the game. Great attention is paid to it, especially at the start, when it can bring good profit. With the help of fishing, we obtain valuable ingredients for creating potions and food. It is with the help of this lesson that you will have to call an important boss – the Duke of Fishron.
Fishing may not be necessary for passing, but it is much more interesting with it, and the gameplay itself becomes more varied. We would definitely recommend trying to catch several dozen fish. It's just important to always be on the alert.
Earn points and exchange them for valuable prizes – details