7 best free Photoshop alternatives for Windows and MAC of 2021
Looking for one or better free Photoshop alternatives? Don't worry, this article is for you. Photoshop is the most famous photo manipulation tool, and it has become one of the industry standards in recent years. Photoshop is now 25 years old and loved by many professional graphic designers and artists.
Even we also use photoshop to create the thumbnails for our blog. However, there are many free alternatives to Photoshop that are quite powerful and offer the same powerful tools as Photoshop.
Photoshop 2021 free alternatives
Many of these free Photoshop alternatives are paid and few of them are free. Today we're going to talk about free Photoshop alternatives that will give you access to the same powerful tools and won't leave a hole in your pocket.
1. GIMP
It stands for GNU Image Manipulation Program and is the best and most powerful free Photoshop alternative for Mac and Windows available on multiple platforms. Gimp supports all major operating systems including Windows, Mac OS, Linux, Unix, BSD, etc. It supports most of the file formats including RAW, BMP, JPEG, GIF, TIFF, PNG, PSD, etc.
Characteristics:-
Customizable interface
Photo enhancement
Digital retouching
Material support
File formats
More features.
Supported platforms: –
GNU / Linux
Microsoft Windows (XP SP3, Vista, 7, 8)
Mac OS X (10.6 and newer)
Sun OpenSolaris
FreeBSD
Read also: – Top 10 Best 10 Windows 10 Themes / Themes
2. Paint.Net
This is mostly for Windows users. If you need a lightweight, free Photoshop alternative that will let you crop, manipulate dimensions, and come with a large number of filters and color correction options that support layers, then Paint.Net is for you. what's best for you. It's pretty easy to figure out because it's just an advanced version of the default paint that comes preinstalled in Windows.
Paint.Net only supports Windows operating system at this time. It can handle most of the basic photo manipulation requirements of a primary user. It supports RAW, BMP, JPEG, PNG, GIF, TIFF, etc.
Characteristics:-
Simple, intuitive and innovative user interface
Active online community
Automatic update
Many special effects are included
More powerful tools
Unlimited history
Read also: – Best Alternatives for GarageBand for Windows
3. Krita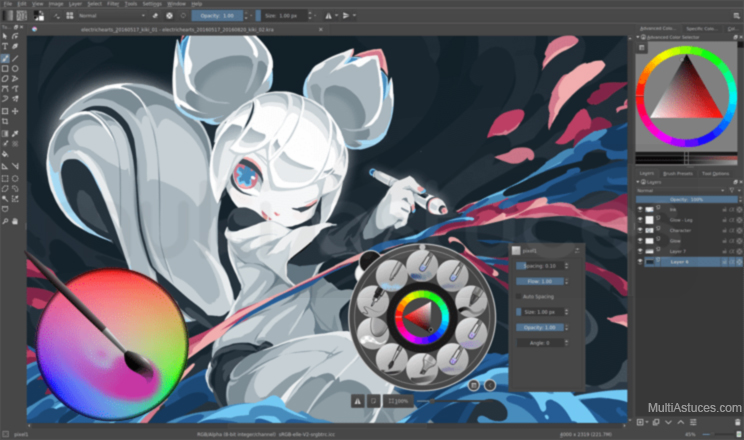 Krita is an open source project and one of the best image editing tools available for free on multiple platforms. Besides the advanced Photoshop tools, it also offers animation and also serves as an artist sketchbook.
Krita supports Windows, Linux, Unix, BSD, and Mac OS. It can handle BMP, JPEG, GIF, TIFF, PNG file types.
Read also: – Best Hamachi Alternatives
4. Pixlr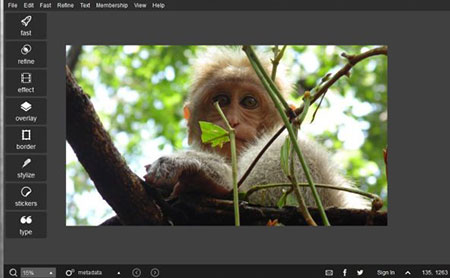 If you don't want to download and install a dedicated program, but still want to edit images on the go, Pixlr is the right choice for you. Pixlr is a web-based program, which is great for the on-the-go photo editing tool. It offers support for layers, as well as support for sizing, resizing images, adding custom shapes and texts.
Pixlr is a free web-based Photoshop alternative that works on any platform you can think of as long as you have a web browser. It can handle editing with BMP, JPEG, GIF, TIFF, PNG file formats.
Read also: – Best alternatives for Skype
5. Gravit designer
Gravit designer is a photo manipulation tool that provides additional support for vector design. It is a free and cross-platform solution, ideal for web designers, graphic designers, product designers, etc. It's a free alternative to Photoshop that also allows you to manage illustrations and vectors!
Available for Mac OS, Windows and Linux, it supports BMP, JPEG, GIF, TIFF, PNG file formats.
6. Seashore
If you are a Mac user and need something lightweight to meet primary photo editing and manipulation needs, Seaside is the best free alternative to Photoshop.
It supports layering, editing, cropping, resizing, adding texts and objects, applying effects and color corrections. It is available only for Mac OS users and supports RAW, BMP, JPEG, PNG, GIF, TIFF, etc. If you have a Windows operating system, you can use Paint.Net for the same system.
Download Seashore
7. Canva
Canva is a newly introduced web-based photo editing and processing tool. It will help you create attractive and attractive photo edits for your Facebook and Instagram stories. It offers essential as well as advanced and its best tools for creating collages and grid images.
Its web-based program should therefore run on any operating system as long as you have a web browser installed. It can handle files in PNG, JPEG, TIFF, JPG, GIF format. This is the best option you have if you are a Chrome Book user.
Final words
So, here you can find the best free Photoshop alternative, leave us your opinion if you use any of them in the comments below. If you think we've missed any freeware in this list, feel free to comment below, and we'll add the same. Thanks for reading this far. Consider sharing this article with your friends on social media.