7 ways to fix the status_invalid_image_hash error in Chrome and Microsoft Edge
The error message status_invaid_image_hash can appear when browsing the web in Microsoft Edge and Google Chrome. The problem usually occurs when uploading high resolution images. Most pictures are stored in hash format, and when they are launched by the browser, they are not hashed. Sometimes such a photo does not load due to conflicts with certain applications. Below we will consider all possible situations and methods of correction.
Solution 1: update your Google Chrome or Microsoft Edge browser
Microsoft updates the Edge browser frequently on both Windows and Mac. The same is true for Google Chrome. The status_invalid_image_hash error may be due to an outdated build of browsers on your computer. Therefore, you need to go to Settings> About and update your browser to the latest version available.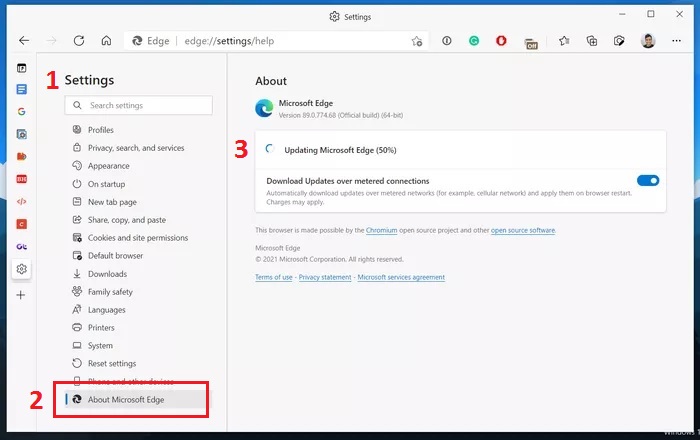 Solution 2: Run your browser in compatibility mode
Another universal way for many programs is to run in compatibility mode.
Right click on the Microsoft Edge shortcut and select Properties.
Click on the Compatibility tab.
Check the box: Run this program in compatibility mode, and select Windows 8.
Then click "Change settings for all users" and apply the changes.
Restart your browser.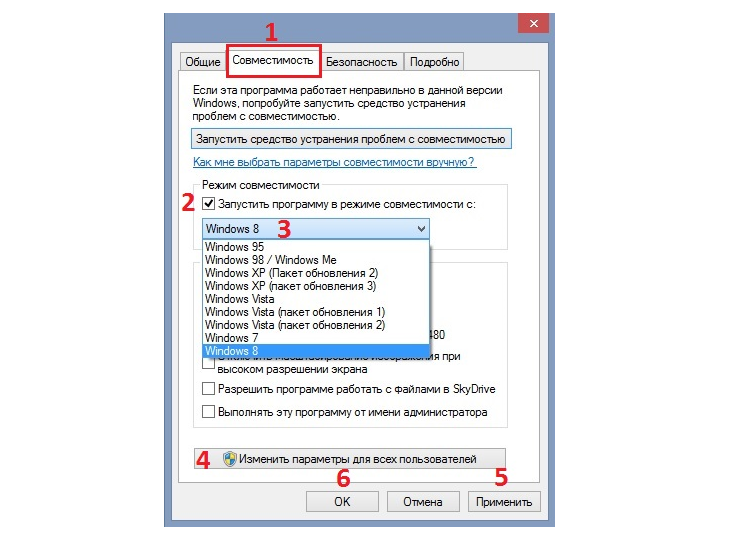 Solution 3. Use the Sandbox command
In some cases, disabling Sandbox mode can help. However, keep in mind that this is just a workaround that could potentially leave the browser vulnerable.
Right-click on the browser shortcut and select "Properties".
Click on the "Shortcut" tab.
In the Object field, add "–no-sandbox" without quotes.
Remember to leave a space between the .exe and the first dash of the command.
Save your changes, close the window and launch your browser.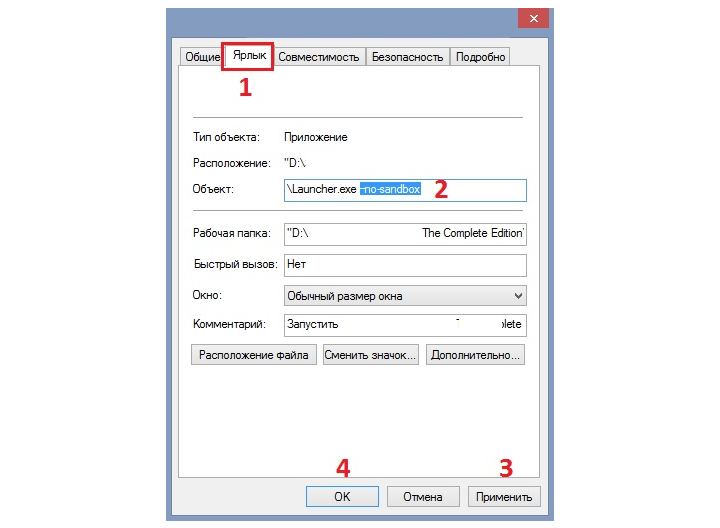 If Microsoft Edge no longer displays an error when using the –no-sandbox command, this indicates a conflict with another program. Which brings us to the next solution.
Solution 4. Disable third-party browser extensions
Microsoft Edge and Google Chrome are built on the Chromium engine. As a result, they work great with all Chrome apps. However, some of them may not be supported by developers and may have outdated versions, which is why they are incompatible with new versions of Edge.
If you have dozens of extensions installed, it can be difficult to determine which one is causing the error. Therefore, the simplest solution is to disable everything, and enable one at a time until the status_invalid_image_hash message reappears. In this way, the problematic application can be identified.
Click on the three-dot menu on the main Edge screen.
Go to the Extensions menu and disable all browser add-ons.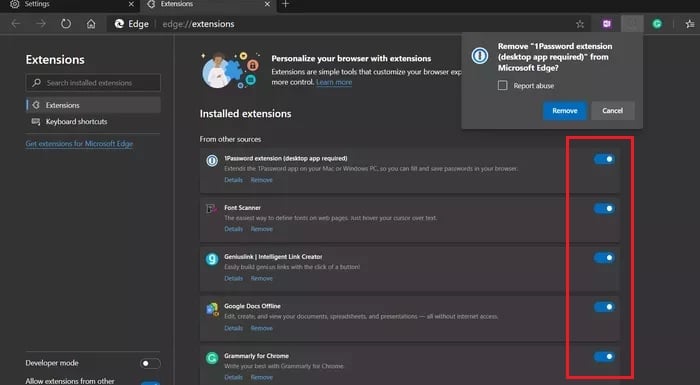 Solution 5: disable strict tracking
Many sites use trackers to collect visitor information, which is then used to improve the usability of pages, display personalized ads and content. Some of them collect and send information to third-party resources that the user has not visited.
This tracking is disabled by default in Microsoft Edge, which can cause an error to appear. In the browser options, this setting is set to Balanced mode, but if it was switched to Strict prevention, this may prevent the correct display of some sites you visit.
Open Microsoft Edge Settings.
Go to Privacy, Search & Services> Tracking Prevention.
Switch the setting to balanced mode.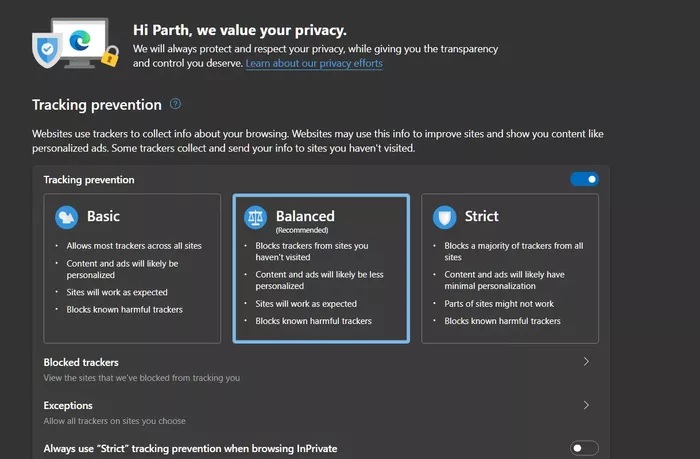 Solution 6: Load the page in incognito mode
If the status_invalid_image_hash error appears only on a specific resource, you can try to access it in incognito mode.
Click the three-dot menu in the upper right corner and select Incognito Mode.
Microsoft Edge will open a new tab and continue working in this mode.
In the address bar, paste the address of the problem site and press Enter.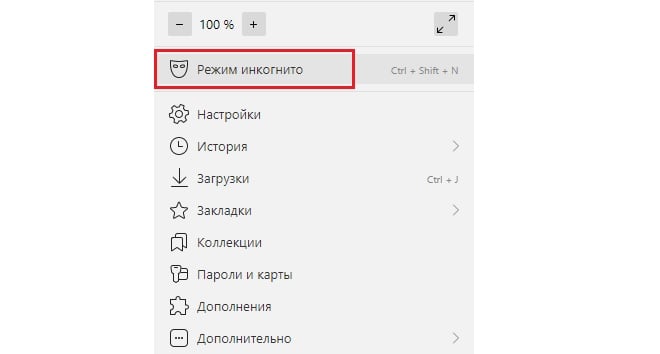 Solution 7. Clear your cache and cookies
Clearing the cache is also one of the versatile solutions for many situations, so it's worth trying this one as well. Follow these steps for this operation and delete cookies in your browser.
Open Microsoft Edge and click on the three-dot menu.
Go to Settings> Privacy, Search & Services.
Select: Clear browsing data, and press Clear.
Then select Cookies and Cache.
Click on the files you want to delete and click Clear Data.
Then restart your browser.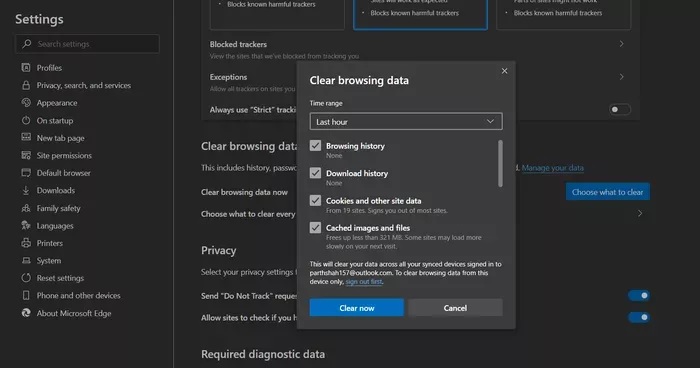 The status_invalid_image_hash error can appear in all Chromium-based browsers (Edge, Chrome, Opera, Yandex Browser, etc.). This means that the solutions listed also apply to all web browsers in this group. You should definitely try them and, if it doesn't help, leave your comments. We will help each other make the instructions as useful as possible.
Earn points and exchange them for valuable prizes – details