Assassins Creed Valhalla: King Shizby quest walkthrough
Assassin's Creed Valhalla has world events that seem completely insane, but at the same time, they are strangely suited to their historical background. In this guide, we'll show you where and how you can become King of Shizby.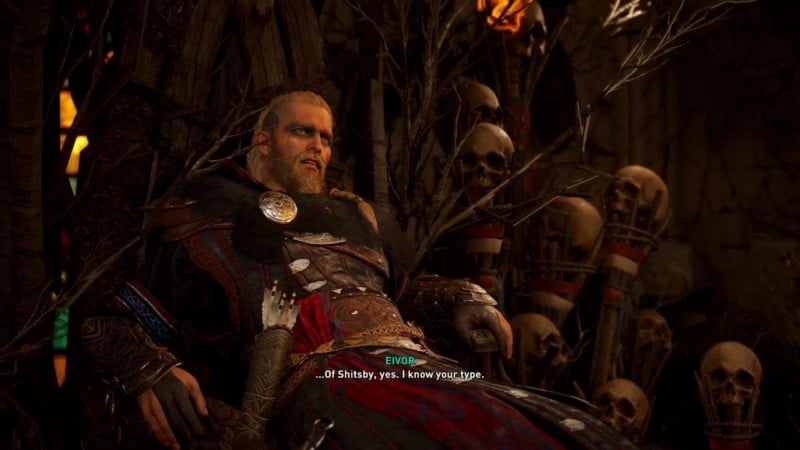 Where is the King of Shizby World Event?
You can find this event in Lincolnshire. This is an abandoned old church located north of Medeshamstede Abbey. The top of the cult building is also a fast travel point. Our advice is to sync first before logging in, in case you die.
To get inside, break one of the stained glass windows, or climb through the top. The interior of the church will greet you with a rather creepy atmosphere. The roof is almost completely destroyed. Black banners with animal skulls hang everywhere. It also seems that many bats have chosen to fly in circles over the hole as their mission in life, adding to the gloomy impression. Once inside the building, head straight to the throne at the end. It is brown and sticky. You will soon discover that this is not only because it is made of branches. There is a letter on the left side of the throne – read it to learn more about this mysterious place.
As soon as Eyvor sits down on the throne, a loud voice will scold him for insolence. You can choose one of the answer options, but regardless of your decision, everything ends in a deadly fight. The voice calls upon the warriors to come and kill the defiler of his throne. Opponents attack from a room on the left side of the church. These are pretty strong warriors. Their armor blocks most physical attacks, and in addition, they have poison darts, bombs and smoke, which makes the task more difficult. If you try to defeat them all in the cramped premises of the church, you will probably die pretty quickly. Instead, dodge attacks and run outside, where you have much more room to maneuver and counterattack.
The best way to defeat these enemies is to hit them in highlighted weak spots with an arrow, after which all that remains is to make a finishing move with a stun attack.
After a short but tense skirmish with a group of opponents, you have the opportunity to get hold of some treasures. Go to the church entrance and climb the stairs – at the top you will find a couple of valuable items, and there is a chest behind a door blocked by a heavy object. Another interesting find inside the church is a creepy ritual doll made from human hair.
Earn points and exchange them for valuable prizes – details