Best Android widgets to improve the home screen in 2021
Widgets make our life easier; this is the part where iPhone users lag behind Android. Widgets can be thought of as a tiny application that displays adequate information such as messages, ifs or call logs. Zooper and minimal are one of the few best widgets for Android. We have come across many custom widget apps on Play Store and have compiled a list of one of the best widgets for Android that you can install today. So here is the list of the best Android widgets currently available.
Best Android widgets of 2021
1. Weather
If you are looking for a nice weather widget, then this one might do the trick. It brings to life the vibe of old HTC weather widgets with a flip-flop style clock widget. Clicking on the clock will take you to the alarm app and the weather will take you to the 1weather app where you can see all the details about the current and upcoming weather.
2. Battery Widget Reborn
This is one of the best widgets for Android, available in the Play Store to track your battery status. It provides a simple, native battery gauge counter. You can quickly change the color and size of a widget in the app settings. Besides, it shows the details of battery usage when you open the app.
3. Beautiful Widgets
Beautiful Widgets has been in the play store for a long time and people love it. it has a large number of clock, weather, battery gauge widgets and a few configurable quick settings. You can also change the colors and size, which will make them more attractive according to your current theme. the pro feature adds some extra features and adds more themes to choose from.
4. Calendar Widget
The calendar widget is a mini-asset of several useful Android widgets. They all show pretty much the same thing. It will give you a detailed view of the month with your agendas and reminders. It also syncs your Google Calendar data, integrates with the Lunar Calendar, and lets you create new to-do lists and calendars on the go. Also comes with 80 beautifully designed themes that should meet everyone's needs, but if not, you can purchase additional themes with in-app purchases.
5. Dashclock Widget
It is the most popular and one of the best Android widgets that you can install right now. Its simplicity and ability to integrate with the theme of your system is flawless. The concept of this Android widget is simple: display useful information. It sows valuable information about the current weather, the number of unread mail, the next alarm or to-do list, etc. It also supports multiple extensions in case you want additional widgets with extended functionality. Simple, yet powerful, the best part is, it's completely free!
6. Google App
Google app comes with simple and functional map style widgets. One of them is the simple Google search widget which is not upgraded with the built-in "hello google" command line. The other map-like widgets show detailed weather information, information about nearby places, your plane tickets, your important memo details, and more. It's efficient and free, thanks to Google.
7. Google Keep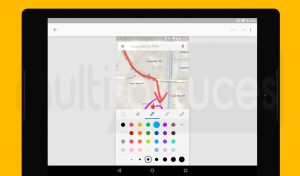 8.IFTTT: Android widgets
It's relatively new for its other competitions in the list of best Android widgets but it works wonderfully! You can create automated tasks on your phone and IFTTT will do the work for you. You can use it to manipulate the colored lights in your phone, automatically text someone at 9 a.m., remind yourself to buy a cheesecake when you reach the bakery, and more.
Conclusion: Android widgets
So which of these widgets do you use on a daily basis? Or do you think we missed some widgets on this list? Comment down below and let us know. Don't forget to share this article with your friends.