Best Cryptocurrency Apps for Android
Cryptocurrency has taken the world by storm. There is no longer a person left who would not have heard of her. Every day more and more people are mining Bitcoins, Dog Coins, Ethereum and other types of currencies. Recently, they can even pay in the real world, some stores are already beginning to accept cryptocurrency as payment for their services. To carry out transactions, you need to find the best cryptocurrency app for Android. This is what we will do.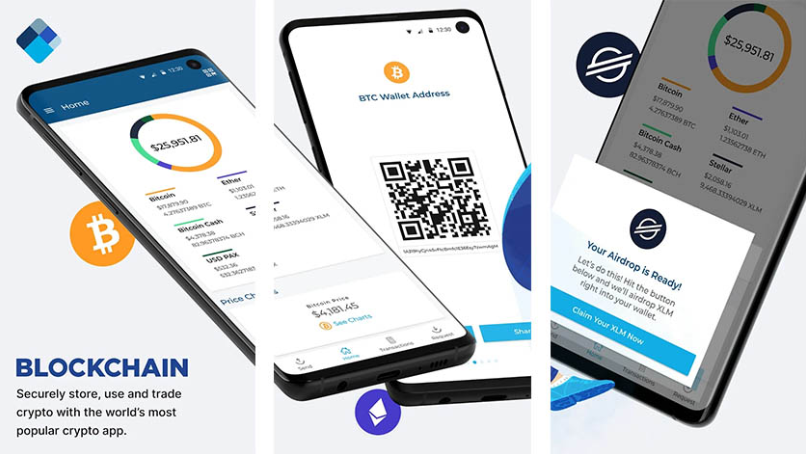 Blockchain Wallet is the most popular and convenient application for using your own cryptocurrency wallet on your smartphone. It can work with bitcoins and includes a lot of auxiliary functions, including conversion to 20+ other currencies. Also allows you to forward. receive bitcoins, supports two-factor authentication, PIN protection, works in 18 languages, blocks TOR and supports QR code. At the same time, the application is supplied with open source and works for free. There is not even much to find fault with.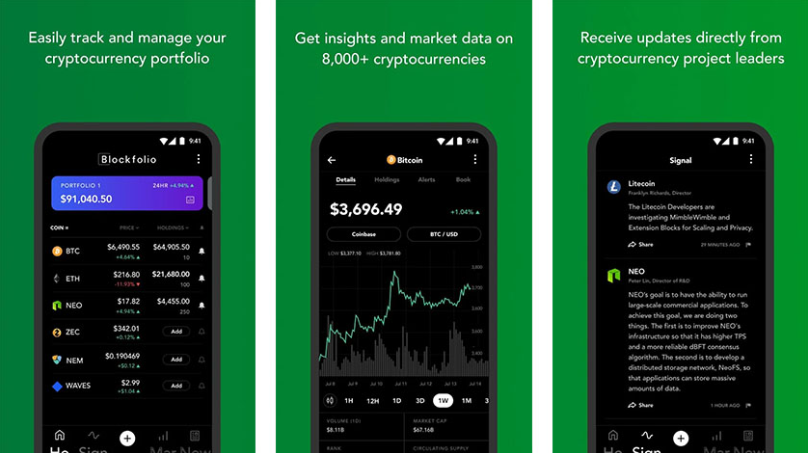 It is an electronic finance management application targeted at cryptocurrency users. It allows you to quickly see your own investments, and also allows you to set reminders in case the rate falls or rises sharply. The app monitors over 800 cryptocurrencies in real time and offers detailed information on all of them. Inside there is a built-in news section that allows you to timely learn about new trends in the industry. Works for free.
The application allows you to find out the current price for any cryptocurrency. It can monitor 3000 different currencies on 100 exchanges around the world. It is possible to synchronize exchanges at will, as well as link wallets to create a single application with access to finance. Among other features: notifications about price changes, news, a widget on the home screen, updates are released every week. It features a simple, uncluttered interface.
Cobo is a multi-cryptocurrency wallet that works with several dozen currencies. Among them: Bitcoin, Ethereum, Decred, Ripple, Litecoin, ZCash, DogeCoin and others. The application is distributed in more than 80 countries and includes the latest cryptocurrency technologies, such as a pool of masters, Proof of Stake. Almost all users are satisfied, although there are some complaints about errors.
Another wallet that allows you to check your personal balance, transfer cryptocurrency, accept payments, and the like. The application has received a decent, quite intuitive design. There is a shopping opportunity here, like gift cards for sellers (over 120), and it is also easy to find banks and shops. Users highly recommend the app, so it's worth giving it a try.
This is a kind of joker in this list, as it can constantly display the application even on the lock screen, offering a lot of information about the cryptocurrency. This may include: clock, date, notifications, playback control tools and other familiar elements for the lock screen. From cryptocurrency data there will be: news, cryptocurrency prices, statistics, etc. The application can be recommended only to owners of devices with AMOLED screens, otherwise you will have to charge the phone 3 times a day. On the other hand, this is the best way to track cryptocurrency prices.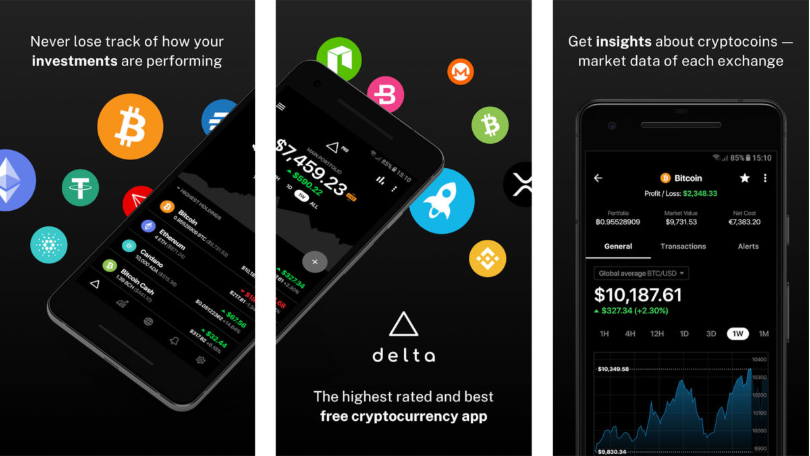 Delta is one of the newest applications on the list, featuring a large library of currencies (over 3000 items). It offers their full overview with market information and significant price change alerts. It syncs with Coinbase, Bittrex, KuCoin, GDAX, and a range of other wallet apps. It has the most features among competitors, but you have to pay for the application.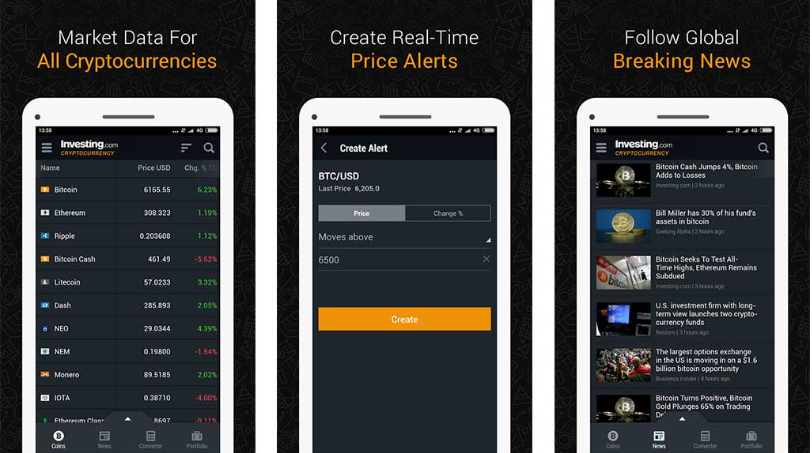 Investing.com always has financial news and has also made a crypto news app. It displays the price rate for 1,300 altcoins and other currencies, and also allows you to see statistics: trading volume, market dominance, profit, loss, etc. There is also a currency converter, news, dark mode, lots of charts and other useful functions.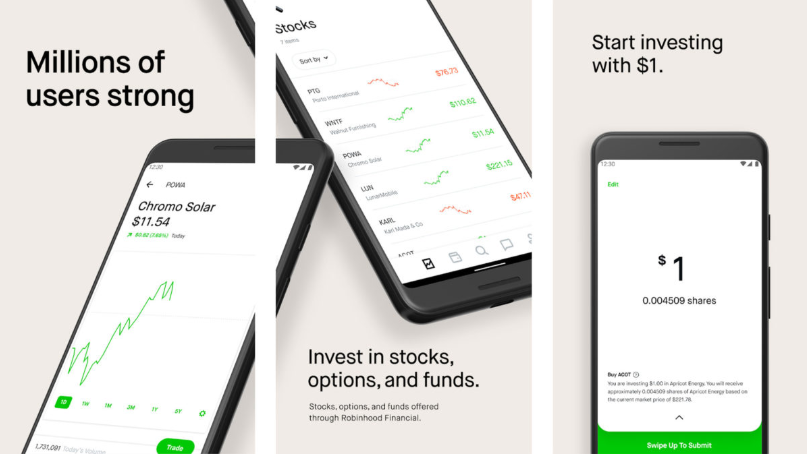 This is an investment application for stock market participants. It allows you to buy and sell stocks manually without commission or similar damage. He has ups and downs. For example, the market price of cryptocurrencies is not always relevant for those who do not pay $ 5 to use it. And yet there is an opportunity to buy, sell, trade, and just follow Bitcoin. And also: Dogecoin, Ethereum and other currencies. It is a good all-in-one solution for those who work with the stock market and cryptocurrency.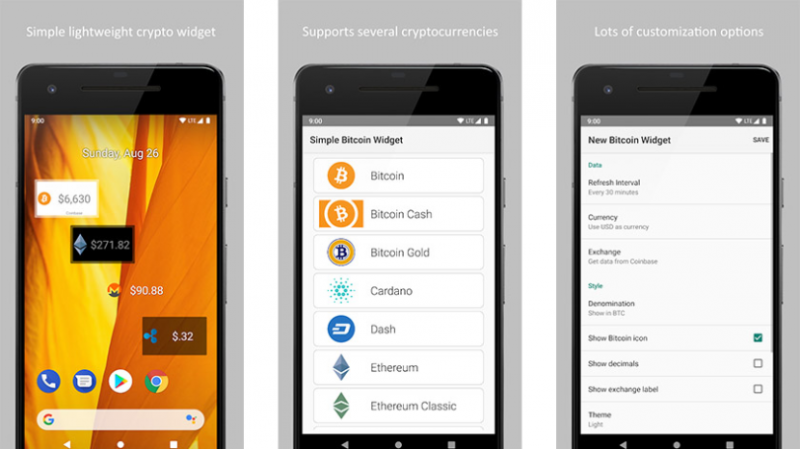 The name speaks for itself – a simple cryptocurrency wallet. It is doing well with support for Bitcoin, Litecoin, Bitcoin Cash, Ethereum and other currencies. It's not even an app, but rather a widget that accurately shows your personal balance on your home screen. We can customize it for regular updates and other such things. This is a good way to keep track of your personal funds, especially – completely free and without ads.
For anyone who works or is in some way connected with cryptocurrency, it is important to have the best Android application for tracking the rate, managing finances, statistics and much more. The applications listed above just allow you to monitor and manage cryptocurrency directly from your smartphone.
Earn points and exchange them for valuable prizes – details