Best fake email generators of 2021
Best Fake Email Generators: In this digital age, every website collects your personal data in order to provide you with better services. Some of them might be trustworthy and some might not. But have you ever thought about the risk you run by sharing your personal data online? Yes! you heard right.
There are several websites online that sell your personal data to businesses to generate income. So what can you do to protect your identity when using each website? Nothing special, just start using the best fake email generator to sign up on these sites. Here is the list of the best fake email generators:
Best fake email generators
1. Temp Mail
Temporary mail is one of the best fake email generators that you can use to generate unlimited emails. Temporary mail is so simple, clean and easy to use. All you need to do is simply visit the Tempmail dashboard and it will send you a free throwaway email every time you refresh the page.
The best part is, you don't even have to sign up to be able to get started with them. So if you are looking for a fake email generator for your social media accounts, this platform will work best for you.
2. Dispostable
Dispostable is another best email generator that allows you to generate fake emails according to your needs. The best thing that makes it different from all platforms of the same genre is that it allows you to manually generate disposable email.
Once you have created an email using this platform, you can use it for as long as you want. The interface is simple and clean, which makes it easy to use for all users. It's so easy that even a newbie can use it to generate bogus email addresses.
Also Read: – Best Free Email Services
3. Mailinator
Mailinator.com is a great fake email generator which also allows you to generate unlimited emails and IP locations. You can use this website to access any website and view its services without fear of spam emails.
All emails received in Mailinator inbox can be transferred to Trash folder and you can view them monthly, weekly or daily. On top of that, Mailinator keeps track of every email received in the inbox and automatically deletes emails that appear to be spam.
Characteristics:
Millions of mailboxes
No registration required
Use any inbox!
All public emails
Limits of personal use
Also Read: – Best Websites to Send Free Anonymous Text Messages
4. Mint Email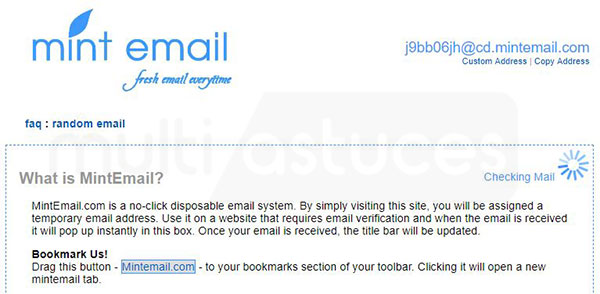 Mint Email is another good choice with the loss of additional features compared to other sites. You can use their service to generate disposable email accounts without wasting your time. Once you have the disposable email address, you can visit any website without worrying about receiving spam emails.
Like your standard email provider, Mint Mail notifies you whenever a new email arrives and you can check the mails on the website home page.
5. YopMail

Yopmail is another best email generator which allows you to generate fake emails quickly and at least get configured. You can use this platform to create fake email IDs with just a few clicks. All you need to do is visit the Yopmail dashboard, check your emails, then your email id is ready to use. You can copy the email ID and use it anywhere you want.
The best thing about the platform is that it provides a unique ID for each user. In simpler terms, Yopmail is a great tool for generating fake emails online without hassle.
Characteristics:
No registration!
Automatically generated inbox!
No password!
Messages are kept for 8 days!
Conclusion
That's all! Above are the best fake email generators that you can use to prevent yourself from attempting hackers. We hope this article helped you find what you were looking for. If you found the above list useful, don't forget to share it with your friends, family, and others who are looking for the same. Also, if you know of any other dummy email generator that deserves our list, let us know in the comment section below.