black screen, connection problems, crashes, low FPS
FIFA 21, the next installment in the legendary (at least for football fans) franchise, has made its way to personal computers and consoles. Unfortunately, the release of the new "fifa" turned out to be not the most successful – the game is quite lame in technical terms.
What do we mean? Well, at the moment players have to deal with numerous crashes, problems connecting to the game servers, errors in reinstalling and connecting to the FIFA Ultimate Team servers, low frame rates and more. FIFA 21 does have a bunch of bugs, but don't worry: today we're taking a look at potential solutions to some of the most common game issues.
By tradition, we will start by reviewing the system requirements for the game. True, we are dealing with a football simulator, but it is already 2020 in the yard – you need to have an appropriate computer.
FIFA 21 system requirements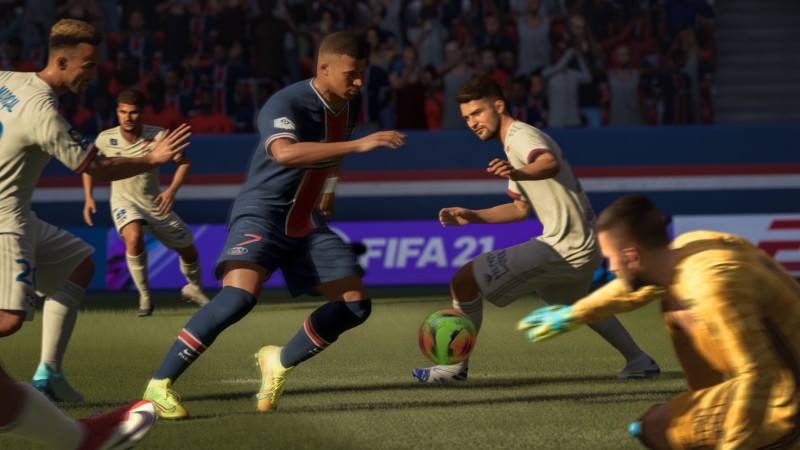 Minimum system requirements
Requires a 64-bit processor and operating system
OS: Windows 10 – 64-Bit
Processor: Intel Core i3-6100 @ 3.7GHz or AMD Athlon X4 880K @ 4GHz
Memory: 8 GB RAM
Graphics: NVIDIA GTX 660 2GB or AMD Radeon HD 7850 2GB
Storage: 50 GB available space
Recommended system requirements
Requires a 64-bit processor and operating system
OS: Windows 10 – 64-Bit
Processor: Intel i5-3550 @ 3.40GHz or AMD FX 8150 @ 3.6GHz
Memory: 8 GB RAM
Graphics: NVIDIA GeForce GTX 670 or AMD Radeon R9 270X
Network: Broadband Internet connection
Storage: 50 GB available space
In general, FIFA 21 is an undemanding toy, and therefore most players will be able to play it, even those with extremely budget assemblies.
FIFA 21 crashes on startup
First of all, you must add FIFA 21 to the exclusion list of your firewall and antivirus, then start the game and see if it crashes again. If the problem persists, try switching it to windowed mode. To switch the game to windowed mode, you can do the following:
Parameter in the label. Create a shortcut to the FIFA 21 executable file and open its properties. Next, go to the "Shortcut" tab and add "-w" to the object name (without quotes). You should end up with something like "C: Program Files EA SPORTS ™ FIFA 21 FIFA21.exe -w".
Key combination. Immediately after launching FIFA 21, press Alt + Enter to switch to windowed mode.
Modifying the configuration file. Such a file can usually be found in the root folder of the game or in the folder with documents on the system drive. Open this file, find the setting that relates to screen mode, and change it accordingly. For example, finding the line "FullscreenMode = 1", change it to "FullscreenMode = 0". In general, you get the point.
FIFA 21 crashes can also occur due to outdated graphics drivers. Use the following links to download and install the latest drivers for your graphics card:
In addition, do not forget that FIFA 21 crashes may occur due to the lack of certain updates in the system. Go to Windows 10 Update and run the installation of all pending updates. The process can take quite a long time, especially if you haven't updated in a while, but it's worth it. You can also try running the game as administrator. Right click on the FIFA 21 executable file and select "Run as administrator".
FIFA 21 won't connect to servers
If your FIFA 21 cannot connect to the game servers, then you can use the solutions that were provided by EA technical support. First, you need to flush your DNS cache. To do this, open Command Prompt (RMB + Start → Command Prompt (administrator)) and run the command in it ipconfig / flushdns… Second, close any unnecessary software running in the background of your system. Once you've done both, check if your FIFA 21 can connect to the game servers. If that doesn't work, restart your computer, Wi-Fi router and check your network connection, because the problem might be there. You can even contact your ISP if the need arises.
FIFA 21 reinstall error
Some players have reported that at some point FIFA 21 asks them to do their full reinstall. It is not clear why this is happening, but similar cases have been documented on the net. To fix this issue, you need to install the latest versions of the Visual C ++ Redistributable Packages for Visual Studio. If this does not help, then you may have to go about completely reinstalling Visual C ++ of all versions on your computer. Once you're done messing around with reinstalling the software, launch FIFA 21 and check if the error has been fixed.
FIFA Ultimate Team connection error in FIFA 21
Unstable connections to the FIFA Ultimate Team servers are a classic issue in the FIFA franchise. To get rid of this problem, you need to restart your computer, reset your router's Wi-Fi settings, and check if your network connection is working properly. Additionally, players have discovered that if you first enter Seasons and then return to FUT, the issue will be resolved. Again, you may need to contact your ISP if none of the usual methods help.
Low FPS, brakes in FIFA 21
If FIFA 21 is terribly slow on your computer, the problem might be with your graphics card, CPU, or RAM. First, use the links above to download and install the latest drivers for your graphics card. Second, close any software that you are not currently using. This is especially true for the numerous tabs that can be opened in your browser. Remember: the browser is the most common reason for the slow performance of many games and programs. Third, try experimenting with the graphics settings in FIFA 21 to see which ones are the most stressful for your computer. For example, vertical sync sometimes causes stuttering in games.
FIFA 21 unplayable after update
Many players claim that FIFA 21 has become completely unplayable since the last update. There are two methods for solving this problem, one worse than the other. The first is to check the integrity of the game files on Steam or Origin. The second is a complete reinstallation of the game. It doesn't matter which of these two methods you choose, because at the end of them you will still receive fully recovered files. True, both the one and the other process will take a lot of time. FIFA 21 should now start and work fine.
Black screen in FIFA 21
Quite a common issue with FIFA 21 and many other video games. Why might this be happening? Interference with antivirus or firewall game and incorrectly set resolution are two of the most common reasons for a black screen. Add FIFA 21 to your antivirus and firewall exceptions. To switch the game to windowed mode, see the recommendations from one of the paragraphs above.
FIFA 21 demo not updated to full version
If you are unable to update your FIFA 21 demo to the full version of the game, then use the following solution from EA themselves:
follow this link https://www.microsoft.com/en-ca/p/FIFA-21-Xbox-One/9N4DNRXMJ381?activetab=pivot:overviewtab and log into your Microsoft / Xbox account that has an active EA Play subscription and has FIFA 21 installed;
click on the "Free Trial with EA Play" button;
Once on the FIFA 21 Xbox One page, click on the "•••" icon next to the "Install on my devices" button and click on the "Free Trial" button.
So far, that's all we can tell you about the technical issues and solutions for FIFA 21. If you are experiencing any other problems with your game, please share them in the comments below the article. We may be able to help you.
Earn points and exchange them for valuable prizes – details