Build a PC similar in power to the Xbox Series X game console
As many of you may know, Xbox Series X, the newest console from Microsoft, is slated for release in late 2020. Simply put, there are only a few months left to wait. Fortunately, today we not only know what the new Xbox will look like, but what exactly is under the hood.
If we have already touched on this topic, let's quickly go over the technical specifications of the Xbox Series X.
Xbox Series X Specifications
CPU: custom 8-core Zen 2 at 3.8 GHz
GP: custom RDNA 2 with 52 compute units at 1.825 GHz
Memory: 16GB GDDR6 (10GB @ 560GB / s, 6GB @ 336GB / s)
Storage: 1TB custom NVME SSD, 2.4GB / s read speed (4.8GB / s compressed)
Performance: 12 teraflops
PC-assembly "analogue of Xbox Series X"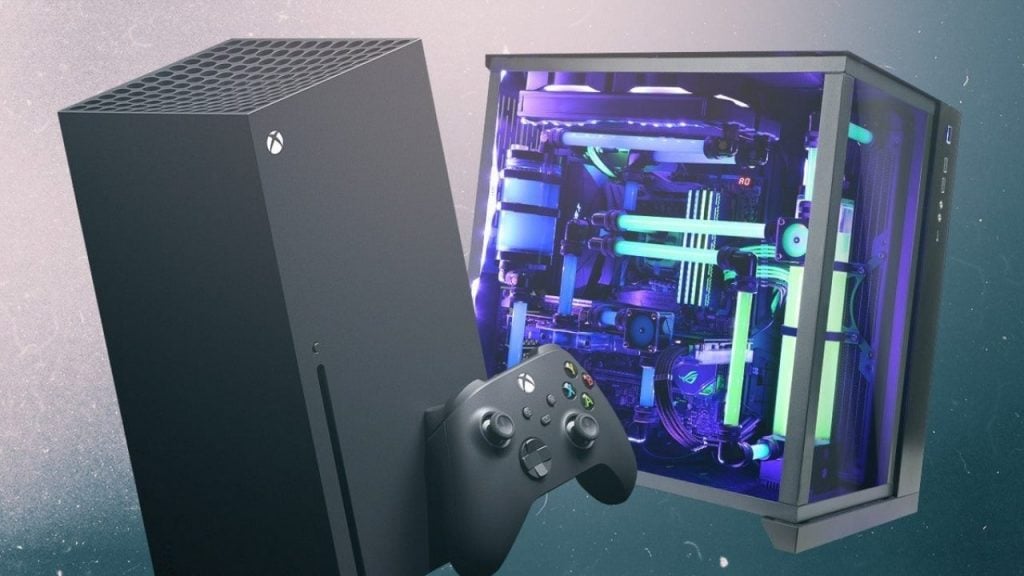 Pretty impressive specs for a console, isn't it? If you compare them with the previous generation or even the upcoming fifth "curling iron", the Xbox Series X is undoubtedly the most powerful console in the world, at least it will be when it is released.
In this regard, many people across the network are wondering: what will a PC similar in power to the Xbox Series X look like? Today we will try to answer this interesting and extremely difficult question.
I would like to say right away that this article is purely entertainment in nature: it does not pretend to be a detailed instruction for assembling a specific computer. If you have any suggestions for our Xbox Series X PC counterpart, please share them in the comments.
Well, let's start in order …
CPU
The specs for the Xbox Series X list the number of cores, but not the CPU flow, which makes the choice a little difficult. However, let's put our trust in Microsoft and pick something really nimble. The Ryzen 7 3700 is a Zen 2 generation eight-core / sixteen-thread processor, clocked at 3.6 GHz (4.4 GHz boost). An incredibly powerful processor for any gaming computer, even by today's standards (2018 release). Having installed such a beast in your system, you will not need to buy a new CPU for a long, long time.
Price: ~ 26,000 rubles
Ryzen 7 3700X
RAM
Immediately I would like to note that we will not try to select RAM with different bandwidth: it will only harm our PC. But taking a set of 16 GB of two high-frequency DDR4 strips is easy. Let's not beat around the bush for a long time – let's take the popular HX432C16FB3AK2 / 16 set from Kingston. Relatively small timings and easy overclocking.
Price: ~ 8600 rubles
HX432C16FB3AK2 / 16
Video card
When choosing a graphics card, we will build on the performance specified in the specifications of the Xbox Series X. 12 teraflops is somewhere between the RTX 2080 Super and the RTX 2080 Ti. To spare our (imaginary) budget at least a little, let's go for the RTX 2080 Super graphics card. Yes, it is a little inferior to the GPU of the new Microsoft console, but throwing as much as 30 thousand rubles for two teraflops … it's somehow wrong.
Price: ~ 60,000 rubles
RTX 2080 Super
SSD
Ninth Gen consoles will not install slow hard drives. Ultra-fast solid state drives are the future. True, for PC enthusiasts, this future came a few years ago, but today is not about that. The Xbox Series X has a 1TB SSD that reads data at 2GB / s (or 4GB / s if you're reading compressed data). Based on the given characteristics, we decided to take for our build NVMe M.2 SSD from Samsung – MZ-V7S1T0BW.
Price: ~ 17,000 rubles
MZ-V7S1T0BW
Motherboard
It's time to choose a motherboard – the most important component in any computer. Of course, you need to take a model with an AM4 socket and at least a b350 chipset (for potential overclocking). Keep in mind that it must have at least four DIMM slots: in the future, you will be very sorry if you take a model with only two slots. Plus, the model you choose should support 3200 MHz RAM or higher (again, for overclocking). Perhaps the MSI B450M PRO-VDH is the best choice for our build. A discreet yet functional motherboard that is ideal for matching components.
Price: ~ 5700 rubles
MSI B450M PRO-VDH
Power Supply
For such an assembly, we need a sufficiently powerful and reliable power supply. Considering our RTX 2080 Super, you need to choose a PSU with a power of 650 watts and above. What do you think of the Chieftec 850W APS-850CB? This PSU has 80+ Bronze certification, detachable cables, and delivers the same 850 watts on a 12 volt line, according to the label on the case.
Price: ~ 7500 rubles
APS-850CB
Housing
The choice of the case is a subjective matter. Let's not spend too much money on this item – let's take something stylish and inexpensive. The Matrexx 55 MESH Black case from Deepcool should do just fine.
Price: ~ 3400 rubles
Matrexx 55 MESH Black
Outcome
RUB 128,200 – the final price of our assembly, similar in power to the Xbox Series X. The amount came out, to put it mildly, rather big, but this is quite expected if you try to assemble a gaming computer, focusing on the hardware of a console that has not yet been released. Xbox Series X on its release will probably cost 40 or 50 thousand rubles. As for the games for her … I would like to believe that their price will remain at the level of four thousand, but no one will be surprised if they rise in price again.
Which PC builds similar to the Xbox Series X console would you like? Share your opinion in the comments.
Earn points and exchange them for valuable prizes – details