CE-32930-7 on PS4: Causes and Solutions
Error CE-32930-7 occurs when launching a particular game on PS4. The error message contains the following information:
Application failed to start.
(CE-32930-7)
As a rule, the appearance of this code indicates damage to the data of the launched game, which is located on the HDD / SSD of the console. However, in some cases, the error may be the result of a small bug in the PS4 software.
Solution for error CE-32930-7 on PS4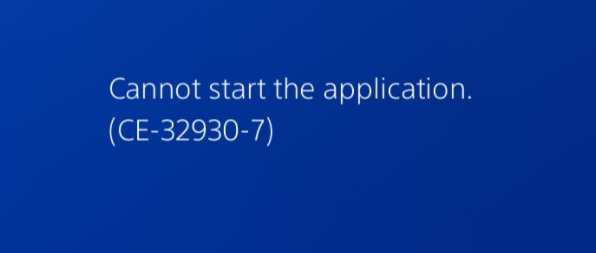 As mentioned above, error CE-32930-7 almost certainly occurs due to corrupted data of the game that the player is trying to run on his PS4. Unfortunately, in this case, there is no choice but to do a complete reinstallation of the game.
Select the desired video game in your personal PS4 library (or in the console launcher);
press the OPTIONS button on the DualShock controller and select Delete;
wait until the game is removed, then enter the library again and start installing it.
Of course, the installation time will depend directly on the size of the game itself and the speed of the network connection – this can take from several minutes to several hours. Once the game is reinstalled, run it again and check for an error.
Additional solutions
In some cases, the error CE-32930-7 on PS4 can be caused by other reasons: a malfunction of the console software, problems with connecting an external drive, a bug with a PSN account, and more. If reinstalling the game turned out to be useless in your case, then we recommend trying the following additional solutions:
restart your PS4 completely;
check the connection of the external HDD / SSD to the console (if available);
re-login to your PSN account;
Rebuild PS4 Database from Safe Mode.
Good luck solving CE-32930-7 on your PS4!