Error 0x80070522 occurs during various interactions with files in Windows 7, 8, and 10. Interaction refers to moving, deleting, modifying, and even renaming files. Along with the error itself, the user is shown the following message:
Error 0x80070522: The client does not have the required rights.
So what's the problem? And the problem is with a certain local group policy set on your system. It is enough to slightly correct it – and the trick is in the bag!
Troubleshooting error 0x80070522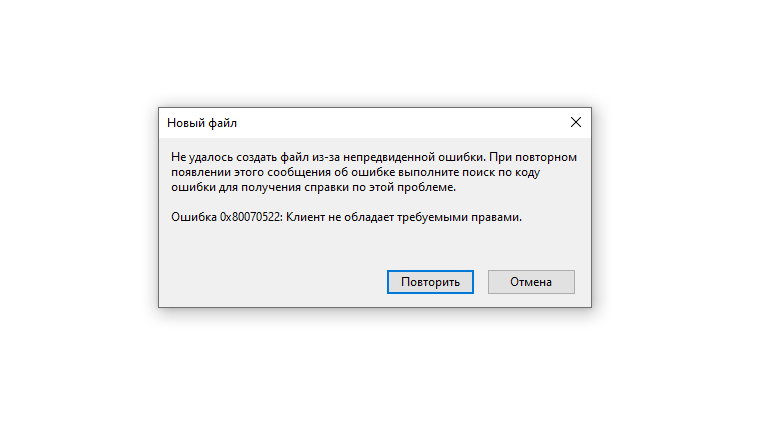 Press the WIN + R combination on the keyboard to open the Run window in front of you.
Write in an empty line the value "secpol.msc" (without quotes, of course) and press ENTER.
After opening the "Local Security Policy" window, use the panel on the left to go to "Local Policies → Security Settings".
In the list on the left, find a policy titled "User Account Control: All Administrators Run in Administrator Approval Mode."
Click on this policy with RMB and select "Properties".
Select the "Disabled" option, then save the changes and close all open windows.
Restart your PC and check if error 0x80070522 stops occurring.


The note: If for some reason you could not deactivate the above policy, then this can also be done through the system registry editor.

Click on the WIN + R combination to open Run.
Write in "regedit" and press ENTER.
Follow the path "HKEY_LOCAL_MACHINE → SOFTWARE → Microsoft → Windows → CurrentVersion → Policies → System" using the appropriate search engine in the menu bar of the registry editor window.
Find the "EnableLUA" parameter in the right part of the window and double-click on it with LMB to open its properties.

Make sure that the system of calculation for this parameter is set to "Hexadecimal", then set it to "0" (zero).
Save the changes to your system registry and restart your computer.
Typically, this solution allows users to get rid of error 0x80070522. We hope it helped you too.
Earn points and exchange them for valuable prizes – details