Error 0x80073d0a in Windows 10: causes and solutions
Some Windows users complain about error 0x80073d0a when they try to install an app from the Microsoft Store. The error appears every time you click the "Get" button on the page of the desired application.
Some users claim that the code 0x80073d0a can only be seen with UWP apps, others with some specific Store apps. This error is exclusive to Windows 10.
Causes of Error 0x80073d0a
Disabled Windows Firewall.
Intervention by a third-party antivirus.
Corrupted Microsoft Store cache.
Damaged system files.
Solution for error 0x80073d0a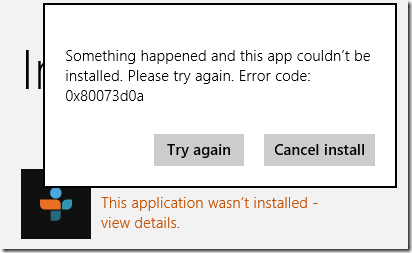 Method # 1 Enabling Windows Firewall (if applicable)
As it was found out, the appearance of this error could have been provoked by a deactivated Windows Firewall. You need to check if the system firewall is enabled, and if not, enable it yourself. Try the following:
press Windows + R to open the Run window;
write the value in an empty line services.msc and press Enter;
find the service "Windows Defender Firewall" in the list and double-click on it with LMB;
in the drop-down menu of the startup type, select the value "Automatic";
click on the "Apply" and "OK" buttons;
restart your computer.
Try downloading the app you want from the Microsoft Store again. Perhaps the error 0x80073d0a has been fixed.
Method # 2 Removing third-party antivirus
In some cases, problems with the Microsoft Store can be caused by third-party antiviruses. AVG AntiVirus, 360 Total Security, McAfee AntiVirus, Avast Free Antivirus and others are antivirus software that can cause error 0x80073d0a in the Microsoft Store. Leave only Windows Defender on your computer and see if the problem is resolved.
Method # 3 Reset Microsoft Store App
The Microsoft Store app itself may not work correctly, sometimes due to its own cache. You can reset the Store and see if that helps in solving the problem. To reset, do the following:
press Windows + R;
write down the value wsreset.exe and press Enter;
wait for the Microsoft Store window to appear, and then restart your computer.
We go to the Windows Store application and check for the error 0x80073d0a.
Method # 4 System Restore
As a last resort, if none of the above helped you solve the problem, you can use the Windows 10 System Restore Point.
Press Windows + R on your keyboard;
write down the value rstrui and press Enter;
then select the point that was created before the error appeared, and start the system restore process.
Be aware that your PC may reboot during recovery, but don't worry, it's completely normal. Once you're signed in again, open the Microsoft Store and try to download the app you want. The 0x80073d0a error should have gone away.
Earn points and exchange them for valuable prizes – details