Error 0xc0000020 when launching programs / games on Windows 10
Some Windows 10 users complain that when launching games or programs, an error code 0xc0000020 appears in front of them. The full text contains the following information:
The "*****. DLL" program is not intended to run on Windows or contains an error. […] Error status 0xc0000020.
The reason for the error 0xc0000020 is quite simple: the DLL file specified in the message, to which the game / program tried to access, has been damaged / modified / deleted.
How to fix 0xc0000020?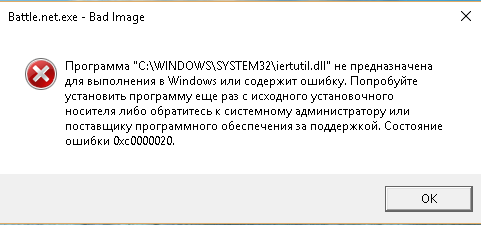 In fact, everything here will depend solely on the DLL specified in the message. We copy the name of the file into the search bar of our browser and set off to surf the Internet. Nevertheless, error 0xc0000020 often appears due to problems with Microsoft Visual C ++ or a driver for a device in the system.
What's in the first, what's in the second case – you need to reinstall. If one of the Visual C ++ libraries appears in the error message 0xc0000020, for example, msvcr120.dll or msvcp 140, then first go to the "Programs and Features" of your system, remove the corresponding version of VC ++, and then reinstall it from the official Microsoft website.
Useful information about Microsoft Visual C ++ and links to download it – look at this page!
If the problem lies in the driver, then you will need to deal with reinstalling it through the device manager. This process is carried out as follows:
open the device manager (win + R → devmgmt.msc);
select the problematic device;
click on it with RMB and select "Delete device";
reboot the PC so that the system automatically installs the missing driver, or go to the manufacturer's official website and download the current driver version from there.
A more detailed guide on removing and installing drivers can be found on this page!
It is also possible that the 0xc0000020 error occurred due to a DLL file related directly to the toy / program you are launching. We completely reinstall the application and see if the problem has been fixed. If you are trying to run pirated software, then it is worth checking the quarantine of your antivirus: a more inaccessible DLL file could be part of the "tablet".
Earn points and exchange them for valuable prizes – details