Error 0xc00d36e5 in Windows 7, 8 and 10: causes and solutions
Error 0xc00d36e5 occurs when opening certain video files through various played on Windows 7, 8 / 8.1 and 10. In most cases, this problem manifests itself when opening files with the .MOV extension from external media, such as USB flash drives or SSD / HDD.
Causes of Error 0xc00d36e5
In total, there are three possible reasons for the appearance of this error:
Windows Media Player does not support the video file format;
problems on the side of external media;
damage to Windows system files.
Methods for solving error 0xc00d36e5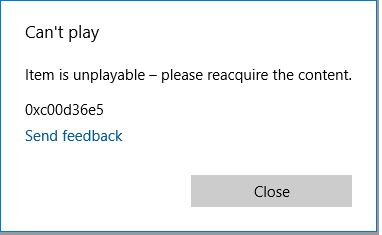 Method # 1 Use another player
Before trying to change or fix anything on your Windows system, you should know that Windows Media Player is capable of handling a fairly limited number of formats. Here is a list of all the formats the system player can handle:
.asf, .wma, .wmv, .wm;
.asx, .wax, .wvx, .wmx, wpl;
.dvr-ms;
.wmd;
.avi;
.mpg, .mpeg, .m1v, .mp2, .mp3, .mpa, .mpe, .m3u;
.mid, .midi, .rmi;
.aif, .aifc, .aiff;
.au, .snd;
.wav;
.cda;
.ivf;
.wmz, .wms;
.mov;
.m4a;
.mp4, .m4v, .mp4v, .3g2, .3gp2, .3gp, .3gpp;
.aac, .adt, .adts;
.m2ts;
.flac.
If you are trying to open a file in Windows Media Player whose extension is not in the above list, then the appearance of the error 0xc00d36e5 is not so surprising. Try using a third party player like VLC or Media Player Classic.
Method # 2 Checking for media problems
Trying to run a video file from external media? Then the cause may be a media, cable, or port problem on the computer. Try using a different cable or a different USB stick (if possible) to check if the problem is a hardware failure or not.
Method # 3 Recovering system files
Unfortunately, error 0xc00d36e5 can also occur due to corrupted Windows system files. Files that are important for Windows Media Player to function properly may have been damaged. To try to recover these files, try the following:
right-click on Start;
select "Command line (administrator)";
enter the command "sfc / scannow" and press Enter;
restart your computer and open Command Prompt again;
write the command "DISM / Online / Cleanup-Image / RestoreHealth" and press Enter;
restart your PC.
Let's see if these steps helped to get rid of error 0xc00d36e5.
Earn points and exchange them for valuable prizes – details