Error 327683: 0 in Origin: causes and solutions
Error 327683: 0 can occur during Origin update. Also, some users claim that this error may appear when downloading and installing an update for a particular game.
Causes of Error 327683: 0 on Origin
There are three reasons for this error:
Windows firewall is blocking network connection;
third-party antivirus is blocking the network connection;
problems with the Origin app cache.
Below you can find three reliable methods to resolve error 327683: 0 on Origin. When executing the solution, be sure to stick to the order in which they are located.
Solution for error 327683: 0 on Origin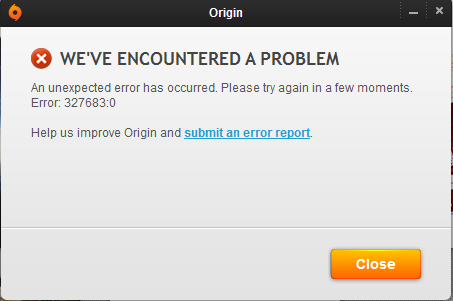 Solution # 1 Disable Windows Firewall
The firewall is an excellent defender of the Windows system when it comes to network traffic passing through it. However, from time to time, Windows Firewall may start blocking network connections that are important to the user and that do not pose any threat. Your system Firewall may have started blocking the Origin app from connecting. It is enough to turn off the Firewall for a while to check this possibility.
Here's how to turn off Windows Firewall:
press the combination Windows + S;
write in the search box "Control Panel" and select the found result;
go to the "Windows Defender Firewall" section;
click on the line "Turn Windows Defender Firewall on or off" on the left side of the window;
put a couple of checkboxes next to the shutdown items;
click "OK" and close all windows;
restart your PC.
After rebooting, try installing the update on Origin again. Perhaps the error code 327683: 0 has been resolved.
Solution # 2 Disable third-party antiviruses
As a rule, antiviruses protect users' systems from viruses and malware. However, at some point, they can become overly caring, which results in a number of problems. Perhaps your third-party antivirus is blocking Origin downloads, which is why error 327683: 0 appears. Try turning off your antivirus and see what happens.
Solution # 3 Deleting the Origin cache
Like many other networked programs, Origin creates a cache for itself. This cache usually contains information about logging into your account, games that you played or installed, and so on. Sometimes the cache data can get corrupted and cause various problems. Error 327683: 0 could be one of these problems. We advise you to delete the Origin cache and see how it affects the situation.
You can delete the Origin cache as follows:
make sure Origin is closed and not running in the background;
press the Windows + R keys;
write the value "% ProgramData% / Origin" in an empty line and press Enter;
delete all files in this directory, except for the "LocalContent" folder;
press Windows + R again;
type in "% AppData%" and press Enter;
go to the "Roaming" folder;
find the "Origin" folder in this directory and delete it;
go back and open the "Local" folder;
delete the folder "Origin" and from this directory;
restart your computer.
We hope this article helped you resolve error 327683: 0 on Origin.
Earn points and exchange them for valuable prizes – details