Error 80246008 occurs when updating Windows 7 and Windows 10. However, on the latest OS, the error code takes on a slightly different form: 0x80246008. So what's the problem? And the problem, as a rule, lies in the incorrect operation of the services "Background Intelligent Transfer Service (BITS)" and "COM + Event System (COM + Event System)".
In today's article, we'll show you how to get the above services back on their feet so that your OS can update properly.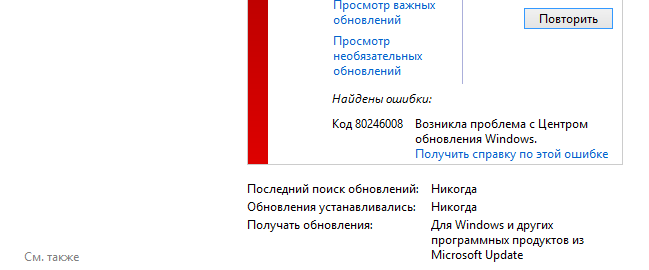 How to get rid of error 80246008 when updating Windows
Press WIN + R on your keyboard to open the Run window.
Write in a blank line the value "services.msc" and press ENTER.
Find in the provided list "Background Intelligent Transfer Service (BITS)" and double-click on it LMB.
Once in the service properties, select Automatic from the startup type drop-down menu.
If the service status line indicates that it is stopped, click Start.
Now find the service "COM + Event System" in the list and click on it with LMB to go to its properties.
Select Automatic (Delayed Start) from the Startup Type drop-down menu.
Restart your PC and check if the error disappeared during the Windows update. If nothing has changed, go to step 9.
Press WIN + R on your keyboard to open the Run window.
Insert the value "cmd" into a blank line of the window and press the combination CTRL + SHIFT + ENTER.
To reset Windows Update components, run the following set of commands in the console:

net stop bits
net stop wuauserv
net stop appidsvc
net stop cryptsvc
Del "% ALLUSERSPROFILE% Application Data Microsoft Network Downloader qmgr * .dat"
Ren% systemroot% SoftwareDistribution SoftwareDistribution.bak
Ren% systemroot% system32 catroot2 catroot2.bak
net start bits
net start wuauserv
net start appidsvc
net start cryptsvc

Call the "Run" window in front of you again, then insert the value "C: ProgramData Microsoft Network Downloader" (without quotes) into an empty line and press ENTER.
Delete absolutely (!) All files from the Downloader folder (you just went into it).
Download Microsoft FixIt 50202 from a trusted online source (unfortunately Microsoft has discontinued official support for this tool).
After downloading FixIt 50202, run it as administrator and select Aggressive Mode.
Once the tool finishes its work, remove all third-party programs from your computer to protect the OS, monitor network traffic, and speed up file downloads from the Internet. You will be able to install them again, but only when you get rid of error 80246008.
Download the following two REG files and save them to your Desktop:
Now download PSTools as follows link…
Call the "Run" window again, write "c: windows system32" in an empty line and press ENTER.
Place the psexec.exe file downloaded in step 18 and move it to the open "system32" folder.
Bring up the Command Line in front of you, as demonstrated above, and run the command "psexec -s -i -d regedit" in it.
Then press WIN + R to open "Run", write "regedit" in an empty line and press ENTER to open the registry editor.
Click on the "File" item in the menu bar of the Registry Editor window and select "Import …".
Select the "BITS.reg" and "eventsystemwin7.reg" files saved on your Desktop and click "Open".
Reboot your PC one last time.
If you did everything according to the instructions, error 80246008 should disappear from your Windows Update.
Earn points and exchange them for valuable prizes – details