Error "Code 643" when updating Windows: how to fix
"Code 643" can appear during the installation of updates for the Windows 7 operating system. However, some users note that this error can also appear on Windows 8 / 8.1, but much less often.
Causes of error "Code 643"
As a rule, there are only two reasons for this error:
interference of a third-party antivirus with Windows Update;
corrupted .NET Framework libraries.
In this article we will consider with you as many as four ways to solve the "Code 643" error. Be sure to try the first method in the list below first, and then try the rest in free order.
Ways to solve the error "Code 643"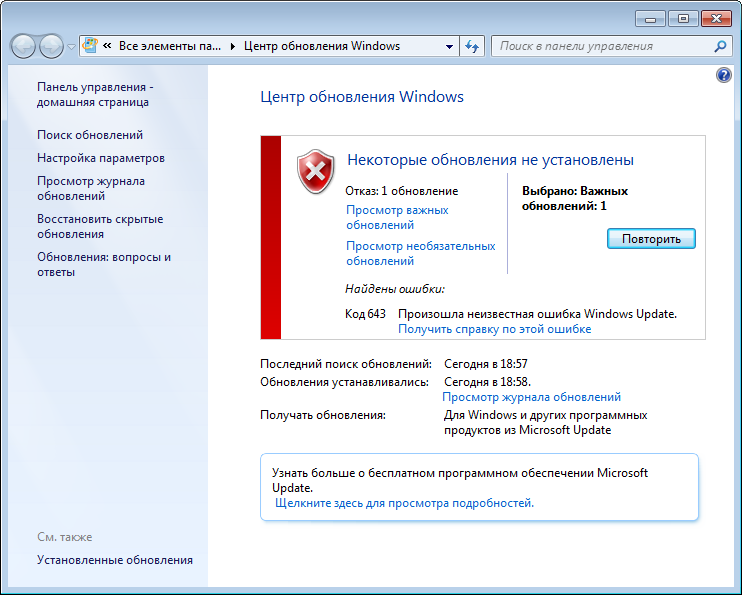 Method # 1 Troubleshooter
The Update Troubleshooter has been released to address a variety of Windows update issues. Windows 10 already has this tool built into the system, but for Windows 7 you may need to download it from the Microsoft official website.
Go to this link and download the tool to your computer. Run the tool and click on "Advanced". Check the box next to the "Apply fixes automatically" option and click the "Next" button. Wait for the troubleshooter to finish its work, and then check if the error "Code 643" was resolved when updating.
Method # 2 Reinstall .NET Framework
Windows update problems are often caused by corrupted .NET Framework files. If so, you can reinstall that platform and see if that fixes the problem. To reinstall the .NET Framework, you need to do the following:
go to this link to download the .NET framework uninstall tool;
unzip the downloaded files and run "cleanup_tool.exe";
confirm the launch of the tool by clicking on the "Yes" button;
agree to the license agreement by clicking "Yes";
click on the "Cleanup Now" button;
then go to this link, download and install the latest .NET Framework;
restart your computer.
Run Windows update and see if the error "Code 643" in the Update Center has disappeared.
Method number 3 Disable third-party antivirus
Do you have a third-party antivirus running on your computer? I don't want to disappoint, but it is he who can cause problems when updating Windows. We recommend disabling the active protection of your antivirus and trying to update the system again. If that helped, then it really was overly caring antivirus software.
Method # 4 Restoring .NET Framework
You can also try to restore the files of the .NET Framework that is installed on your computer. To do this, you need to do the following:
open the Control Panel;
go to the "Programs and Features" section;
find different versions of the .NET Framework in the listings;
right click on each version of the .NET Framework and select "Repair";
follow the instructions on the screen;
When all versions of the .NET Framework have been restored, restart your computer.
We hope you have resolved the Code 643 error on your PC.
Earn points and exchange them for valuable prizes – details