Failed to create restore point – error 0x8004230F
During the creation of a restore point in different versions of Windows, you can encounter error 0x8004230F. The message attached to this error contains the following information:
Failed to create a restore point for the following reason:

An unexpected error occurred from the shadow copy provider while performing the specified operation. (0x8004230F)

Try again.
Why does error 0x8004230F occur? Typically, this is due to malfunctioning services actively participating in the recovery point creation process. Today we are going to show you how to get rid of this error.
Solving error 0x8004230F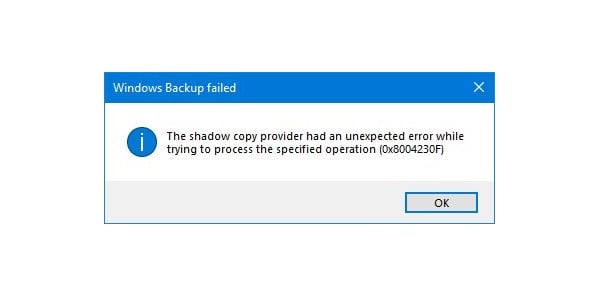 Method # 1 Run the VSSADMIN tool
Some users already know that the volume shadow copy service can be extremely sensitive to the presence of other software in the system that provides similar functionality. Press the combination Windows + R to bring up the "Run" window. Write the value in it cmd and press the combination Ctrl + Shift + Enter.
Calling the Command Line in front of you, write in it vssadmin list providers and press Enter. You will see a list of all software that provides VSS services. If you have any third-party VSS providers on your system, then you need to find them and deactivate them. Then the error 0x8004230F should be gone. If nothing outside was found, then move on.
Method # 2 Checking the status of Volume Shadow Copy Services and Software Provider
It is possible that the Volume Shadow Copy Service simply stopped working on your system. Press Windows + R and then execute value services.msc and press Enter. After opening the window with services, find the "Volume Shadow Copy" service and double-click on it with the left mouse button. Set the service start type to "Automatic (delayed start)". Do the same for a service called Microsoft's Software Shadow Copy Provider. Once you adjust the settings in both services, restart your computer and check for error 0x8004230F.
Method # 3 Create a clean boot restore point
Some third-party software can easily interfere with the Windows restore point creation process. You need to clean boot your system and then repeat the process. Some users claim that after a clean boot they did not encounter any error 0x8004230F.
Earn points and exchange them for valuable prizes – details