Features of the Windows 365 cloud for PC: release date, cost, FAQ
Microsoft recently officially announced Windows 365 at its Inspire event, a new cloud system for Windows computers. The technology promises to be interesting and useful, so we decided to review it so that you get an idea of ​​its capabilities, advantages and disadvantages in advance.
What is Windows 365?
Windows 365 is a unique PC cloud service from Microsoft. Its peculiarity lies in the fact that the service will allow you to connect from a computer to the cloud through the built-in interface of the system. It is a kind of Windows virtual environment that provides a personal virtual desktop hosted on the cloud. The technology guarantees the safety of all data transmitted between devices.
Windows 365 features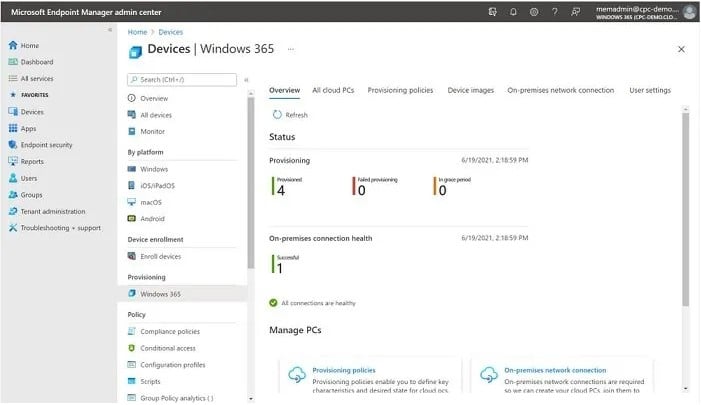 Naturally, the service will offer streaming content, but all cloud systems are capable of this. Here's some more that Windows 365 is capable of:
quick access to Microsoft tools: Excel, Word, Powerpoint, Microsoft Edge, Microsoft Teams, Adobe Reader and Microsoft Defender;
instant access to Windows updates and quick deployment;
personal desktop on any computer;
many configuration options;
the ability to continue working from where you left off, regardless of the current device.
Benefits of Windows 365
There are 3 main advantages of this technology, because of which you may choose Windows 365 over many other services:
High speed of work. The limitation will not be the speed of the service, but the speed of the Internet. In real time, it will be possible to transfer any data and use a lot of virtual instruments. It is a kind of private dedicated server.
Many tariff packages. It is possible to choose a tariff plan in accordance with your needs in terms of computing power and the amount of allocated storage. There are a lot of possibilities for scaling.
Simplicity – it doesn't matter if you are now working at a home stationary PC or laptop in transport, you can always continue from the same place. For example, you have done half of the report at home and it's time to leave. We took a laptop with us and continued to write from the same place.
Safety. The system is built on the principle of zero trust, so there are no risks of hacking or data interception.
Windows 365 release date
The Windows 365 cloud service is already available on PCs from July 14, 2021, and officially. Enterprises will have access as early as August 2, 2021.
How much does Windows 365 cost?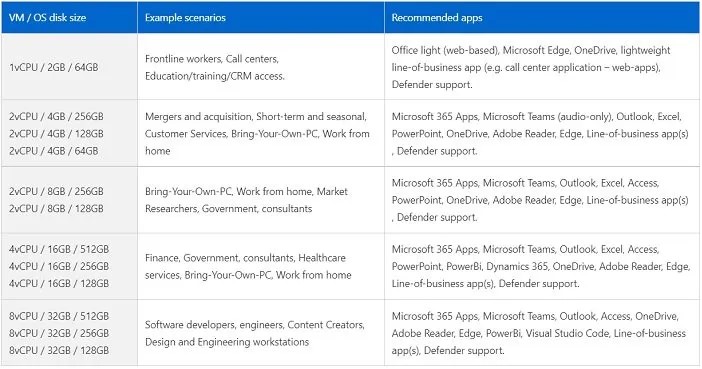 The prices have not yet been published by the company. However, there is one screenshot of the screen that indicates that the price of the business plan will be $ 31 per month. For individuals, the service will be much cheaper. It is also known that the price will be fixed, that is, it will not float depending on the activity of use. You just need to choose a suitable tariff plan and use the service within its framework.
Who is Windows 365 available to?
So far, Windows 365 is being developed only for enterprises, not to mention retail consumers. However, the system is flexible enough to adapt to a company of any size, including one with only a couple of employees or several thousand of them.
Windows 365 is available on Windows 11?
Now the service works only on Windows 10, but soon it will be available on Windows 11. Presumably, this will happen by the end of this year.
Windows 365 system requirements
Anyone who wants to use Windows 365 needs to have a number of licenses:
Windows Pro Enterprise E3 + EMS E3 or Microsoft 365;
Azure: active subscription for configuring network equipment, vNET, synchronization of current AD with Azure AD;
Microsoft Intune
Essentially, Windows 365 also runs on Azure – the technology is used to generate a desktop on Redmond servers and stream that data to PCs. Windows 365 is the automated version of Azure.
How do I buy Windows 365?
The user can easily purchase a license if his PC meets the system requirements.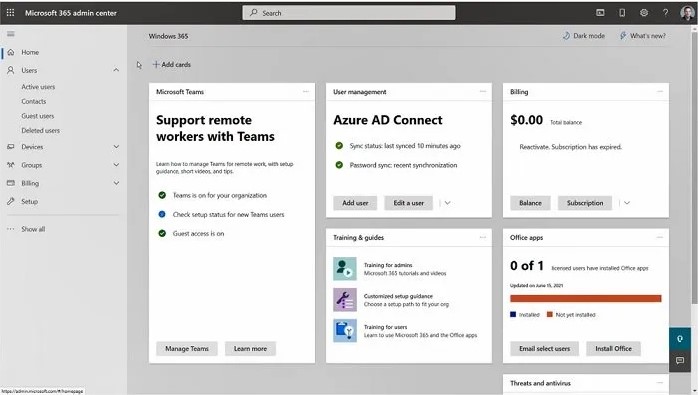 How to do it:
Open admin.microsoft.com and sign in with your work ID.
Choose a suitable tariff plan and purchase a license.
In the "Users" list, select those who will be able to use the system.
In general, this is all you need to know about Windows 365. The above is enough to understand whether this system will be useful to you in your workflow or in some respects it does not suit you.
Earn points and exchange them for valuable prizes – details