How to completely delete a WhatsApp account?
Whatsapp uses a phone number to identify a user. If we are not going to continue using this application, we can simply delete it, but the created account will still remain in the system. It should be borne in mind that if you are no longer going to return to this service in the future, you can completely delete your account.
What does deleting a WhatsApp account include?
When a user deletes an account, he loses access to all messages and media files sent to Whatsapp. The app will also automatically delete backups of all dialogs that may have been backed up to Google Drive or iCloud. In addition, deactivating your account will result in the loss of all group chats.
The complete procedure for removing all traces of our activity in this service can take up to 90 days. Reinstalling Whatsapp on your phone will not restore deleted data, so if you need to re-use the application, you will have to start from scratch.
WhatsApp account deletion process
Instructions for deleting WhatsApp account:
Open Whatsapp and then go to app settings. On Android, tap the three-dot icon in the upper right corner, and select "Settings" from the drop-down menu. In the case of iPhone, quick access to settings can be found in the lower right corner of the screen.
After entering the settings section, go to the "Account" tab and select "Delete account" at the very bottom of the list.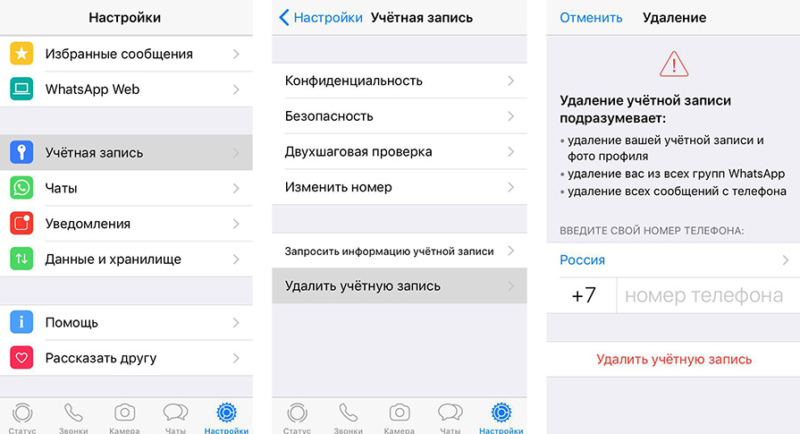 Next, the procedure for deleting the account will begin, follow the prompts from Whatsapp. The application will once again warn you that you are about to permanently delete your profile. If you are determined, confirm the completion of the process by entering the phone number to which Whatsapp is linked (in case there is more than one SIM card in the phone).
After entering your country and phone number, click "Delete account". At the end, the application will ask why you decided to take such a step. Here you can specify a reason or leave the field blank.
Select "Remove Account" again to complete the process.
From now on, your account along with Whatsapp will be completely deleted.
Earn points and exchange them for valuable prizes – details