How to create a WhatsApp group where only admins send messages
By default, any member of a WhatsApp group can both receive and send text messages. However, administrators can configure this chat so that, for example, only they can send notifications. Thus, the group will become a broadcast channel, whose members can only read the content posted by curators, but will not be able to comment and respond.
When a user creates a WhatsApp group, they automatically become an administrator. When you create the mentioned community, you can add contacts who will become members of this group chat. Of course, the administrator can then grant the same rights to each of the members. Assigning other users as curators gives them the same control and customization options as the creator.
How do I set up WhatsApp?
Among the options available is the option to set up a WhatsApp group so that only administrators can send messages. Thus, the rest of the participants will be able to read the messages without being able to leave comments. This feature is ideal if you want to create an information group.
It can also be very useful for work teams, where the administrator / boss sends tasks to other members / employees, and they will not be able to interact in the group, but only read messages sent by managers.
To create a WhatsApp community where only curators can provide information, you can do the following:
Go to the WhatsApp app.
Click the three-dot icon to bring up the menu and select "New Group".
Then add contacts who will become members of this community.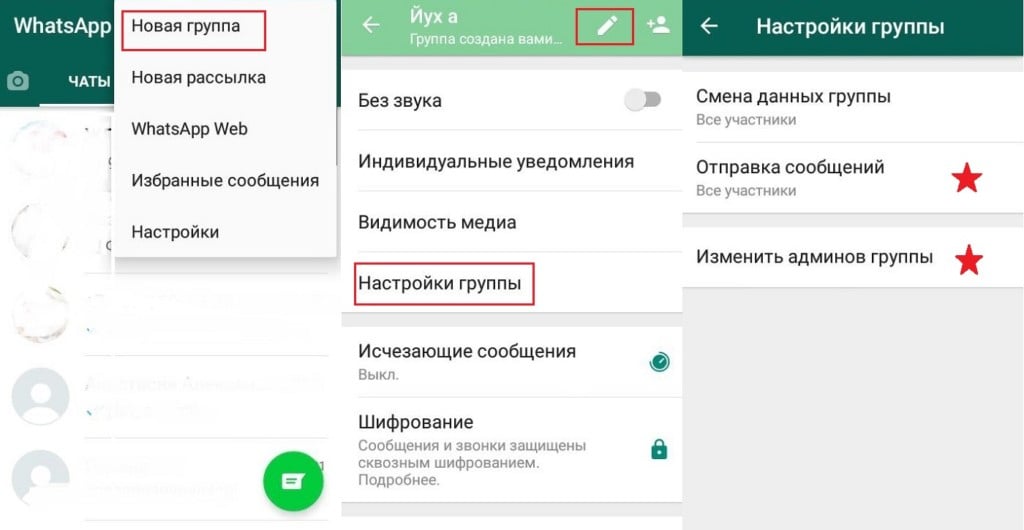 While in the group, click the three dots again, and select "Group Data".
Here you can edit the name of the community, add a group avatar, and make additional settings. Including, configure who can send messages, assign administrators, etc.
Earn points and exchange them for valuable prizes – details