How to fix activation error 0xC004F078 in Windows 10?
When activating a copy of Windows 10, you may encounter error 0xC004F078. This error occurs because the Key Management Service (or KMS for short) is not available to the client computer. Another reason may be that the key used in the call to the SLSetAuthenticationData function is incorrect.
Often, error code 0xC004F078 can be seen on computers that have upgraded to Windows 10 from Windows 7 or Windows 8.1. In this article, we will see with you how you can get rid of this error and calmly continue to activate the system.
Solutions for activation error 0xC004F078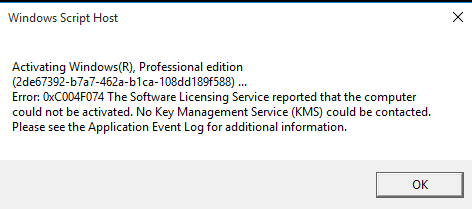 Solution # 1 Use a key suitable for your Windows
Are you sure that the license key you are using is suitable for the type of your operating system? You may be trying to update a regular "box" version of Windows 10 with a key designed only to activate OEM versions of the "10". If the version does not match, the appearance of the error 0xC004F078 is a completely possible scenario.
Solution # 2 Use the command line to reinstall the key
Now we will try with you to reinstall the license key through the Command Line. The main thing is to follow the steps below exactly and you will succeed. So, try doing the following on your Windows:
right-click on Start and select "Command Prompt (Administrator)";
enter the command "slmgr.vbs / upk" (without quotes) and press Enter;
then write the command "slmgr.vbs / ipk ";


The note: you will receive a notification whether the activation was successful or not.

to activate the system over the network, enter the command "slmgr.vbs / ato" and press Enter;
you can also activate the system over the phone using the "slui.exe 4" command.
After activating the KMS key, be sure to restart the Software Protection Platform service (sppsvc.exe).
Solution # 3 Apply activation troubleshooter
If you still can't get rid of error 0xC004F078, then you can try using the activation troubleshooter. These tools do not help as often as we would like, but it is definitely worth trying.
Open System Settings (Windows + I) and go to the section titled Update & Security. Further, on the left side of the window with parameters, go to the subsection "Activation". If you have problems with activating Windows 10, you will have access to the "Troubleshoot" option – click on this button.
All you have to do is follow the instructions on the screen and try to fix the problem you are experiencing. We hope that this article was at least somehow useful for you in solving the activation error 0xC004F078.
Earn points and exchange them for valuable prizes – details