How to fix C0000034 when installing Windows 10 update?
Some Windows 8.1 and Windows 10 users are reporting error C0000034 after installing a previously delayed OS update. The following information can be found in the error message:
Fatal error C0000034 when installing an update during ***** of *****
It is clear that after such an error appears on the screen, Windows becomes completely inoperable. There is nothing worse than a failed OS update.
After carefully reviewing the problem, we came to the conclusion that this error can occur for the following number of reasons:
Bad blocks on SSD or HDD. Often, these "problems" suffer from the owners of traditional hard drives, but they can also appear on SSDs. If your computer no longer starts after an unsuccessful installation of a Windows update, you need to start up the CHKDSK utility and replace the bad sectors with intact ones.
Corrupted Windows update files. Users experiencing this type of corruption claim to have fixed it using the System File Checker (SFC) and Deployment Image Servicing and Management (DISM) utilities. Of course, all this must be done in the recovery environment.
Corrupted Windows Update component. In certain situations, your system may refuse to start due to an issue found with Update Center. In such a case, you must use MSconfig to disable the Update Service and log on normally.
Conflict with third-party software. Some users have encountered error C0000034 after updating / installing drivers or installing third-party software. To extricate yourself from this difficult situation, you need to use an existing restore point.
Damaged system files. You may not be able to update your Windows properly because the files and components involved in the update process have been severely damaged. Returning the PC to its original state or completely reinstalling the OS will help fix the problem.
Below you will find a list of all currently available solutions for error C0000034. We recommend that you perform them in the order in which they are placed.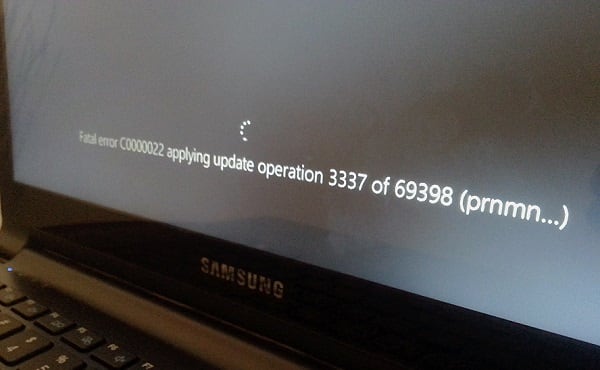 Method # 1 Using CHKDSK, SFC and DISM
Most often, this problem occurs due to damaged system files. To restore the latter, you can use preinstalled utilities such as CHKDSK, SFC and DISM. Considering that you can hardly enter the OS normally, you need to get your Windows installation media: all three utilities will run from the recovery environment.
Connect your Windows installation media (optical disk, USB stick, external SSD / HDD, etc.) to your computer.
Press any button on the keyboard when a message appears on the screen.
When you get to the Windows installation window, click on the System Restore button – you will be taken to the recovery environment.


The note: It is important to note that, technically, you can get into the recovery environment even without the presence of Windows installation media. It is enough to perform three emergency computer restarts at system startup. However, this method is not recommended, because Windows is fragile, and constant reboots can potentially harm the system even more.

Next select Troubleshooting → Extra options → Command line…
Enter the command to the command line CHKDSK X:, where X is the system partition letter of your drive.

Wait for the utility to finish and restart your computer, then repeat steps 1-4 if you still cannot log in.
Opening the command line, enter the command sfc / scannow and press Enter.


The note: the scanning process may freeze for a while, but this is quite normal. If this happens, do not interfere with the scan and just watch it.

Once the SFC finishes working, restart your computer and see if you can boot into the OS. If you are still seeing error C0000034, follow steps 1-4 and open Command Prompt.
Enter the command DISM.exe / Online / Cleanup-Image / RestoreHealth / Source: C: RepairSource Windows / LimitAccess and press Enter.


The note: make sure you are connected to the internet. The fact is that the DISM utility replaces damaged system components with normal ones, downloading the latter from Microsoft servers.

After DISM finishes, restart your PC one last time and check if Windows boots normally or not.
Still seeing error C0000034? Well, then move on to the next methods.
Method # 2 Disabling the Update Service
If you believe the statements of some users on the network, the error is caused by an incorrectly working Update Center service. To get out of an unpleasant situation, you need to enter the system configuration and deactivate the Update Center service. Of course, you will have to do this from the Windows Recovery Environment.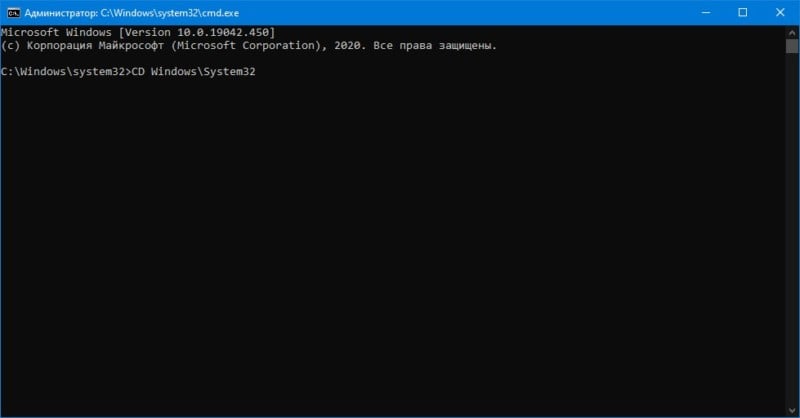 Try this:
Enter Windows Recovery Environment from the installation media.
Open Command Prompt and run the command in it CD Windows System32…
As soon as the system configuration window appears in front of you, go to the Services tab.
Find the Windows Update service in the list.
Uncheck the box next to the desired service and click Apply.
Close Command Prompt and restart your computer.
Well, did it help? Not? Moving on …
Method # 3 Applying a restore point
If you started seeing error C0000034 after, for example, installing some update or application, then we advise you to use Windows Accurate Restore. Such points are created whenever you change the system settings, install various updates, applications from third-party developers, and so on. To put it simply, you should have a bunch of restore points, unless of course you have disabled them in Windows settings.
As in all other cases, you will have to perform OS recovery through the recovery environment on the Windows installation media.
Open up Extra options in the recovery environment (see steps above ↑).
Please select System Restore…
In the recovery window, check the box next to Show more restore points…
Select a suitable restore point and click Further → Complete…
Wait for Windows to finish recovering.
Try to boot the system and see if error C0000034 is gone or not.
Method # 4 Returning the PC to its original state
Unfortunately, if nothing has changed and you still cannot enter the OS, then it's time to do a "soft" reinstallation of your Windows. Something serious happened during the installation of the updates, as a result of which the system can no longer start normally. Returning the computer to its original state – you need to start such a process at this stage.
Enter the recovery environment using the Windows installation media.
Go to Extra options recovery environments.
Select item Reset the computer to its original state…
Decide whether you want to keep your personal files intact or not, and select the appropriate option.
Watch the system restore process and go to Windows.
Resetting the PC to its original state should almost certainly save you from error C0000034. If this did not help, then it is time to simply reinstall the operating system.
Earn points and exchange them for valuable prizes – details