Some Outlook 2010/2013 users are reporting error 0x8004010f while sending email. The error code itself also has a message attached to it stating that Outlook data cannot be accessed. Of course, because of this error, the ability to send and even receive letters from other users is lost.
How to fix error 0x8004010f?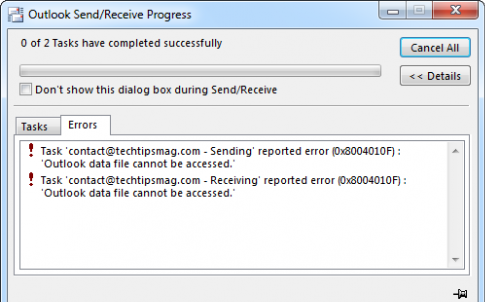 Solution # 1 Create a new Outlook profile
Typically, error 0x8004010f occurs due to corrupted Outlook profile data, so you can correct this situation by creating a new profile. To do this, you need to do the following:
start the Outlook client on your computer;
open the "File" tab and open the "Account Settings" list;
select the "Profile Management" item in this list;
then click on the "Show" button, then – "Add";
now write down the profile name and email you want to use and follow the instructions on the screen.
Close Outlook and restart your computer. Check for Outlook error sending emails.
Solution # 2 Disable antivirus
It's no secret that antivirus software can interfere with the work of various processes in Windows, including Outlook. You need to go to the settings of the antivirus installed on your system and disable it. If you do not have any third-party antivirus, then be sure to disable Windows Defender – this is hardly his fault, but it's still worth checking.
Solution # 3 Disable Windows Defender Firewall
In addition to antivirus, Windows Defender Firewall can interfere with the normal operation of Outlook (and other email clients). You need to disable the system firewall and see if this helps with error 0x8004010f or not. To disable it, you need to do the following:
press Win + S to bring up a system search engine;
write down "Control Panel" and select the found result;
go to the "Windows Defender Firewall" section;
click on the line "Turn Windows Defender Firewall on or off";
check the boxes next to the disable options and save the changes.
Try using Outlook as intended and check for the problem.
Earn points and exchange them for valuable prizes – details