How to fix error 0x800f0986 when updating Windows 10?
0x800f0986 – an error that occurs in Windows 10 Update while downloading and installing cumulative updates for the OS. An extremely serious problem, because the user loses access to new Microsoft developments, but it is relatively easy to solve it using long-known fixes. In today's article, we will take a look at these fixes with you.
How to fix update error 0x800f0986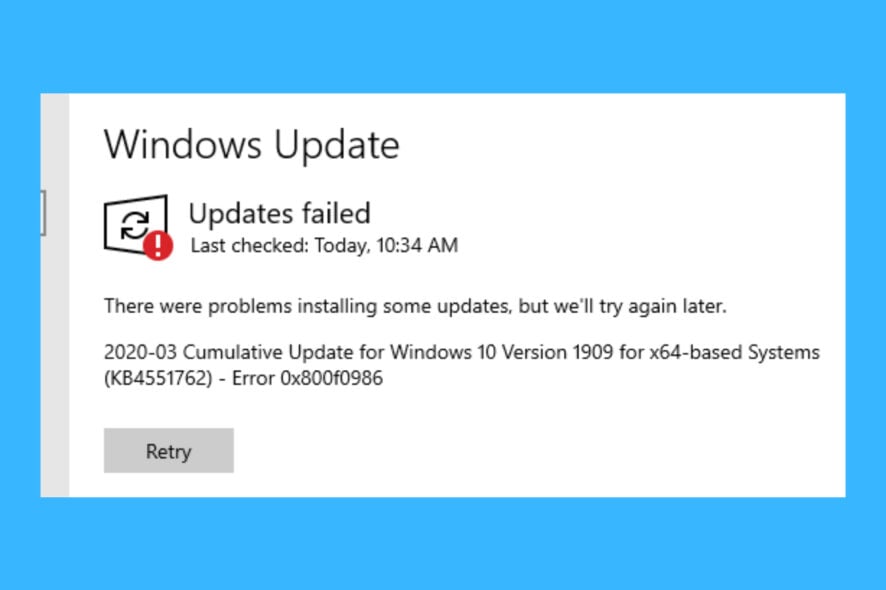 Checking the Update Service
Press the WINDOWS + R keys to bring up the Run window.
Insert into the available line "services.msc" (without quotes, of course) and press ENTER.
Scroll down the list, find "Windows Update" and double-click on this service LMB.
Select Automatic from the Startup Type drop-down menu.
Click Run, Apply and OK.
Running the troubleshooter
Right-click on Start in the corner of the screen and select "Settings".
Find the Update & Security section in the list and navigate to it.
Then go to the subsection (or tab) "Troubleshooting".
Below in the window you will see the item "Additional troubleshooting tools" – click on it.
Select Windows Update (one of the first on the list) and click on the Run the troubleshooter button.
Follow the onscreen instructions to troubleshoot potential issues with Update Center.
Reboot your PC.
Removing the contents of the SoftwareDistribution folder
Click on the service "Windows Update" RMB and select "Stop".
Open File Explorer and follow the path:

C: / Windows / SoftwareDistribution / Download

Once in the Download folder, press CTRL + A, then SHIFT + DELETE.
Reboot your PC.
Reset Update Center
Right click on the Start menu and select "Command Prompt (Admin)."
Run the following series of commands in the console:

net stop bits
net stop wuauserv
net stop cryptsvc
Del "% ALLUSERSPROFILE% Application Data Microsoft Network Downloader qmgr * .dat"
Ren% Systemroot% SoftwareDistribution DataStore DataStore.bak
Ren% Systemroot% SoftwareDistribution Download Download.bak
Ren% Systemroot% System32 catroot2 catroot2.bak
sc.exe sdset bits D: (A ;; CCLCSWRPWPDTLOCRRC ;;; SY) (A ;; CCDCLCSWRPWPDTLOCRSDRCWDWO ;;; BA) (A ;; CCLCSWLOCRRC ;;; AU) (A ;; CCLCSWRPWP ;; PU)
sc.exe sdset wuauserv D: (A ;; CCLCSWRPWPDTLOCRRC ;;; SY) (A ;; CCDCLCSWRPWPDTLOCRSDRCWDWO ;;; BA) (A ;; CCLCSWLOCRRC ;;; AU) (A ;; CCLCSWRPWPDTL;
cd / d% windir% system32
regsvr32.exe atl.dll
regsvr32.exe urlmon.dll
regsvr32.exe mshtml.dll
regsvr32.exe shdocvw.dll
regsvr32.exe browseui.dll
regsvr32.exe jscript.dll
regsvr32.exe vbscript.dll
regsvr32.exe scrrun.dll
regsvr32.exe msxml.dll
regsvr32.exe msxml3.dll
regsvr32.exe msxml6.dll
regsvr32.exe actxprxy.dll
regsvr32.exe softpub.dll
regsvr32.exe wintrust.dll
regsvr32.exe dssenh.dll
regsvr32.exe rsaenh.dll
regsvr32.exe gpkcsp.dll
regsvr32.exe sccbase.dll
regsvr32.exe slbcsp.dll
regsvr32.exe cryptdlg.dll
regsvr32.exe oleaut32.dll
regsvr32.exe ole32.dll
regsvr32.exe shell32.dll
regsvr32.exe initpki.dll
regsvr32.exe wuapi.dll
regsvr32.exe wuaueng.dll
regsvr32.exe wuaueng1.dll
regsvr32.exe wucltui.dll
regsvr32.exe wups.dll
regsvr32.exe wups2.dll
regsvr32.exe wuweb.dll
regsvr32.exe qmgr.dll
regsvr32.exe qmgrprxy.dll
regsvr32.exe wucltux.dll
regsvr32.exe muweb.dll
regsvr32.exe wuwebv.dll
netsh winsock reset
net start bits
net start wuauserv
net start cryptsvc

Close Command Prompt and restart your PC.
The note: alternatively, you can use Manuel Gil's special utility, which can be downloaded at official website developer. Install the utility on the system partition of the disk and run it as an admin account – this is a must! A Command Prompt window will appear – select the desired language and follow the further instructions.
Installing the problematic update manually
If none of the above methods helped you get rid of the error 0x800f0986, then we recommend completely bypassing it by installing the problematic update manually via Microsoft Update Catalog… The main thing is to find the update version suitable for your OS, and run the installer as administrator to avoid potential problems.
I would like to believe that at least some of the methods helped you get rid of the error 0x800f0986.
Earn points and exchange them for valuable prizes – details