How to fix error 0x87e107e3 in Windows 10?
Error 0x87e107e3 pesters many Windows 10 users when they try to download or launch some toy from the Windows Store. This problem is observed only in the operating system Windows 10. Typically, users encounter this error at the stage of "obtaining a license".
Causes of error 0x87e107e3
We have studied the messages of users who encountered the error, and have compiled a small list of reasons, consisting of several points.
Problems on the Microsoft server. It turns out that this particular problem can arise due to certain problems on the Microsoft server or planned maintenance. Of course, in this case you will not be able to do anything. The best solution is to wait until error 0x87e107e3 goes away on its own.
Microsoft account bug. According to some users, this problem may well appear due to a bug in their Microsoft account, which, in turn, appeared after installing a new update for Windows 10. The solution is to sign in to your Microsoft account again.
Corrupted Windows Store files. Error 0x87e107e3 could easily arise due to damage to files that are actively used by the store application. A damaged store cache can also be considered a potential cause. One way or another, the solution in such a situation would be to reset the Windows Store components, which is done through the command line or through the application settings.
As you might have guessed, fixing error 0x87e107e3 is not that difficult. Just follow the steps below and you will definitely succeed. Three reasons – three solutions.
Methods for solving error 0x87e107e3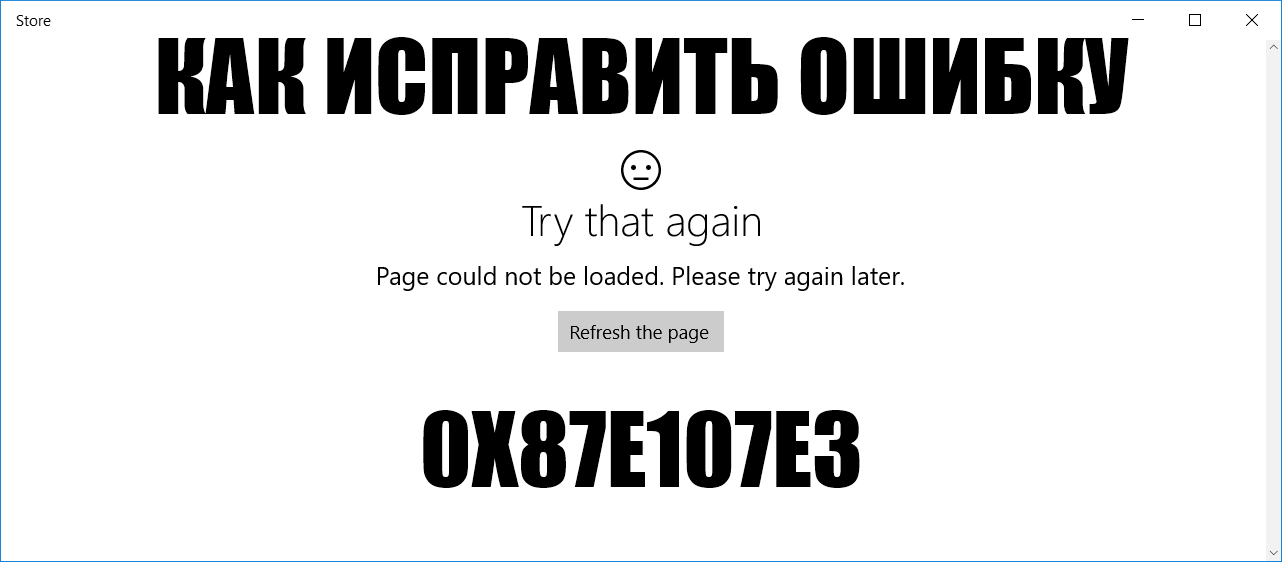 Method # 1 Checking Microsoft Server
The first step is to make sure that the problem is not with the Microsoft server itself. Perhaps you are worried in vain and it is enough just to wait a while. Take advantage of by this link and see how many other users have server problems. You can still use this and this Services.
In addition, the check can be performed on the official Twitter account of the Windows Store… If Microsoft is having server issues, you can check it there. Is error 0x87e107e3 due to servers? Try to wait a couple of hours – the problem will definitely resolve itself.
Method # 2 Sign out and sign in to your Microsoft account
It may sound strange, but many problems with the Windows Store and other system applications are solved by simply logging out and logging into a Microsoft account. You don't even have to reboot your computer or anything like that.
Do the following:
click on the Windows button;
click on the account icon;
select "Exit";
after logging out, enter your personal data to log into your account and press Enter;
Try checking the Windows Store. The 0x87e107e3 error should have gone if it really was an account bug. If the problem still pesters you, then you can try something else …
Method # 3 Reset Windows Store
So, the error in question does not go away – what to do? In this case, you can try to resort to resetting the Windows Store app. The process is extremely simple and will only take a few minutes. There are two ways to reset, both of which we will look at below.
Reset Windows Store via Command Prompt
press Windows + R;
enter "cmd" in an empty line and press Ctrl + Shift + Enter;
type in the command line "Wsreset.exe" and press Enter;
wait until the end of the procedure and restart the computer.
Resetting the Windows Store via App Settings
press Windows + R;
type in "ms-settings: appsfeatures" and press Enter;
find the Microsoft Store in the list of installed applications and highlight it;
go to the advanced settings of the application;
go down the window and click the "Reset" button;
press the "Reset" button again to confirm your intentions;
After the reset is complete, restart your PC.
Error 0x87e107e3 shouldn't bother you anymore by now.
Earn points and exchange them for valuable prizes – details