How to fix Minecraft Dungeons error "Try again later, something went wrong on our side"?
Mojang's latest version of Minecraft, the Dungeons version, is already available to install on Xbox One, PlayStation 4, Nintendo Switch, and PC. In general, the launch went smoothly, but there is an exception. Many players cannot sign in after purchasing a game from the Microsoft Store. The message "GAME OWNERSHIP NOT ESTABLISHED" "Try again later, something went wrong on our side" is constantly displayed.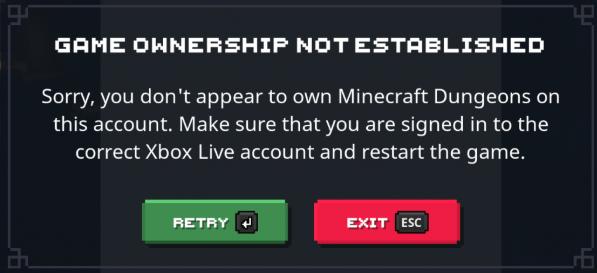 Details of the error
Apparently, the problem occurs only with PC users who bought the game from the Microsoft Store. Moreover, there were no complaints about such a malfunction from buyers of the Mojang Store.
Some users managed to get around the problem by simply constantly clicking on the "Retry" button. Other players were able to enter the game after restarting their computer. While many people say that the problem is caused by overloaded servers, the problem is actually different.
The developers themselves have already reported that they are aware of the error and are working on fixing it. "The problem is that the game server cannot verify ownership of Minecraft Dungeon on Windows. If you bought the game, sorry for the wait and thank you for your patience. We will fix the problem soon.
Earn points and exchange them for valuable prizes – details