How to fix update error 0x80240023 on Windows 10?
Error 0x80240023, as a rule, occurs when installing major updates / security updates for Windows 10. The error text contains the following information:
There were some problems installing the updates, but we will try again later. If you continue to see this message and want information by searching the Internet or contacting support, this may help you: (0x80240023)
We cannot tell you what exactly is causing this error, but the alleged reason is KB2505184 (Office File Validation Add-in) and Microsoft Office 2007 or 2014. At least according to the statements of some users on the network.
You can get rid of error 0x80240023 as follows …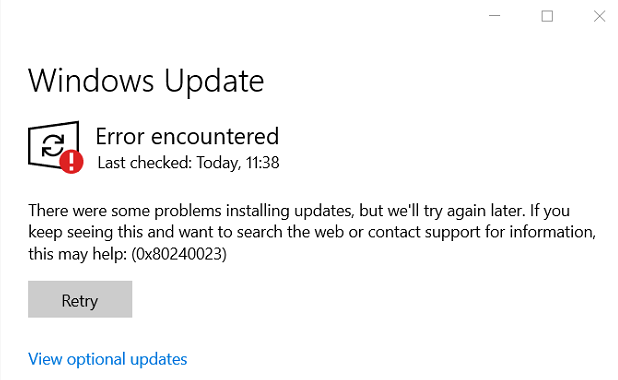 Method # 1 Restarting Windows Update Service
You may have encountered this error due to the fact that the Update Center service on your system did not start working correctly. It is extremely easy to fix this by restarting the corresponding service. This is done in literally a few steps:
press Win + S;
enter "Services" in the search box and select the found result;
find a service called "Windows Update" in the list;
right-click on it and select "Stop";
press Win + R;
write in an empty line the value "% windir% SoftwareDistribution DataStore" (without quotes) and press Enter;
delete all files from this folder and return to the "Services" window;
right-click on the "Windows Update" service and select "Run".
Method # 2 Download the verification tool
The following solution is suitable for those users who have a licensed version of Office 2007 installed on their computer. Click the following link to download the Microsoft Office File Validation Add-in:
Next, unpack the downloaded archive and run the OFV.msi file as administrator. Wait for the installation process to complete, then restart your computer. The error 0x80240023 should be gone.
Method # 3 Leave the computer running overnight
It may sound strange, but you can get rid of error 0x80240023 by leaving your computer working overnight. If you believe the statements of some users on the network, this error can disappear within a few or a dozen hours by itself. Have you tried all of the above but nothing seems to work? Then why not just turn off your computer for a day and see what happens.
Earn points and exchange them for valuable prizes – details