How to get rid of the 0xc0000034 Blue Screen of Death on Windows 10
Some Windows 10 computer users may experience the 0xc0000034 Blue Screen of Death. It usually occurs when you turn on the PC or after restarting it. The reason behind this BSoD is in damaged Windows bootloader (BCD) files, which, in fact, in some cases is indicated even on the screen itself with 0xc0000034.
In addition, such a critical error can occur for other reasons, for example, due to bad sectors on the HDD / SSD, damaged Windows 10 system files, or due to some serious hardware problem. Below you will find a list of methods that have been tested by many users.
Solving error 0xc0000034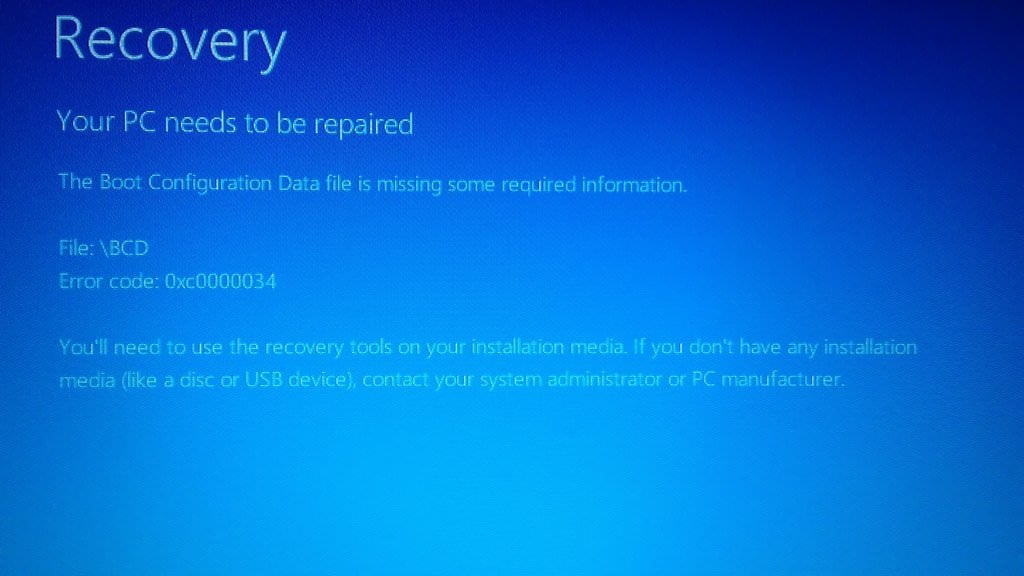 Before using any of the methods in this article, you need to get yourself an installation disc with a suitable version of Windows 10. It will help you troubleshoot and restore the system to a working state.
Most proven method
Let's start with the most effective method of dealing with 0xc0000034 – repairing the Windows 10 boot loader. Insert the Windows installation media into your computer and restart it. Wait for the message to appear about pressing any button and, in fact, click on any button to load the installation media.
Next, you will need to select a language, time and currency format, and input method. In the window with the Windows installation, you need to click on the "System Restore" button to go to the Windows Recovery Environment (Windows RE). On the action selection screen, click on the "Diagnostics (Troubleshooting)" section, then go to the "Advanced settings" subsection.
Now select "Command Prompt". Enter the command in the window that appears bootrec / rebuildbcd and press Enter. Wait a moment for the Bootrec utility to scan your computer, and then press the Y key to add the installed Windows 10 OS to the boot list. Done, bootloader configuration has been overwritten – restart PC and check for blue screen of death 0xc0000034.
Additional methods
If the above method for some reason did not work for you, then you can resort to a number of additional solutions.
Startup recovery
Use the installation media to log into Windows RE again;
select: Diagnostics → Advanced options;
click on the "Startup Recovery" item;
Wait while Windows RE tries to fix problems preventing the computer from starting up.
reboot and check if the blue screen of death 0xc0000034 is gone.
Restore system files
open Command Prompt in Windows RE on the Windows installation media;
write the command sfc / scannow and press Enter;
wait until the end of scanning and restoration of damaged system files (if any), then restart the computer.
Reinstall Windows 10
Of course, you can always resort to reinstalling your Windows 10 if none of the above helps. The previously obtained Windows 10 installation media will help you in this matter. Instead of clicking on "System Restore", click on "Install" and follow the instructions on your screen. After reinstalling, the blue screen of death 0xc0000034 will definitely disappear.
Earn points and exchange them for valuable prizes – details