How to remove "Launcher Program Error" error in Genshin Impact on PC?
Genshin Impact has finally received the much anticipated 1.4 update. It brought a lot of new things and made the gameplay more fun. Quests, skills, heroes and equipment, all this has been very much anticipated by gamers around the world. But, as happens quite often in every game, updates are associated with the appearance of a number of errors and problems. This version has been thoroughly checked and tested, but not everything depends on the developer. Most of the problems are related to the Internet of users and their equipment, which can malfunction. From the latter, gamers began to see the Genshin Impact launcher bug on their screens.
Fixing Genshin Impact Launcher Bug
The user launches the launcher in order to open the game itself and have fun developing his character. But sometimes a white window appears on the screen, in which the text begins with "Launcher Program Error". Literally, this means that an error occurred when launching the launcher, so further launch is impossible. Players close this window and try to download again, but the problem appears over and over again. The bad news is that along with the error information on the screen, no additional recommendations and instructions appear, just a notification that a failure has occurred.
At the moment, the developer has received a huge number of complaints about this, so he is most likely taking action to eliminate the Launcher Program Error. It is not known when the patch will come to fix the problem, so you can now try to get rid of the annoying error yourself.
In order to fix Launcher Program Error, follow these steps:
Go to link and download the most recent version of the Genshin Impact launcher.
Right-click on the taskbar and select "Task Manager".
In the Processes tab, make sure Genshin Impact is not running. If it works, then forcibly stop this process.
Run the file you downloaded from the link above.
Make sure everything is installed in the same place where the launcher was earlier. Initially, the program uses the default location, if you changed the path earlier, then do it again. Click on the "Advanced" button and select the installation path manually.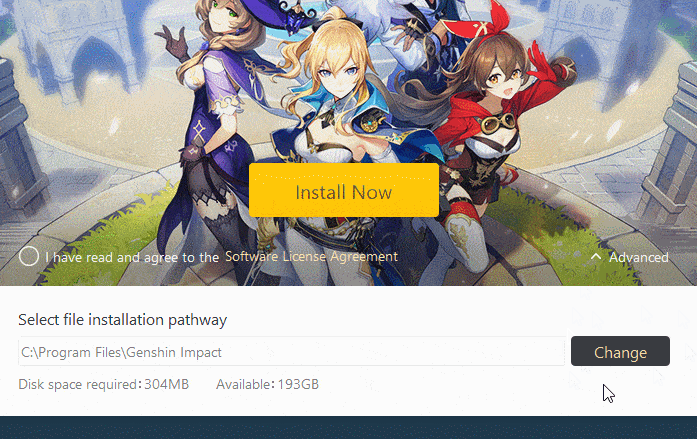 The download program will overwrite all launcher files in the same folder.
Run everything and try to enter the game, the problem should be resolved.
The file for re-installing the launcher is rather small, so this whole procedure will take a little time. The download process is fully automated, you just need to make sure that the path is chosen correctly. You can see which directory the launcher is currently in. Click on the launcher icon with the right mouse button, then select properties. The first tab will show the path where the executable file is located. If it differs from the standard one that the launcher is currently using, then these data must be entered in it.
Earn points and exchange them for valuable prizes – details