How to turn Sticky Keys on and off on Windows?
Programmers of the Windows operating system pay attention not only to ordinary users, but also to people with various physical disabilities. Thanks to this, users with additional needs are able to more conveniently use this common OS. One-handed computer gurus and newbies who struggle with key combinations will also find interesting usage patterns in the accessibility section. A rather controversial function is sticky keys, which we will discuss in more detail today. Let's see why sticky keys are needed, how to activate and deactivate this service in the operating system.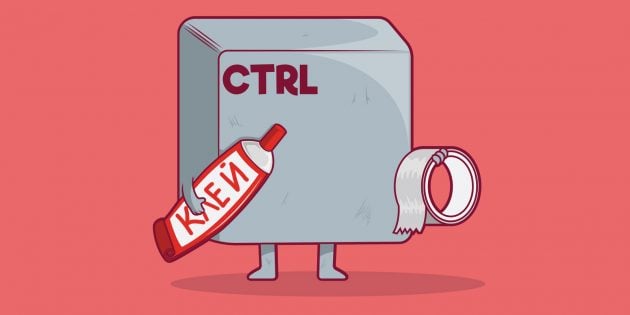 What is Sticky Keys?
An internal Windows utility that can be activated in several ways. It helps to more conveniently use combinations of hot buttons, not pressing them at the same time, but using them separately from each other. Its package additionally includes sound notification options, displaying warnings about starting and disabling sticking mode, and other settings.
Why do you need Sticky Keys?
The service allows you to press combinations of buttons one by one. For example, in order to press Ctrl + Alt + A, you do not need to twist your fingers, but it is enough to press the necessary buttons in turn in the required order. It will be useful to everyone who does not have the ability to simultaneously press the necessary combinations. Those who like to spend time at the computer with a cup of tea or coffee in their hands will especially like it.
How do I turn off Sticky Keys?
This service can not only help, but also interfere with computer games, distracting and sometimes even harming the game process. Especially due to the fact that it shows a notification after 5 presses of Shift. Let's take a look at how to disable Sticky Keys using various methods.
Via the Options menu in Windows 10
How to turn off Sticky Keys in Windows 10:
Go to the main menu by pressing the Windows key or select the icon of the operating system of the same name in the left corner of the screen.
Go to "Options".
Click on "Accessibility".
Open the Keyboard icon.
Uncheck the Sticky Keys checkbox to deactivate the utility.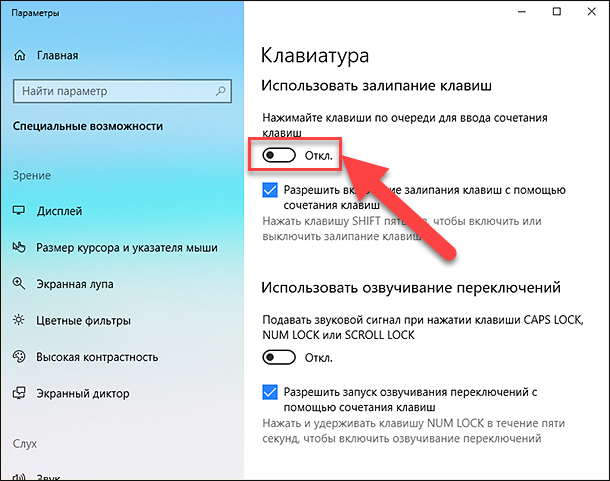 This algorithm works exclusively on Windows operating systems starting from version 8.
We use the "Control Panel" (for Windows 7, 8, 10)
How to remove sticky keys:
Activate the "Control Panel" via "Start".
Make sure to apply the standard display. Otherwise, click on the left edge of the "Display Shortcuts" control panel.
Open the Keyboard icon in Accessibility.

Uncheck Start Sticking. Click on the "Apply" button.

How do I turn on Sticky Keys?
It makes absolutely no difference where you work: in Windows 10, Windows 7, on a stationary system unit or on a laptop. This feature can be run on any machine with Windows 7 or newer. By the way, if the "Show warning when sticking on" item is disabled, the warning window will not appear, the parameter will turn on without visual and sound notification.
Tip: The fastest way to turn it on is with "SHIFT". To do this, it is enough to press this key 5 times, the system will issue a warning with a short instruction and two buttons. Having answered affirmatively to the request, the utility is activated, allowing you to immediately start working in a special mode. Another option to quickly enable the parameter is to hold the right SHIFT for more than eight seconds.
https://www.youtube.com/watch?v=-Wlk6HtYSZA
How the mode can be configured:
Allow turning on sticky using a combination of buttons. When you switch this item, the ability to call the service using "SHIFT" or other hot keys will start or stop.
Show Sticky Keys icon on the taskbar in Windows 10: An indicator in the system tray will notify you that the service is enabled.

Block modifier button on duplicate pressing: unchecking this option deactivates a number of special buttons: Windows, CTRL, SHIFT, ALT when you try to press any of them twice in a row.
Ignore short or frequent presses, change the speed of re-tapping: this setting will help with multiple presses on the keyboard. You can set additional parameters of the filtering mode: no or delayed repetitions when holding the buttons. It is possible to change the pause time before the start and the "repeat rate". You can also adjust the speed of the keyboard response when you press the keys slowly;
Sticky Keys mode runs on all new Windows PCs and can be easily turned on and off. It is suitable for both beginners and pros. The service is quite specific, but to find out if it is right for you, you should try it. If it only gets in the way, you should turn off Sticky Keys.
Earn points and exchange them for valuable prizes – details