how to use them to the maximum?
Steam sales dates are a secret jealously guarded by Valve. However, no matter how hard the company tries to keep these dates a secret, they are still leaking online long before the sale begins. Only developers or direct business partners of Valve can have such information, and the reason is simple: no one would buy anything at full price and everyone would just wait for sales, which is definitely bad for both developers / publishers and Valve itself.
Fortunately, Steam sales happen quite frequently throughout the year, and it should be noted that over the past few years there have been more and more such sales. No one would be surprised if in 2020, which was blackened by the coronavirus pandemic, sales became an order of magnitude less, but no: you and I will have a whole bunch of sales on very different occasions!
When is the next Steam sale?
The next big sale on Steam is on the way for Halloween. Unfortunately, no one knows the exact date of this sale, but judging by the past years, it will start somewhere in a couple of days before October 31st.
When do Steam sales usually take place?
Steam sales take place at scheduled times throughout the year. Therefore, based on last year's numbers, we can display the estimated dates of sales on Steam for 2020. As a rule, the error of such calculations is quite small, so do not worry that you will miss something.
Sales usually begin at 8:00 p.m. ET on the third or fourth Thursday of the respective month. The exceptions are the Fall / Black Friday Sale, which, for reasons still unknown, has fallen on Wednesday in the past few years.
Chinese New Year Sale: from 23 to 27 January (already passed).
Spring sale: did not take place in 2019 and 2020 (in the past it started at the end of May)
Summer Sale: from June 25 to July 9 (already passed).
Halloween Sale: will start two to three days before October 31st.
Fall / Black Friday Sale: will begin at the end of November.
Winter sale: likely to start sometime in mid-December.
How long do Steam sales last?
The longest are considered to be winter and summer sales. They last for about two weeks. Spring and Fall sales last about one week.
What's the best sale?
The largest discounts are observed during the summer and winter sales, but among the players, the summer is still considered the best. Why? The thing is that the autumn and winter sales are located very close to the so-called "fall release season". Simply put, you won't see any big discounts on new releases at these sales, but at the summer sale you can buy a whole wagon and a small cart of relatively new video games for a penny price.
Helpful Tips for Steam Sales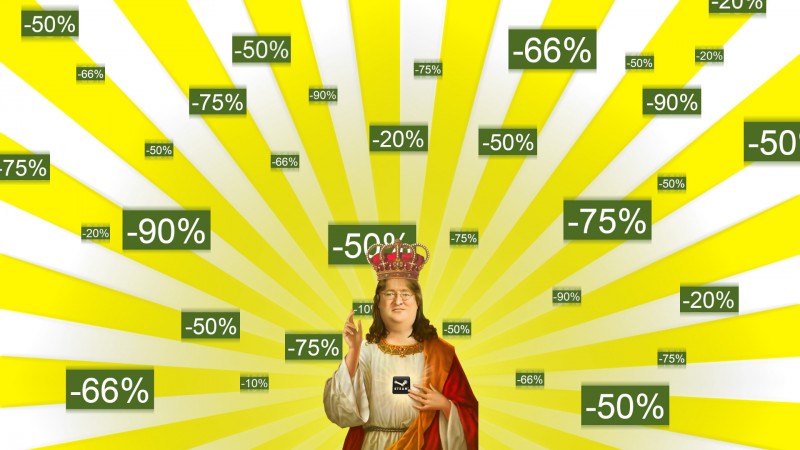 Use your wishlist wisely
Did you like some toy in the store's assortment? Add it to your wishlist. Steam will notify you when games on this list are discounted. Wishlist is an incredibly useful Steam "feature" that will help keep your wallet from spending on games you don't really need at huge discounts. If a game is not on your wishlist, then you obviously don't need it.
Stay tuned for discounts on game packs from publishers
Let's imagine that you find a toy you are interested in on Steam at a very attractive price. What to do in this case? Be sure to check if there are any discounts on other products of the publisher of this game. From time to time on Steam, there are sales of bundles of games from certain publishers, thanks to which you can save so much when buying an entire series of games or even the entire catalog of a publisher. Usually, sales of such a set take place on weekends and you can find out about them directly on the main page of Steam.
Buy add-ons for your games
Let's face it, few people buy video game add-ons from their library. The reason is that many add-ons cost exorbitant money and add minuscule new content to the game. Not all! But there are many. Nevertheless, during sales on Steam – especially during seasonal sales – all these add-ons are offered fairly large discounts, which make them a much more attractive offer for the player who did not want to look in their direction earlier. As soon as the sale starts, quickly go to your library and check if there are any discounts on any add-ons for your toys.
Check out the section with indie games
AAA games are often sold with discounts on seasonal sales, but even with huge discounts, for example, 50-75%, the prices for such games can reach about 800-1000 rubles, which for some may not be affordable. Be aware that some really awesome games can be found in the indie games section, and at much more affordable prices.
Do you need to buy anything at all?
Think about it: Do you even need to buy anything at the next Steam sale? First of all, I would like to ask this question to players with an incredibly extensive library, which already includes the best Steam games. Scroll through your wishlist, once again skim through the Steam catalog. Didn't find anything that might interest you? Why not spend the money you put aside on something else, like upgrading your computer?
Think about game key resellers
If you don't want to wait for the sale to start, you can always use game key resellers. On such web resources, you can almost always find games at fairly low prices. For obvious reasons, we will not advertise such sites, but you are fine and you will find everything yourself. Just google in advance on the Internet about the reliability of this or that reseller!
Earn points and exchange them for valuable prizes – details