Instructions for error 0x8b050033 Xbox One, X
Error code 0x8b050033 has been haunting Xbox One players for several years now. According to the "good" tradition, she migrated to the Xbox Series X / S. In the text of the message, the system says that it cannot run the game without the update, but it is not available at the moment. This can continue for quite a long period of time, for weeks the system is deprived of access to updates and the same amount of games cannot be launched. Most often, error 0x8b050033 affects Call of Duty: WWII (and other versions), Back 4 Blood, Assasin Creed, Fortnite, but it also occurs in others. Unfortunately, we do not know the reasons for what is happening, but we were able to empirically discover several working solutions.
You need this update, but we can't get it at the moment. Error 0x8b050033.
How to fix error 0x8b050033 on Xbox?
The most effective solution is to reinstall the game, but with one twist. About half of the affected users were able to fix their situation in this way. Instructions for the necessary actions are below.
Fix error 0x8b050033 on Xbox:
Delete the game from the console memory.
Go to the Microsoft Store app store. It is important to do this not through the Xbox menu with a list of applications, but through the company store.
We find the problematic game by name using the search.
Click on the "Install" button, the installation should begin pretty soon.
Once installed, the game should work correctly.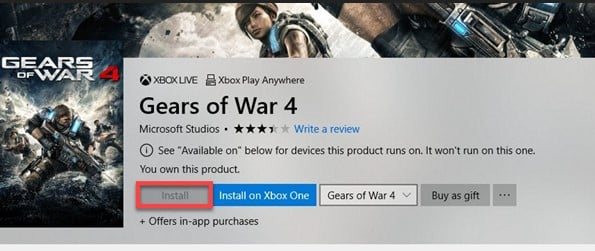 Important! If you installed the game from a licensed disc, this method is also applicable in exactly the same sequence. It is only important that by the time the installation starts, the disc is already in the DVD drive. You won't have to pay for the digital version of the game again, everything should work.
If the above solution didn't work, there is something else you can try. The essence of the method is to switch to offline mode. You need to go to the settings section "Profile and system" > "Settings" > "General" > "Network settings" and select the option "Disconnect from the network" immediately after the installation is completed. When the game says "You need internet", you need to go back and start the connection again. The game can be updated automatically after such a simple procedure. Some also write that it is additionally worth unchecking the "Update my Xbox" checkbox in the console settings.
Today, these are all known manipulations about error 0x8b050033 on Xbox, which are described in all available English and Russian sources. We sincerely hope that something works, but we need your reports. Describe whether the solutions worked for you and what you have already tried. First of all, thanks a lot for your reply.