SEC_ERROR_BAD_SIGNATURE error in Firefox: causes and solutions
When you try to enter a web resource, you can stumble upon the SEC_ERROR_BAD_SIGNATURE error in the Mozilla Firefox browser. Many users claim that they can access the site they want and work around the error by using a different browser. In this article, we will tell you what is causing this error and how you can fix it.
SEC_ERROR_BAD_SIGNATURE reasons
Third party antivirus. The most common reason for this error to appear is due to the work of antivirus software, usually from third-party developers. Such software can apply its own "special" policies to the user's network connection, which ultimately blocks access to certain web resources.
Firefox browser extensions. The problem may be extensions that were previously installed by the user in the browser. To check this, just start Firefox in Safe Mode, which does not use extensions.
Firefox Network Settings. You may not be able to access a site due to the specific network settings for the browser. For example, this situation can arise when using a proxy server.
SEC_ERROR_BAD_SIGNATURE Solution Methods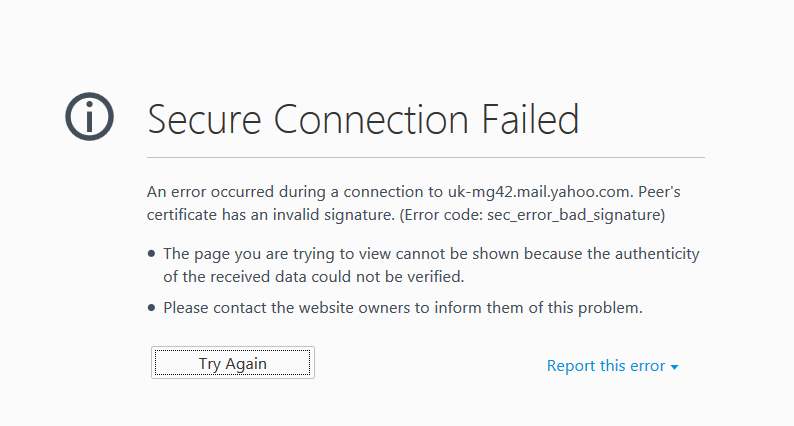 Method # 1 Disabling third-party antivirus
First of all, disable the active protection of the third-party antivirus, if there is one in the system. The main purpose of the antivirus is to protect the user's system from various virus threats and malware. However, sometimes it can start working to harm the system. Disable your antivirus, restart your computer and try to enter the desired site.
Method # 2 Launch Firefox Browser in Safe Mode
Extensions that you have installed in your Firefox browser can easily cause problems when navigating to certain sites. It is very easy to check this by going to the safe mode of the browser. In this mode, all extensions are disabled and the default settings are applied. To start Firefox Safe Mode, do the following:
start Mozilla Firefox;
click on the button in the form of three stripes in the upper right corner and select "Help";
select the option "Restart without add-ons …";
click on the "Restart" button in the window that appears;
click on the "Run in Safe Mode" button in the next dialog box.
Try to navigate to the web resource you want and check if the SEC_ERROR_BAD_SIGNATURE error appears.
Method # 3 Changing the network settings of the browser
Another reason for the error is the network settings for the Firefox browser. If you are not using a proxy server to access the Internet, then you definitely need to disable this option in your browser settings. Try the following:
start Mozilla Firefox;
click on the button in the form of three stripes and select "Settings";
go to the "Basic" tab;
go down to the very bottom of the window and click on the "Configure" button in the network settings section;
put a tick next to the "Do not use proxy" option;
save changes and restart Firefox.
Try to navigate to the correct site and check for the SEC_ERROR_BAD_SIGNATURE error.
Earn points and exchange them for valuable prizes – details