Solutions for error 80090016 in Outlook Windows 10/11
An error with code 80090016 very often appears after replacing the motherboard on a computer, as well as when transferring user accounts between different hardware. The main problem is that the licensing of the entire Office is failing, but this primarily manifests itself with Outlook Exchange authentication. The system tries to match the user data to an existing folder, but the authentication token (generated from another TPM) no longer matches. Also, the problem may occur when entering a PIN code during login.
Your computer's TPM module is defective. If this error persists, contact your system administrator with error code 80090016.
How to fix error 80090016?
The vast majority of affected users experienced a positive effect as a result of performing several procedures. Because there are many proofs of the effectiveness of actions, we hope that they will work for you too.
Renaming a folder
The essence of the problem is that TPM collects a new security code based on hardware and, of course, it does not match the old one that was generated on a different assembly. However, this can be fixed manually.
What should be done:
Now we need another account. Preferably with administrator rights. If there is an alternative account, not the one where error 80090016 appears, you need to log out and log in immediately from it. Provided that there is no additional profile, you need to create it, since you will not be able to perform the procedures from the problem account.
We go along the path C:users$dirAppDataLocalPackagesMicrosoft.AAD.BrokerPlugin_cw5n1h2txyewy, where $dir is the username. To see the AppData folder, you need to turn on show hidden items on the View tab in File Explorer.
Right-click on the folder and select "Rename". Just add to the end, through a dot – old.

The next time you try to start Outlook, you will need to re-enter your password, as well as "allow my organization to manage this device." If the error appears again, it is worth ignoring it the first time. She may not appear again.
Reset PIN
The method received a lot of flattering reviews, it can work for you. To avoid confusion, use the instructions below.
Troubleshooting Guide for Error 80090016:
Using the explorer, go to the path C:WindowsServiceProfilesLocalServiceAppDataLocalMicrosoftNGC.
To access this folder, you need to take ownership of it. To do this, right-click, select "Properties", and then go to the "Security" tab. Click on the "Additional" element. At the top, in the "Owner" line, select "Change". Enter "Administrators" in the lower workspace and click on "Search". It remains only to apply the changes.
Delete all internal NGC files.
Now, when you log into Windows, you need to enter a password, but that's not all. You need to go to "Settings" – "Accounts" and "Login Options".
Click on the "Add PIN" button and set a new one.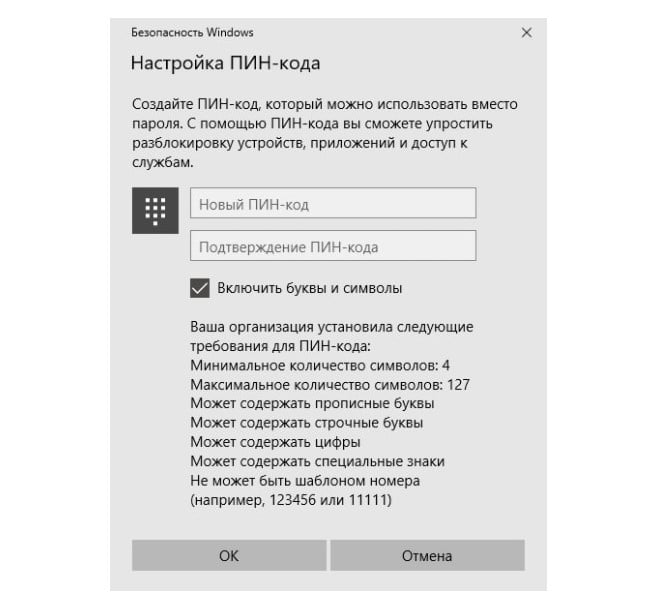 Before starting the procedure, it is better to make a backup copy of the data.
Additional ways
They also worked, but not as often as the previous ones:
Create a new account Outlook. This is not a very good solution, as it is associated with the inconvenience of transferring data, but it works.
Delete old account. In the "Settings" in the "Accounts" section, select "Access to work or school." You need to delete all old accounts from here, and then click "Connect" and enter your credentials in Office 365.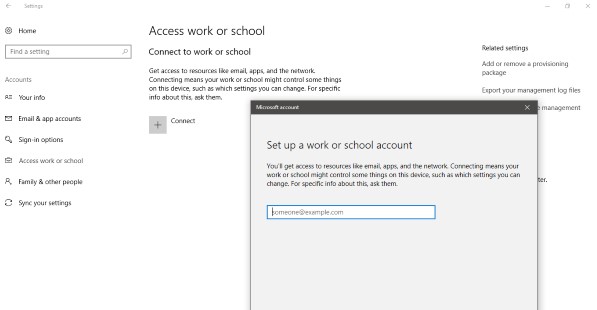 Turn off authentication. The risks associated with this method can only be justified for those accounts on which there is nothing important. You need to create the EnableADAL file in the registry editor along the path HKEY_CURRENT_USERSoftwareMicrosoftOffice16.0Common and set its value to 0.
Mailbox Conversion. For some users, changing mail first to a shared mailbox and then back to a personal one worked.
Reset activation status office. If the problem is an account conflict, the tool OLicenseCleanup.vbs will fix the problem.
In most cases, the first couple of methods help against error 80090016 in Office and Outlook in particular, but sometimes you have to resort to fallback methods. So far, these are all procedures that have a high chance of success. Please leave comments on what worked and what didn't. Also describe your problem in the comments. We may have a better solution for your specific error.