Stardew Valley Legendary Fish Fishing Guide
One of the hardest achievements in Stardew Valley is catching all kinds of fish. There are 83 copies in total. To catch many of them, certain conditions must be taken into account. For example, some can only be caught in the evening, others in winter, and still others require a good fishing rod or special bait. In addition to this, 5 species are considered "legendary", and in order to catch them, you must fulfill a number of requirements before the coveted catch is on the hook.
Fish can be caught in many places on the map. Various specimens live in lakes, rivers, ponds, the ocean and other interesting places, such as pools of water at certain levels of the mine, as well as in muddy water in sewers. Different species can appear in any weather at any time of the day during the year or be limited by certain weather conditions and seasons. For example, an eel can only be caught in the ocean on a rainy day in spring and only between 4:00 pm and 2:00 am.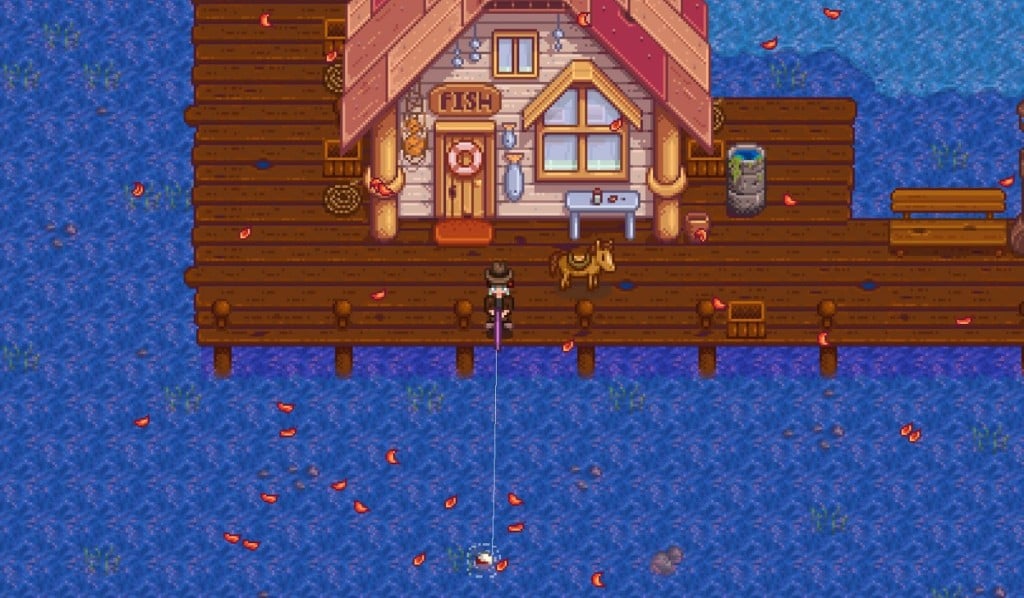 Legendary varieties emerge in similar scenarios: some do not have the conditions to catch, while others require careful selection of the season. Fishermen preparing to find the legendary fish should stock up on the best fishing rod and bait, as this increases the chances of getting a rare bite. Some of these legendary specimens also require a certain level of fishing.
Preparing for the legendary fishing trip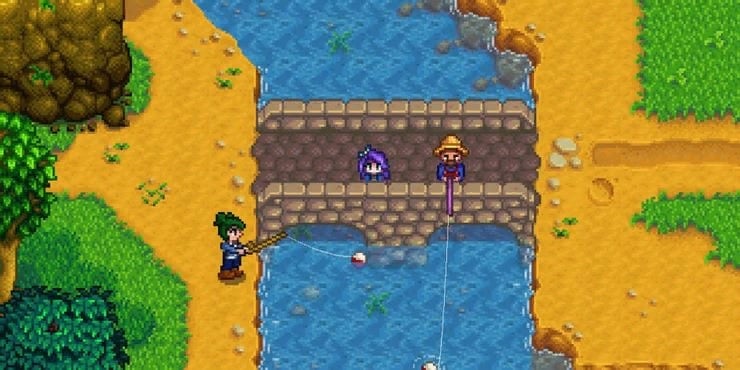 Before going on the legendary fishing trip, there are several important things to do. First, you need to reach at least level 6 fishing skill. This unlocks the Iridium Fishing Pole, which can be purchased from Willie for 7,500 gold. The iridium rod allows you to equip it with tackle and bait.
You should also have a large amount of bait in stock and a few traps. The bait can be bought at 5 coins apiece, or you can farm the "beetle flesh" that drops out when you kill beetles, maggots and flies. Float traps can be purchased for 500 gold or crafted yourself using 1 copper ingot and 10 sap. At the same time, "Lobster bisque" will not be superfluous. After consuming the dish, it gives a +3 bonus to fishing skills and restores 50 energy. Its action lasts 17 minutes.
After the basic training is completed, you need to familiarize yourself with the following conditions for capturing each of the legendary fish.
Legendary fish "Monkfish"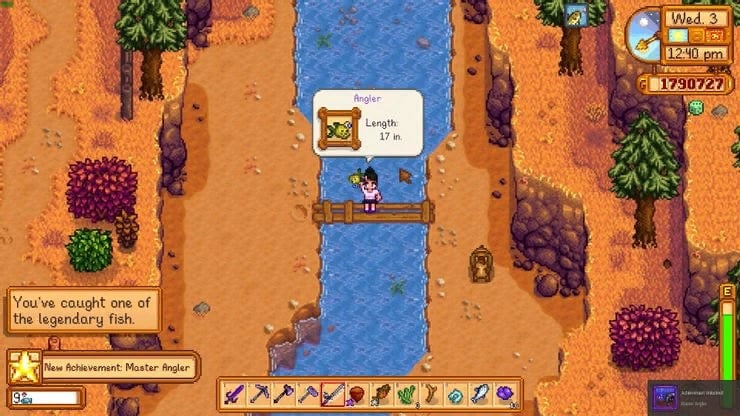 This specimen can be fished from a rickety wooden bridge just north of Joja Mart. Fishing level 3 is required for the fish to swallow the bait. The Monkfish bites only during the autumn season, however, there are no additional conditions for time and weather. The cost of fish is estimated at around 900-1800 coins, so it is needed more to achieve than to sell and make money on it.
Legendary fish "Crimsonfish"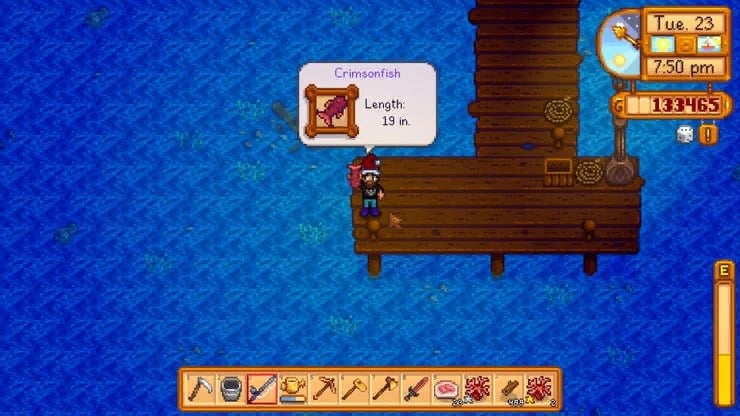 The legendary crimson fish can be caught at the East Pier in the ocean. To catch her, you need a minimum of 5th level of fishing. She bites only in summer. Although Crimsonfish is caught in any weather, it can only be found from 6 am to 8 pm. The profit from its sale will be 1500-3000 gold.
Legendary fish "Icefish"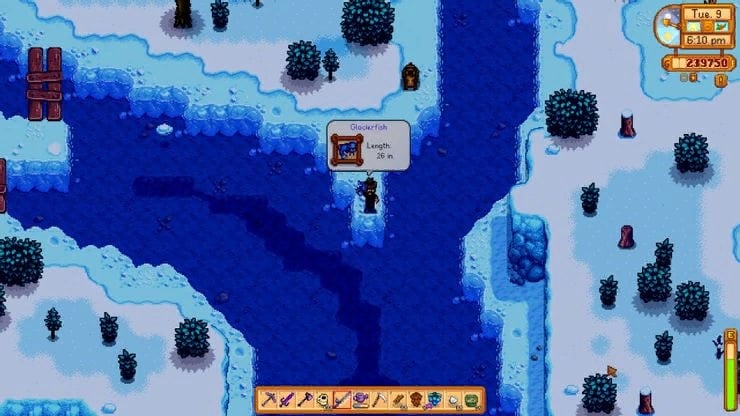 The legendary glacial fish lives in the southern part of the island in the Cindersap Forest, and is caught during the winter season. Fishing requires level 6 fishing to catch. Pecks Icefish in sunny weather from 6:00 to 20:00. In addition, you can only catch it in a certain place – on a small ledge where the river flows into the ocean. It costs in the range from 1000 to 2000 coins.
Legendary fish "Legend"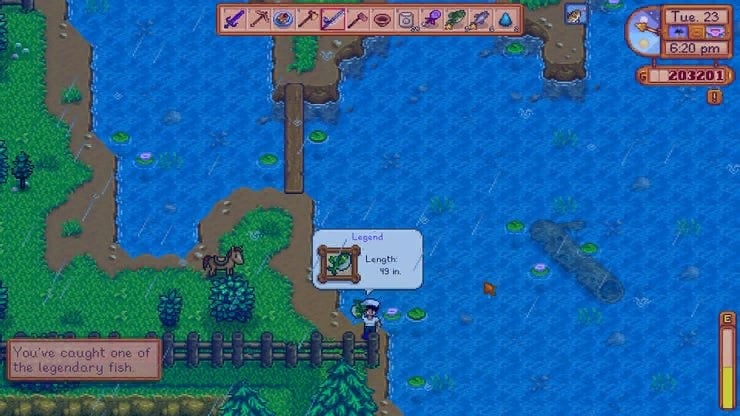 This legendary specimen of aquatic fauna can be the most difficult to capture. No wonder the Legend is called "The King of All Fish". To catch it, you need a 10th level of fishing. She lives in the Mountain Lake, in the corner of the map (top right). For a better bite, you should stand on the western side of the lake and cast your fishing rod into the area of ​​the tree lying at the bottom. Season opening time: spring, rainy weather. Appears from 6 am to 8 pm. Its price ranges from 5,000 to 10,000 gold, depending on the quality.
Legendary fish "Carp mutant"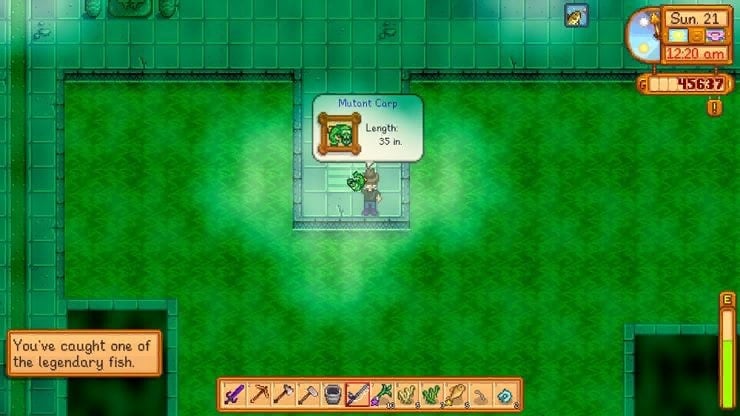 The legendary mutant carp lives in the waters of the sewer. There are no requirements for level, weather, time of year and day for catching it. As soon as the player has access to the sewer, you can go to capture him. It is worth noting that the Mutant Carp is quite cunning, and often gets off the hook. This fetid specimen is worth 1,000 to 2,000 gold.
Catching all the legendary fish in Stardew Valley is a pretty tough task. And, despite the fact that such rare samples can be sold, most players decide to keep them in their collection, especially considering that they are caught only once per game.
Earn points and exchange them for valuable prizes – details