SU-35931-1 when updating PS4 – how to fix?
Error SU-35931-1 may occur during PS4 online update. The error message usually contains the following information:
The system software update files are partially corrupted.

or

An error has occurred.
A nasty notice, especially if you're tired after a long day at work and want to quickly update your PS4 so that it can finally run the video game you want. Fortunately, the error in question is not a serious problem – it is solved extremely easily.
Solving error SU-35931-1 on PS4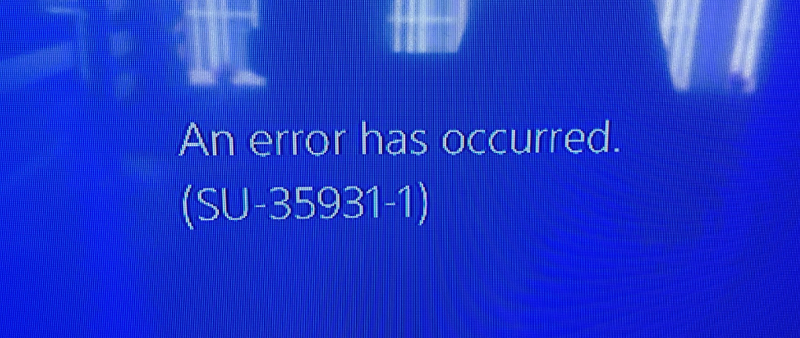 Solution #1 Restart PS4 software update
Many users, seeing such an error, begin to worry, and in some cases, panic. Nevertheless, the latter is definitely not worth doing: PS4 update errors are an extremely common problem. As a rule, running the console update again helps get rid of SU-35931-1 (and other similar errors).
To update your PS4 manually, you need to do the following:
open "Settings" on the console;
go to the PS4 OP ​​update section;
select the "Update via Internet" option.
As long as your PS4 is connected to a stable internet connection, then updating your console should go off without a hitch.
Solution #2 Updating PS4 Using a Flash Drive
In some cases, the PS4 may refuse to update normally in the usual way. This can happen for a variety of reasons, but all this trouble can be circumvented by updating the console using a USB drive. To prepare your flash drive for the latest PS4 update, you need to do the following:
connect the flash drive to the computer and format it to the FAT32 file system;
create a "PS4" folder on the flash drive, then open it and create an "UPDATE" folder in it;
go to following linkto download the latest PS4 update;
copy the "PS4UPDATE.PUP" file to the "UPDATE" folder on the flash drive;
connect the flash drive with the update file to your PS4;
put the console into safe mode by holding down the power button and holding it until the 2nd (!) beep;
connect the DualShock controller to the console via a USB cable and select the option to update the PS4 software from the list;
select the "Update from USB" option and confirm your intentions by selecting "OK";
wait for the PS4 update to finish.
With this method of updating the PS4, you should not encounter error SU-35931-1 at all.