This game is not available on your operating system in Valorant on PC
While running Valorant on PC, some players encounter the error "This game is not available on your operating system." This message completely blocks the "Play" button, as a result of which the further launch of the game becomes absolutely impossible.
What causes the "This game is not available on your operating system" error?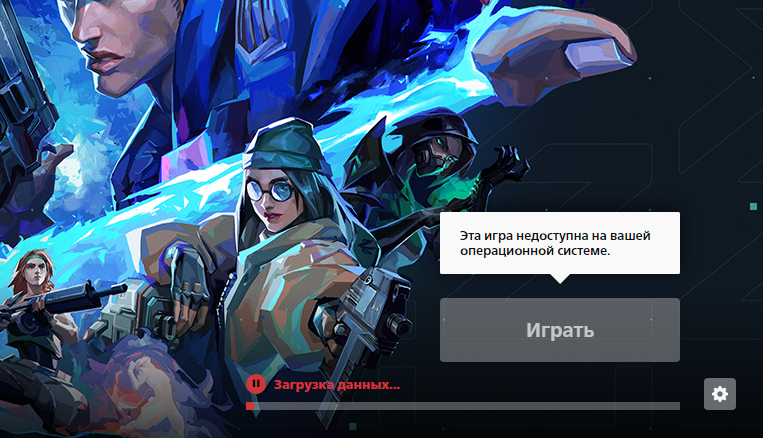 From the error message, one would assume that the problem is with the version of the Windows operating system being used. Nevertheless, many users on the network claim that they get an error even with a suitable version of the OS. We remind you that Valorant requires 64-bit Windows 7, 8, 8.1 or 10.
So what's the reason? If the player has the recommended version of Windows, then the OS incompatibility error most likely occurs either due to a bug in the Valorant launcher or Windows itself. However, there are other, more specific reasons, but they are very rare.
Tips for Resolving OS Incompatibility Error in Valorant
The most obvious solution in this case is to completely restart the Valorant launcher. And no, clicking on the cross in the upper right corner of the window is not enough. You need to first close the launcher window in the usual way, and then close its process through the Task Manager (CTRL + SHIFT + ESC), if it is still active, plus close all Vanguard processes – the anti-cheat of the game.
Run Valorant and check for the error. Nothing changed? Then, perhaps, you are dealing with some kind of bug that has arisen in your Windows. Some online players claim that they managed to get rid of the error by simply restarting their computer.
Also try changing the language in the Valorant launcher and logging into your Riot account. All this, of course, is accompanied by restarting the launcher itself and restarting the PC. Unfortunately, such actions are ineffective, but they still helped a small percentage of players.
Another additional solution is to delete the local data of the Valorant launcher. Apparently, not entirely correct parameters may be written to the latter, which leads to all sorts of errors, including "This game is not available in your operating system." Go to% localappdata% VALORANT Saved and delete all contents of this folder. Restart your PC and check for the problem.