This PC can't run Windows 11: error causes and solutions
Microsoft recently presented Windows 11 and many users immediately began to check if they could install the new operating system on their computers. Not everyone is successful with this procedure, many see the message "This PC can't run Windows 11". It translates as "Windows 11 cannot be started on this computer." Moreover, the PC meets the minimum requirements for the new operating system.
For Windows 10 to correctly recognize the ability to install Windows 11 on your computer, you need TPM 2.0 and an active Boot Secure mode. Almost all mobile PCs have at least fTPM 1.2, which, in accordance with the minimum requirements of Windows 11, will also be sufficient to update the operating system. fTPM is a type of TPM security feature implemented in system firmware. In the case of AMD Ryzen BIOS (AGESA), this is fTPM 2.0.
If Secure Boot is disabled and TPM is disabled or not supported, the system will display an error message.
How to fix "This PC can't run Windows 11"?
So that this message does not appear anymore, but it becomes possible to install Windows 11, you need to activate TPM and Boot Secure through BIOS or UEFI. How to do all this is described below.
How to enable TPM and Secure Boot:
We reboot the PC and at the moment of turning on, press the key to go to the BIOS or UEFI.
We are looking for the "Secure", "Boot" or "Authentication" tabs – depending on your BIOS manufacturer.
Find the "Secure Boot" parameter and set it to "Enable".
We do the same for the "TPM State" option.
We save the changes with the F10 key in the main menu and restart the computer.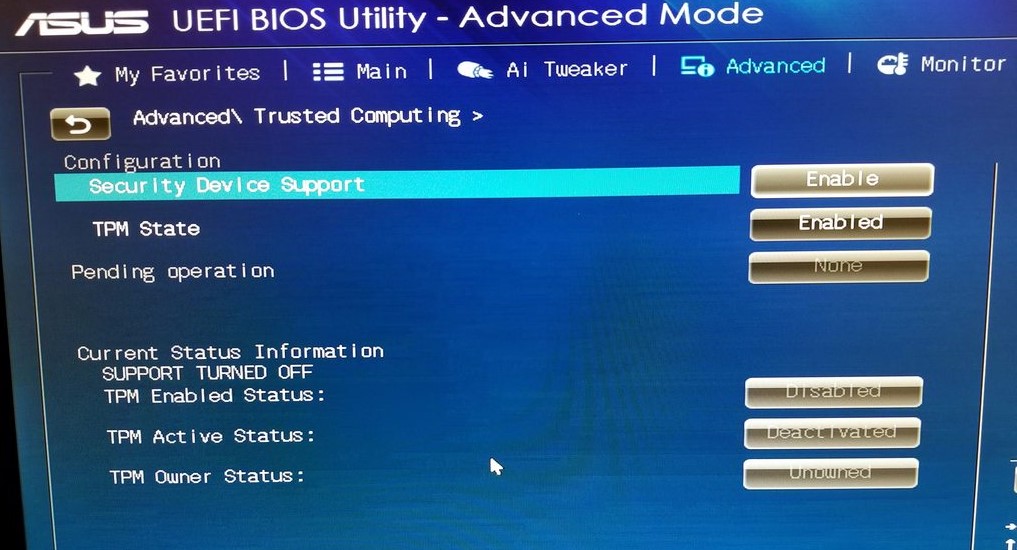 Important! Similar technologies should also be active: AMD CPU fTPM or Intel Platform Trust Technology (IPTT), if present in the BIOS.
The main difficulty is that all BIOS and UEFI developers have different partition names and locations for these options. We'll have to search for these parameters a little. In general, there is nothing complicated here. If your computer meets the minimum Windows 11 requirements, the above step should help.
Earn points and exchange them for valuable prizes – details