Top 8 Best FRP Bypass Tools of 2021
Hey friends, today we bring you the best FRP bypass tools that will help you bypass your phone's Google account. Factory reset protection is an additional Android data protection feature, due to this feature everyone will need the Google account ID and password to reset the phone.
But sometimes this feature creates the problem for the users when we forgot our Google ID or password. So, to solve the problem, we are going to share a list of the best FRP bypass tools of 2020. So, now you can unlock FRP from your phone's Google account using these tools.
FRP bypass tools
1. Frp Hyjacker Tool (For Samsung)
The FRP hyjacker tool is for Samsung users only. If you want to remove FRP (Google Account Bypass) lock then you need to use this tool. We will provide you with the download link for this tool, we have also shared a video for installation and a full step by step user guide.
Password: – www.gsmhagard.com
2.Method to bypass FRP online (paid)
If the FRP bypass method given above does not work for you, you can try leaving the website below to bypass your phone's FRP lock. But you have to to pay a small amount for it. 100% refund if they can't unlock your phone. And it is a method of 100% work.
Download Latest Version of FRP Bypass Apk
3. BYPASS GSM FRP and turn signal tool
It is the best Google account bypass tool which is also free. It works for almost all versions of Android. And it's really easy to use. So I think you should try this.
Characteristics:
It works for almost all versions of Android and for almost all Android devices like Samsung, HTC, MI, QUALCOMM, SPD, MTK etc.
It also works for the older version of SP Flash.
It's free.
4. FRP D&G Bypass Tool
D&G is another best factory reset protection bypass tool. It has a unique way to unlock Android device. It uses step by step and a complete method to solve your Google Account Lockout Bypass issue.
Characteristics:
Ideal for Samsung, Motorola, Huawei, HTC, Lenovo, Xiaomi, Huawei and Euphoria devices.
D&G is compatible with Windows XP, Vista and Windows 7,8,10.
5. Pangu
FRP Pangu Bypass Tool is an amazing tool. It is known for its time saving process for the authorized Google account holder. And if you have an authorized Google Account, you can remove the FRP lock in about 10 minutes.
Characteristics:
It's free.
It is a tool that saves time.
It is suitable for all Samsung, Micromax, Lenovo, Motorola, MTK and SPD devices.
6. Samsung FRP Helper v0.2
Samsung FRP Helper is an FRP unblock tool. It has ADB functionality to bypass the PRF verification process. And I think it will definitely work for your device. If that doesn't work, you should try another one from this list.
Characteristics:
It uses a special feature (ADB) to bypass FRP verification.
Samsung FRP Helper v0.2 has a simple and interactive graphical interface.
It also provides you with a detailed guide to bypass FRP verification.
7. ADB Flasher GSM Tool
GSM Flasher ADB Tool is also the best FRP bypass tool. It will bypass your device lock with an easy and accessible way using the USB cable. You can communicate with your device using its special feature, the Android Debugging Bridge (ADB).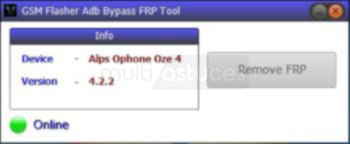 Characteristics:
It has an easy installation process and an easy interface.
It is compatible with all types of operating systems.
You can take advantage of the ease of removing Pattern Lock.
You can also do this for the reactivation of strippers.
Read also: Bypass Factory Protection Reset on Samsung Devices
8. FRP Bypass APK
FRP Bypass APK is one of the best tool which allows you to bypass Google Account for free. Users have rated it with 4.1 stars.
Characteristics:
Ideal for Samsung devices.
You can download and use it for free.
You can also share it with your friends and family.
How to use the GSM Flasher ADB tool
First, turn off your antivirus software.
You can restart your antivirus software after closing the tool GSM Flasher ADB.
Now download the above file and extract it to your computer.
Open the file GSM Flasher ADB Tool.
Now activate ADB mode on your FRP locked Android phone.
If you cannot access ADB mode on your phone, turn off your phone and try the steps below.
After that, connect your phone to PC using USB cable.
When you connect your device, it will take a few seconds for the connection to be successful.
It will display a

green indicator

and a text

in line

.
Now just click on Remove FRP button.
That's it, it will restart your device without FRP lock screen.
List of tested devices
Samsung: – duos, J7, J2, J7 prime, J5, J1, Galaxy core 2
Motorbike: – G3, E, G4, E 4+, M, G 5S +, G Turbo, Turbo
Jio Phone: – Jio LYF phone, Jio keypad phone
Nokia: – 105, 130, C2, 215, 225, Asha, C5, 150
Intex: – Aqua, Aqua Star2, Aqua Power Plus, Aqua Y2
Lenovo: – Z2 +, Vibe K5, A2010, K5, Vibe, A6600, A1000
LG: – Aristo, pen 3, K10, K20, Pen 2, G6, G4, G5, G20, K20 Plus
ZTE: – Sonata 3, Z982, Z835, blade, Z833, N9560, Zmax Pro, Z799vl, Z831, Z981
So these are the best and latest FRP bypass tools. These tools will help you bypass your Google Account verification in a few simple steps.
Final words to readers
At the end of this article, I want to thank you all for visiting this website. Hope you enjoyed this article. If you liked it, please share it with your friends and family.
And if you have any questions, doubts or suggestions for this article, comment them in the comments section. And visit this website again for more technology solutions.