Unable to load "Citizengame.dll" in FiveM for GTA 5
Some players run into the "Unable to load Citizengame.dll" error when trying to launch FiveM, the mega-popular multiplayer mod for the PC version of Grand Theft Auto 5 that allows you to play on dedicated custom servers.
The error is quite problematic, because almost no useful information is indicated in its message – only the name of some unknown file. Of course, you can try to find this file using the system explorer, but what to do with it? How can I "fix" it so that it works normally? In today's article we will try to answer this question.
How to fix the error with "Citizengame.dll" in FiveM for GTA 5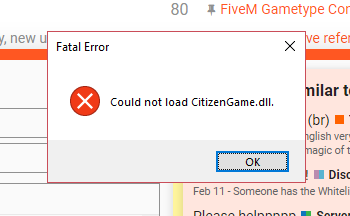 The dynamic library Citizengame.dll must contain the path to the executable file GTA5.exe, which is located in the root folder of Grand Theft Auto 5. Apparently, when installing FiveM, something could go wrong, and the path to the file was registered incorrectly, or did not register at all, which causes an error when starting the mod.
To recreate the Citizengame.dll file, you need to do the following:
open System Explorer and go to AppData / Local / FiveM / FiveM.app;
minimize the open window and go to the Desktop;
right-click on the Desktop and select "New → Text Document";
insert the following lines into the textbook:
[Game]

IVPath =[ПУТЬ К ИСПОЛНЯЕМОМУ ФАЙЛУ GTA5.EXE]
then click on the "File" item in the window menu bar and select "Save as …";
name the file "Citizengame.dll" (be sure to change the extension from TXT to DLL!), choose a location convenient for you on your PC and click "Save";
cut the created "Citizengame.dll" and place it in the AppData / Local / FiveM / FiveM.app folder (still collapsed) with replacement;
close all open windows and launch FiveM.
After such a simple manipulation, the error with the "Citizengame.dll" file will disappear – FiveM and GTA 5 will start without any problems.
Nevertheless, if for some reason the error was not resolved, we recommend using a number of auxiliary solutions:
delete the "Caches.xml" file from the "% localappdata% / FiveM / FiveM Application Data" folder;
add to the file "CitizenFX.cfg" (located in the same folder ↑) the line "DisableOSVersionCheck = 1";
completely reinstall Microsoft Visual Studio C ++ 2015;
disable antivirus and firewall;
check the integrity of the GTA 5 game files;
reinstall GTA 5 and FiveM.
It is worth noting that for most users to solve the error with "Citizengame.dll" in FiveM in GTA 5, the main solution is often enough.