Useful Tips for Playing Battlemode in Doom Eternal
Battlemode is the only multiplayer mode in Doom Eternal. We recommend that you try this mode at least once, because it provides a rather unique experience. The fact is that this is not a classic deathmatch, but the so-called "1-against-2". In Battlemode, one player takes on the role of Doomgai, the other two are demons of different breeds. The mode is extremely unusual, and therefore we decided to share with you some useful tips for playing Battlemode.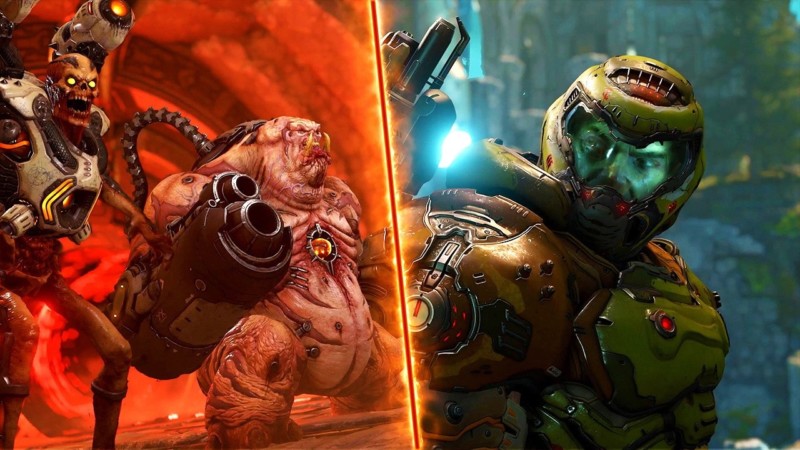 When playing as Dumgai
If you play as Dumgai, you will experience approximately the same gaming experience as the storyline campaign of Doom Eternal. The same set of weapons will be available to you and you will shoot the same demons, but only the latter will be played by real players, not artificial intelligence.
During the battle, try to keep the demon players apart, otherwise they may join forces and quickly kill you.
Remember that demon players can summon other demons to their aid. If you spot such, quickly get rid of them so that they do not interfere in the battle with real players.
Summoned Demons are a great source of ammo. Always use a finishing move or a chainsaw on these demons. If you do not do this, you will soon be left without ammunition, which is actually a death sentence.
Never focus on just one demon player! Try to spread your attacks evenly to weaken both of them.
If you nevertheless decide to focus on some demon player (maybe this is your friend), then try to destroy him with the help of light weapons, and leave the heavy on the second, so that you have a relative guarantee of victory. The fact is that after killing the first demon player, you will have to kill the second within twenty seconds. If you fail to do this (and this happens quite often), the killed demon player will be revived and everything will start from the beginning, and you definitely do not want this.
Movement is the key to winning Battlemode when playing as Dumgai. Once you stop, you are guaranteed to be found and attacked. Keep moving and your chances of winning will multiply.
When playing as a demon
Of course, in Doom Eternal's story campaign, you can't fully play demons, and therefore Battlemode is a completely new experience. Try to adhere to the following guidelines when playing as a demon:
Always, always (!) Work as a team with your fellow demon. If you don't, Thinkgaya will quickly deal with you. It would be great if there was a voice communication between you.
Dumgai has the widest arsenal of weapons at his disposal – and all of them are aimed at destroying demons! Your demonic abilities are powerful, but not strong enough to overshadow Doomgai's arsenal. Your advantage is numbers. Two demon players and as many small demons as you can summon – that's where your strength lies.
Never stop attacking Doomgai! Constantly summon demons to distract Doomgay, and constantly attack the latter. In this case, he simply will not have time to replenish health, armor and ammunition.
Fun fact: you can temporarily block health, armor and ammunition scattered around the map so that Dumgay cannot use them. Don't forget about this gameplay mechanic!
When Dumgai has killed your demon comrade, try not to die within twenty seconds. As we said above, if Dumgai does not kill the last demon player, the previously killed comrade of the last will be revived and everything will start all over again.
Don't forget about demonic abilities! Each demon has its own unique abilities. Keep a close eye on Doomgai and use your abilities when it is most appropriate.
Earn points and exchange them for valuable prizes – details