what causes the error and how to fix it
CE-33945-4 is one of the most common PS4 errors. As a rule, it appears either due to problems with the PSN account or if the console cannot establish a stable connection to the servers of the PSN service. When an error occurs, the player loses the ability to properly run some games on PS4, as well as use the network functionality of the console.
Potential Causes of CE-33945-4
PSN service issues or maintenance.
A bug or glitch in the PS4 software.
Problems with PSN account.
A malfunctioning router.
Slow or unstable network connection.
Problems with DNS servers.
How to fix error CE-33945-4 on PS4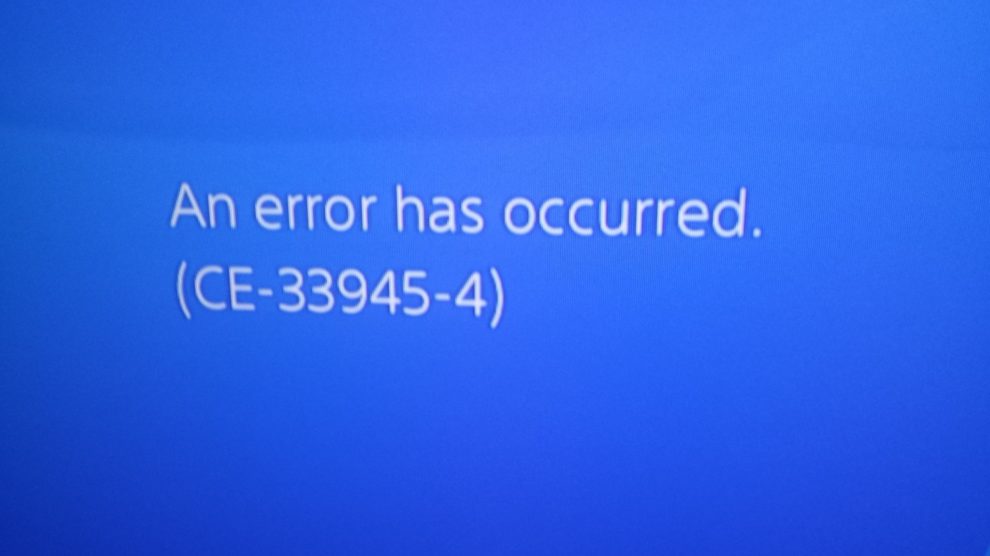 Method #1 Checking the status of PSN services
In some cases, error CE-33945-4 may be the result of an issue with the PlayStation Network services. Go to official page to check the status of PSN services. If you see the message "All services are running fine" there, then the problem is clearly something else. If there is a message "There are problems with some services", then you have no choice but to wait for the problem to be solved by SONY technical specialists.
Method #2 Rebooting the Console
With no issues with PSN services, restarting your PS4 should be your next step. Turn off the console in the usual way (by pressing the power button on the device), unplug it from the mains and wait about 30 seconds, then plug everything back in. Such an elementary action will allow your console to get rid of corrupted data and system cache, which can potentially cause the CE-33945-4 error to appear.
Method #3 Re-authorization in your PSN account
Sometimes signing in to your PSN account isn't going well, causing your PS4 to run into all sorts of issues, including error CE-33945-4. Here's what you need to do: Sign out of your PSN account, restart your console, and sign in again with your personal details. Again, a trivial solution, but it works, at least if you trust the words of other PS4 owners on the net.
Method #4 Restarting the Router
A router is a damn useful thing, but only when it works properly. Unfortunately, many Wi-Fi routers start to work not quite correctly if they are not periodically restarted. Decreased download / upload speeds, blocking connected devices, unstable network connection – all these and many other problems can be experienced by users who have not restarted their router for a long time. Once you restart your router, go back to your PS4 and check for error CE-33945-4.
Method #5 Changing DNS Addresses
In more rare cases, PSN connection issues can be caused by DNS addresses that are automatically set in the PS4 settings. To change the DNS on your console, you need to go to Settings → Network → Connect to the Internet → Wi-Fi (or wired if you are a user) → Custom. Choose the default values ​​until you get to the DNS configuration section. In this section, select the "Manual" item. Set the value to "8.8.8.8" as the primary DNS address, and "8.8.4.4" as the secondary one. Complete the network setup and restart your console.
If none of the above worked, then error CE-33945-4 may be due to problems directly with your network connection. Contact your ISP and ask them about this.