what is it, release date, price, characteristics
The Steam Deck is another attempt by Valve (let's not remember Steam Machines) to break into the ranks of hardware manufacturers, as well as a kind of "response" to the super popular Nintendo Switch, which has dominated the portable console market for several years in a row. The Steam Deck is a portable gaming PC that can run any game from the Steam store.
But what exactly is this device? Is it really possible to play absolutely all Steam games on it? How much will such a device cost? In today's article we will try to answer these and other equally exciting questions.
Steam Deck Release Date: Dec 2021
The first wave of Steam Decks will be poisoned by their lucky owners already in December 2021… But all the unfortunate ones who did not manage to order a new portable device from Valve almost immediately after its announcement will have to wait at least until next summer. And no, this is not a joke: the second wave of Steam Decks will be ready for sale only by third quarter of 2022… Perhaps something will change in the coming months, but we would not hope so.
Steam Deck price: from $ 399 / £ 349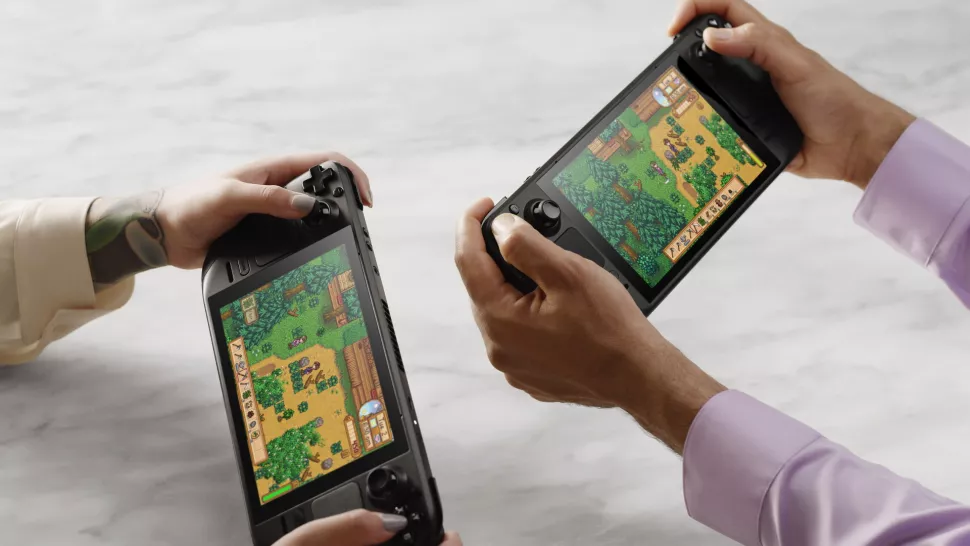 Currently, you can pre-order three versions of the Steam Deck, which are based on the same hardware, but more expensive models can boast increased volume and speed of internal storage, as well as other nice "buns".
Steam Deck for $ 399 – base model with 64 GB eMMC storage + case.
Steam Deck for $ 529 – improved model with NVMe SSD storage + case + exclusive set of content for the Steam profile.
Steam Deck for $ 649 – the best model with high-speed NVMe SSD storage + anti-glare display coating + exclusive Steam profile content pack + unique virtual keyboard theme.
How to Pre-Order Steam Deck Now
Unfortunately, we have to disappoint people who wanted to try out a new Valve product this year. According to the official pre-order page, the next, second batch of Steam Deck will be available only summer 2022 or even later… Only a few lucky ones who managed to pre-order Steam Deck right after its announcement by Valve will be able to get the Steam Deck.
No one doubted that this would happen, but just a few days after the start of official pre-orders, purchased, relatively speaking, Steam Decks could already be found on various online auctions, for example, eBay and Amazon, at double or even triple prices.
It's important to remember that speculators trying to resell Steam Deck pre-orders don't have a Valve console (PC?) In stock. Simply put, do not try to buy a Steam Deck from someone on the network at an overpriced price, because they almost certainly try to breed you, so to speak. Realistically, the Steam Deck will be available for purchase at the very end. next year (!), and therefore we recommend to be patient and wait.
The Steam Deck features are really impressive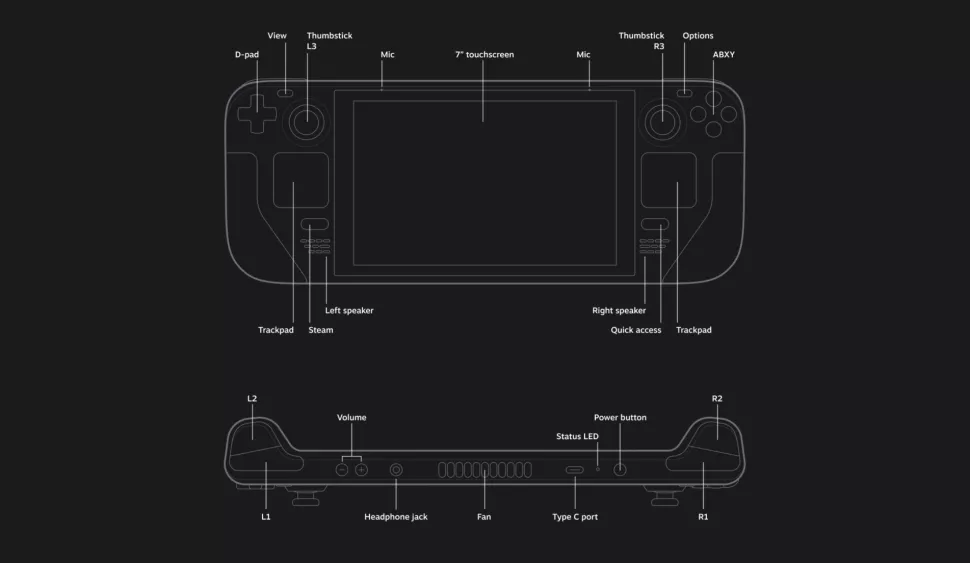 Valve is positioning the Steam Deck as a gaming laptop, but only in a portable console form factor like the Switch. Admittedly, there is some pretty impressive hardware under the hood of the Steam Deck!
CPU: Zen 2 4c / 8t, 2.4-3.5 GHz (up to 448 GFlops FP32)
GPU: 8 RDNA 2 CUs, 1.0-1.6 GHz (up to 1.6 TFlops FP32)
RAM: 16GB LPDDR5 (32-bit Quad, 5500 MT / s)
Storage: 64GB eMMC, 256GB & 512GB NVMe PCIe Gen 3
Dimensions: 298x117x49 mm
Weight: 669 g
Display: 7 ″ 1280 × 800 (16:10) 60Hz LCD
Audio outputs: 3.5 mm stereo jack
Battery: 40 W / h, from 2 to 8 hours of operation (depends on the games being launched)
Video output (in dock mode): up to 4K 120Hz / 8K 60Hz (gaming performance unknown at these resolutions)
Ports: microSD, USB 2.0 & 3.1, HDMI, DisplayPort
Connections: 2.4GHz / 5GHz Wi-Fi, Bluetooth 5.0
Will the Steam Deck be upgraded in the future?
All versions of Steam Deck use high-speed solid state drives. The base model has 64GB eMMC storage, the other two are 256GB and 512GB M.2 2230 NVMe SSDs. Valve claims the Steam Deck has an extremely complex memory device; replacing the SSD is technically possible, however, given the relatively small size of the device, the company urges users not to do this, at least in the initial stages.
Steam Deck – portable console and PC rolled into one
If you haven't figured out the specs above yet, Valve will be selling a separate dock under the Steam Deck that will allow you to connect your portable console to an external monitor or TV. The Steam Deck has DisplayPort and HDMI ports, so you can connect it to almost any modern screen in your apartment (sorry owners of older VGA and DVI monitors).
It's also important to note that the Steam Deck runs on SteamOS, which is based on Linux – you can install almost any software on your new Valve portable. That's right, the gadget is designed primarily for video games, but you can use it as a multimedia or even a work machine, especially in docking mode.
The Steam Deck not only has access to the Steam library, but other games as well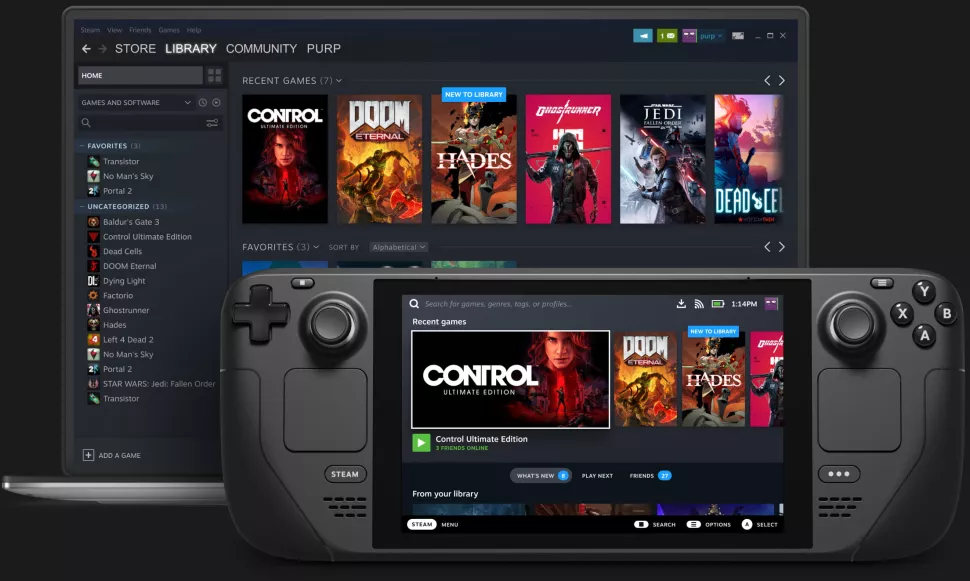 Some users on the net still do not fully understand what the Steam Deck is. Basically, the Steam Deck is a personal computer in a portable form factor. This means that you can play literally any game in your Steam account library on the Steam Deck. That's right, there are no restrictions on the availability of games. Moreover, if you get a little confused, then, theoretically, games from other launchers will be available on the Steam Deck, for example, GOG or the Epic Games Store. Plus, you can run any games on the Steam Deck that will be installed on external SD cards.
Will some games be unavailable on the Steam Deck?
The Steam Deck runs on SteamOS, a heavily modified version of Linux, and therefore the new Valve handheld may refuse to run Destiny 2, Apex Legends, Rainbow Six: Siege, Player Unknown's Battlegrounds and other super popular multiplayer projects. The reason is the anti-cheating software that is involved in the operation of these games and which could potentially be incompatible with SteamOS. ,
Nevertheless, the above problem is all just the experiences of experts and ordinary users on the network, and not accurate information. Perhaps the Steam Deck will be able to "digest" absolutely all PC games without any nuances, and perhaps not. At the moment, in principle, no one can know this. Will these experiences be dispelled or will they turn out to be true? Looking forward to December 2021!
Earn points and exchange them for valuable prizes – details