What is the Unsecapp.exe process and is it a virus?
Windows simultaneously processes dozens of services and programs, which in the Task Manager can be called by several different processes. By eye, they can be difficult to correlate with a specific application. The same is true for Unsecapp.exe. What is this program, why is it needed, is it not a virus? We will answer these and other questions regarding this process.
Unsecapp.exe – what is it?
Unsecapp is a universal service for receiving callbacks from applications. It is needed to receive and process calls from WMI client applications. Without going into details, a process is needed to receive callbacks and synchronize them. Thanks to the service, applications can work stably and synchronously.
Where is the Unsecapp.exe file located?
Similar to other system DLLs and applications, the file is located in C: Windows System32 wbem. To make sure that we have a safe element in front of us, and not an infected virus masquerading as it, we recommend that you follow these steps:
Open the task manager and expand the entire list of processes, if you have not already done so.
Find this file, right-click on it and select "Open File Location".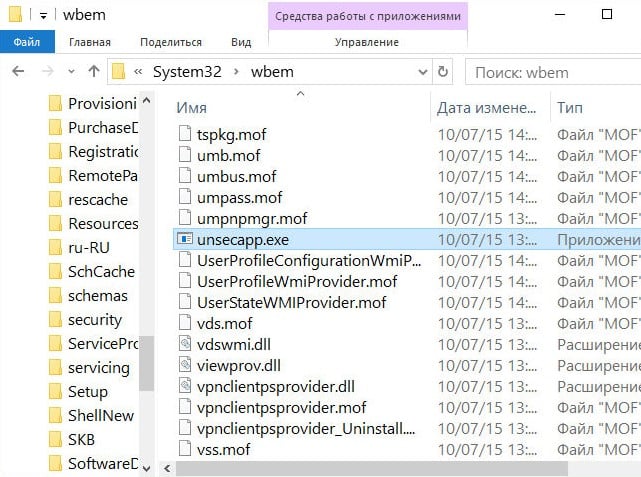 Why is unsecapp.exe showing up in Task Manager?
There are 2 options: you installed a program that uses this file more often than others, or unsecapp.exe was previously present in the manager, you just noticed it.
Is Unsecapp.exe a safe file?
If Unsecapp.exe is located in its home folder C: Windows System32 wbem, the file can be trusted and does not pose a threat to the operating system. If its location differs from the one indicated, it is possible that you are indeed dealing with a virus. It makes sense to scan the system with antivirus programs.
In most cases, there is no cause for concern. It is not surprising that the program periodically appears in the task manager, because it is called by some programs. However, another warning sign is that the process is consuming too many system resources. It is worth trying to complete it. The file will most likely run again, only it will run with less memory.
Could Unsecapp.exe be a virus in disguise?
Unfortunately, such a situation cannot be ruled out, because hackers can disguise a virus as any file. Antivirus applications will come to the rescue here. If the antivirus does not find infection, then everything is in order.
Can Unsecapp.exe be removed?
This action is not available even for a user with administrator rights. If you try to perform this procedure, a prohibition will be displayed. The fact is that this is a critical system process, other services refer to it. He must work in the background. Although you can disable the service, it is not advisable to do so.
What is Sink to Recieve?
Unsecapp.exe is part of Sink to Recieve, and the software is part of the Windows Operating System. Its role in receiving asynchronous callbacks for WMI client applications.
Earn points and exchange them for valuable prizes – details