what is this game, where is it available and much more
In recent years, multiplayer video games have entered a stagnation zone: faceless shooters, boring RPGs, and countless battle royals. But with the relatively recent popularization of the game Among Us, the online gaming genre has received almost a second wind. Would you like to have a good time with your comrades and friends? Then you will not find a better place than Among Us! In today's article, we'll tell you what Among Us is, how to play it, what platforms it is available on, and much more!
What is Among Us?
Among Us is a multiplayer game developed by InnerSloth and is available on PC, Android, iPhone, iPad and Nintendo Switch. The original release of the game took place on June 15, 2018 for iOS and Android mobile devices, and is expected to be released on PlayStation 4, PlayStation 5, Xbox One and Xbox Series X | S sometime this year.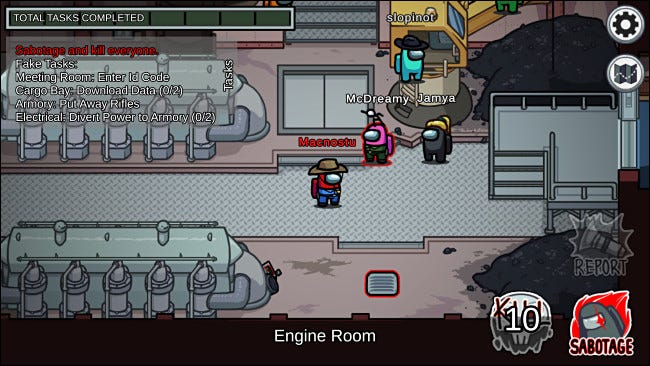 Among Us is a highly entertaining mix of detective, deep space setting and survival horror elements – all in multiplayer! Among Us can be played both online and over a local area network. However, in the current pandemic situation, few people are engaged in the latter. It is best to play Among Us with a group of four or five people. It is also important to note that Among Us does not have a single player game, but you can practice completing tasks in the so-called "Free Mode".
How to play Among Us?
In Among Us, you play either as a regular crew member or as a traitor (impostor) – both roles are assigned randomly at the beginning of each game round. Players take control of cartoon astronauts running across the decks of a spaceship (and other themed locations) in an isometric perspective.
Players are divided into two teams: crew members and traitors. The first are tasked with performing various tasks on the territory of the ship, for example, restoring the wiring of the electrical panel or throwing debris into the vacuum of space, the second – to kill the crew members or sabotage their activities, for example, by cutting the same wiring. An important detail: none of the players knows who took the role of the traitors.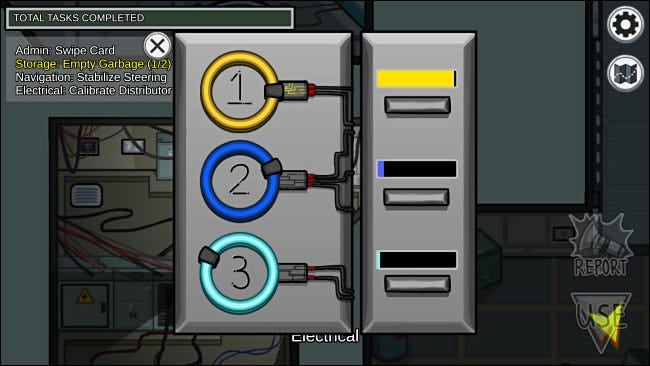 Throughout the match, the crew members will try to identify the traitors in their ranks and throw them into open space through the nearest atmospheric airlock. Speech is your biggest asset when playing Among Us. An eloquent traitor can not only convince other players that he is not a traitor, but also make them think that "red is a traitor, throw him the hell out of the ship!" Of course, red at the same time is completely out of business …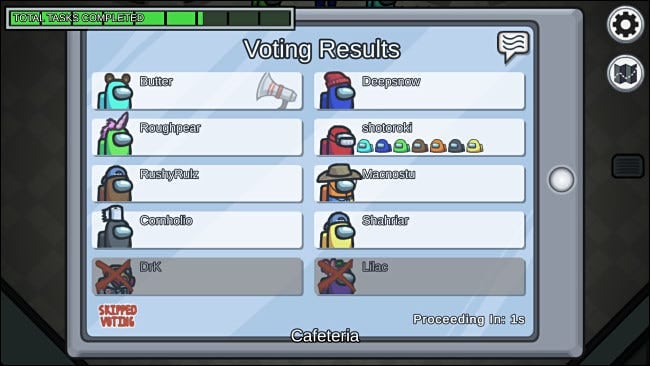 Do you know what is more interesting than playing Among Us? Watch other people play in Among Us. The InnerSloth project is still one of the most popular games on the video streaming platform Twitch – it can be found on the main page of the service even now.
Among Us is a cross-platform game?
Yes, Among Us is a cross-platform project. You can easily connect to players' lobbies from a wide variety of gaming platforms. The main thing is to share a special code with each other, and the trick is in the bag! Wait, where, in fact, can you find this very code? When you create a lobby, a six-digit code will be displayed centered in front of you at the bottom of the screen.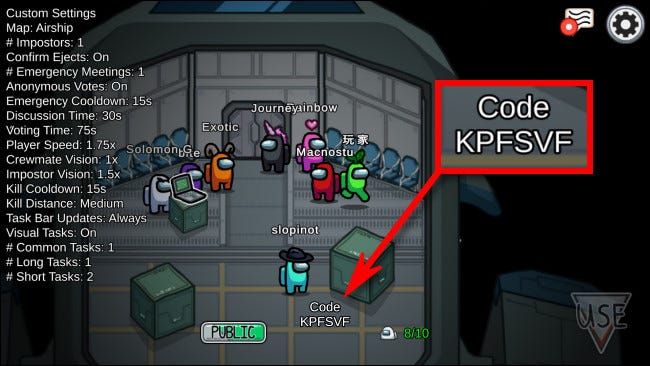 In order for other players to join your lobby, they need to select Multiplayer → Frequent in their game, and then enter the code provided to you. Attention: you cannot join an active game.
Is Among Us a game for kids?
There are elements of violence (albeit cartoonish) and suspense in Among Us, but you will not see liters of blood or sexual connotations in it. The game is great for kids 10+, but we'd still think twice before giving it to younger kids. Firstly, the game puts constant psychological pressure on the player, forcing him to run through dark corridors in search of his goal.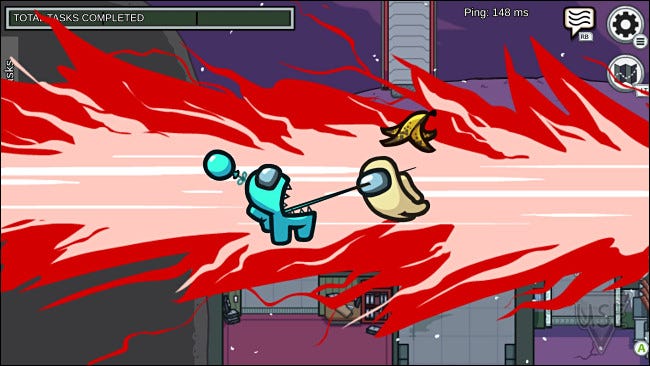 Secondly, in Among Us, you need to constantly interact with other players, whether through text chat or voice communication. Thirdly, the players in Among Us are not always friendly to children in the lobby: obscene language and open aggression are common attributes of many gaming sessions. Simply put, children can feel extremely uncomfortable with Among Us.
Nevertheless, the last word is still yours, parents!
What are "Normal Chat" and "Quick Chat" in Among Us?
On first launch, Among Us requires the player to enter their age. If you enter an age under 13, then the game will be limited to "quick chat", which allows you to communicate with other players only through pre-prepared phrases. If you specify an age of 13 and above, you will have access to "regular chat", which allows you to freely communicate with other players through text – in a familiar way.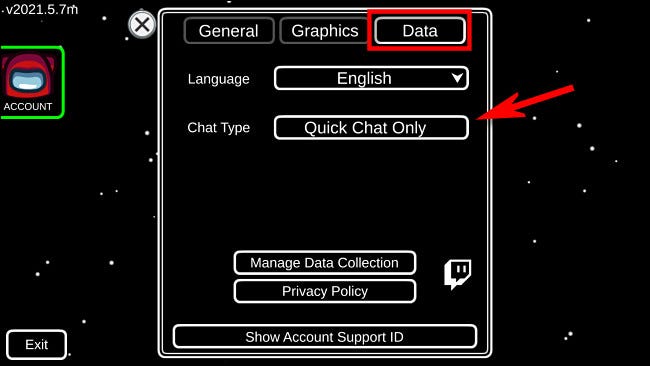 Nevertheless, nothing prevents you from entering the Among Us settings and changing the chat type yourself. To do this, click (or tap) the gear icon, go to the "Data" tab and select the desired option from the chat type drop-down menu. It should be noted that changing the chat type on a Nintendo Switch console may not be possible due to active parental restrictions.
What does "SUS" (or "SAS") mean in Among Us?
The term "SUS" is an abbreviation of the word "suspicious", which means "suspicious" in Russian. Your companions can let "SUS" in your direction if they began to suspect you of dubious activities directed against the crew members, that is, they began to see you as a traitor. It's funny, but most often it is just ordinary players who are trying to complete their tasks and survive, and not traitors, who are accused of suspicion.
Moreover, the term "SUS" is very often used by the traitors themselves on other players to deflect suspicion from themselves. Of course, in order for the term "SUS" to be applied to you, regular chat must be activated in your game (see above ↑). If you only use fast chat, then you can use the phrase "[НИК ИГРОКА подозрительный]".
How to change your appearance in Among Us?
To change the appearance of your astronaut in Among Us, join any game and go to your laptop in the lobby. Click on the "Use" button or select the "Customize" option in the right-hand corner of the display. After interacting with the laptop, a screen will appear in front of you where you can change the color of your spacesuit and add a pet or a hat to it.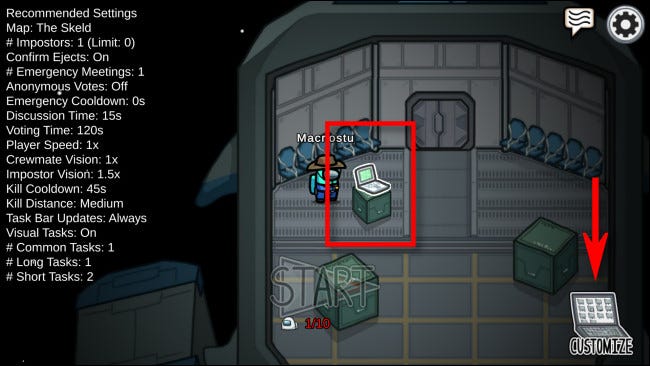 These changes will apply to all servers, but your chosen color may not be available if another player in the lobby is already using it.
How do I change my name in Among Us?
To change your name in Among Us, click (or tap) on the "Account" button in the main menu of the game. Next, click on the "Change name" button, which will be located under your character's personal card. Here you will have two choices: enter the name yourself or use the "Random name" option.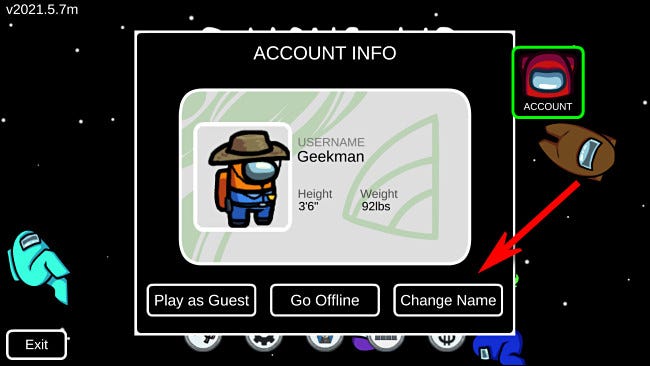 The choice is entirely yours.
What can you play in Among Us?
Currently, Among Us is available on PC (Steam, Itch.io, Epic Games Store and Microsoft Store), Android, iPhone, iPad and Nintendo Switch. Sometime in 2021, InnerSloth studio plans to release its project on PlayStation 4, PlayStation 5, Xbox One and Xbox Series X | S.
Is Among Us free? If not, how much does it cost?
Today the price of Among Us is about $ 5 (only 133 rubles on Steam!), And on mobile platforms it is distributed at all free of charge. True, in the case of the latter, you will have to endure annoying advertising, but you can get rid of it by purchasing a relatively inexpensive upgrade to the "ad-free version". And don't forget that in Among Us on any platform you can buy all kinds of cosmetic items for your astronaut.
Have fun and try not to get SUS from other players in the lobby!
Earn points and exchange them for valuable prizes – details