Where to find companions in Fallout 76 and how to have an affair with them
Thanks to the Wastelanders update, Fallout 76 finally has real, live NPCs that you can not only interact with, but also take them to your companions. Unfortunately, these companions are not the equivalent of the Fallout singles companions: they will remain in your personal camp, thereby protecting it from enemy raids. Little by little, these NPCs will tell you about themselves, and at some point you may even be romantically involved with them.
Currently, there are two satellites available in Fallout 76: Sophia Daguerre and Beckett. To recruit them into your squad, you will need to complete a number of special missions, which can only be accessed at level 20. These missions are damn hard, and therefore we strongly recommend that you get powerful guns and a whole pile of ammunition. It is also important to note that only one of the two companions can be kept in the camp.
Are we going in search of Sophia and Beckett?
Finding Sophia Daguerre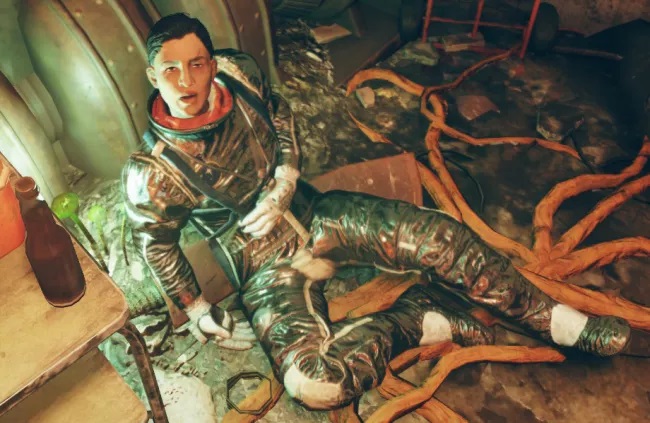 So let's start with Commander Sophia Daguerre. "Wait, why does she have the rank of commander?" – you might think. The fact is that Sofia is the commander of a spaceship who was not lucky enough to crash in a swampy area in the northeastern corner of West Virginia. As soon as you travel to those places, your PipBoy will pick up her distress call – this will start the satellite mission.
But we must repeat once again: you will only be able to catch the commander's signal when you reach level 20! A wounded Sofia can be found in the East Ridge Lookout, in a bunker. As soon as you talk to the girl, she will direct you to her damaged spaceship to download some important data from it. While you are loading data, crowds of super mutants will attack you. An extremely difficult fight – prepare well.
However, there is a way to complete this mission without engaging in a fight with fifty super mutants. You just have to … run away. Get away from opponents until the data download is complete. Then take the data and return back to Sofia. But do not rush to rejoice: at this stage, she is still not your companion. Before that happens, you need to complete the mission to find the robot. Then you just have to put the USSA console in your camp, and the trick is in the bag!
Finding Beckett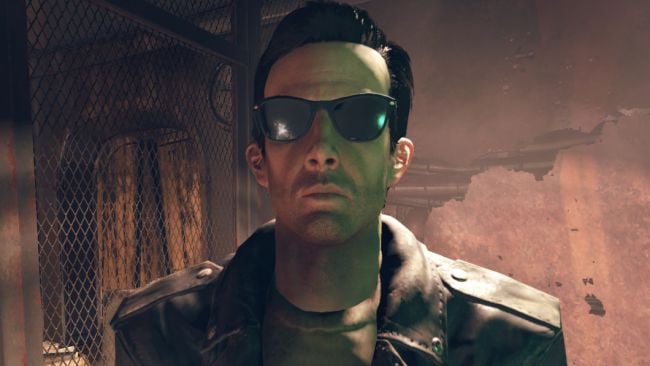 Beckett is held captive by a gang of Blood Eagles in their Rollins Labor camp (a completely new zone for the game) in the southwest of the world map. Considering who we are dealing with, be ready for a heated battle. Get to Beckett and talk to him. To free him, you will have to find a key that lies in one of the adjacent towers outside. After that, another pack of bandits will arrive – deal with them.
Returning to Beckett and freeing him, he will ask you to head to the second camp of the Blood Eagles, located to the south, and find there his lost equipment. As in the case of the first camp, strong resistance awaits you – do not go there without preparation. If you want to fight another pack of bandits, you can secretly climb into the camp from its back, pick up the equipment you are looking for and wash your hands.
As soon as you return to Beckett, you will have the opportunity to invite him to become your companion. Nevertheless, if you already have an astronaut console in your camp, forget about Beckett. You will have to get rid of the girl's console and put Beckett's console instead. Don't worry: this decision will not affect your relationship with these two characters in any way, and therefore you can safely switch their places if necessary.
What about romantic relationships?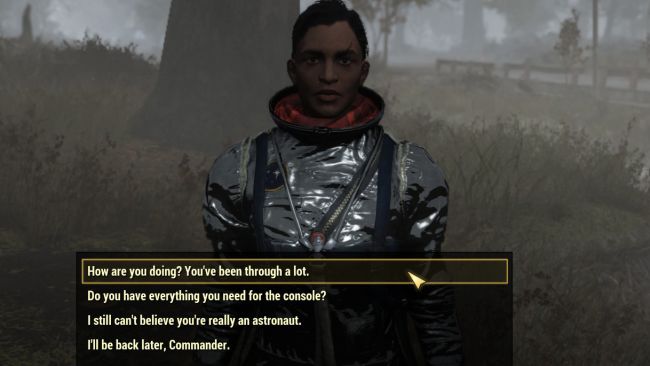 Well, here we come to the most interesting thing, namely a romantic relationship. In this regard, everything works approximately the same as in any other game with RPG elements over the past ten years. The whole process looks something like this:
we talk with our allies;
we get from no[uniquemissions;[уникальныемиссии;
we carry out missions;
we return to our allies and get new answers;
we are doing this until the dialogue appears an option that allows you to have an affair with an ally.
If you've played the Dragon Age or Mass Effect series, you definitely won't get lost. Good luck finding allies in Fallout 76!
Earn points and exchange them for valuable prizes – details