which platform is best for players?
Over the years, Steam has repeatedly competed with many contenders for the title of "premier" store for distribution of PC games. Without a doubt, the Epic Games Store is the largest and best contender for this honorary title. But which of these digital platforms is better? In this article, we will bring Steam and Epic Games Store face to face, looking at different aspects of the two stores, from their user interface to game prices. Here's how each of them performed in different categories …
What is the Epic Games Store?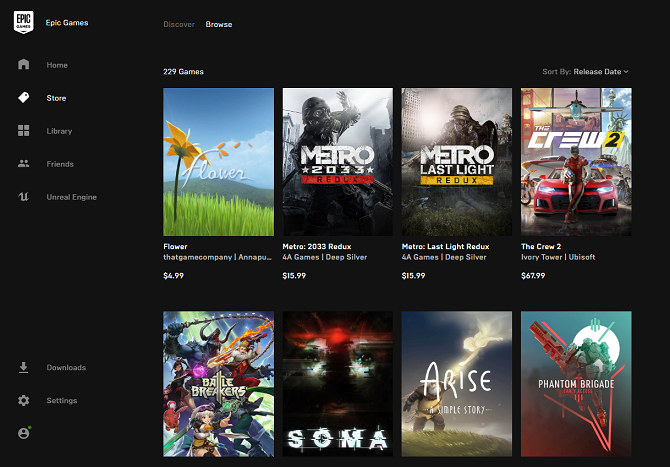 The Epic Games Store is a digital distribution store for PC games created by Epic Games, which is best known for creating the Unreal Engine and the highly popular game Fortnite. The store went live in December 2018 and interacts with users through the Epic Games Launcher. The Epic Games Store can be accessed either through a standalone client or through the website.
Unlike many other digital stores launched by game publishers, EGS is not limited to Epic Games only. This store sells a variety of temporary exclusives, popular indie games and a small selection of AAA titles. Among other things, EGS includes social features such as friends list and chat. Other useful aspects include the game library and news feed.
What is Steam?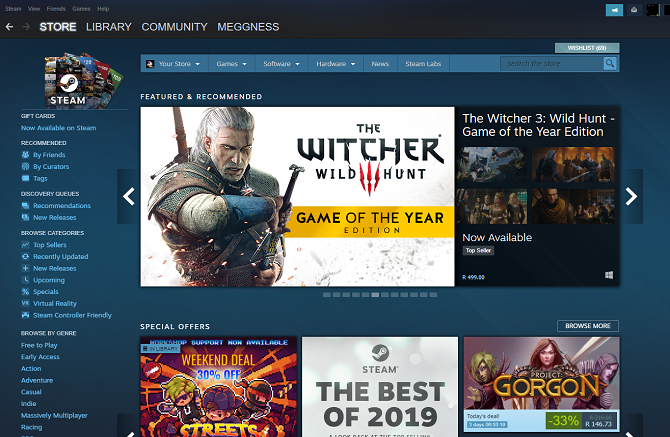 Steam is a digital distribution store (and streaming platform) for PC games created by Valve Software, creators of games such as Left 4 Dead and Dota. In addition, Valve is also the creator of the Source game engine. Steam was launched back in 2003, making it one of the oldest digital distribution stores still in existence. Steam has its own standalone client, but it can also be accessed through the respective website or mobile app.
Besides the storefront, Steam has an impressive list of other useful features. This platform acts as a social gaming hub, streaming service for video games, etc.
Steam vs Epic Games Store
Steam or Epic Games Store – which is better? It all depends on the specific category in which they are compared. Better than Steam in some ways, and EGS in other ways. Let's take a look at the different aspects of each store and choose a winner in each category.
Steam vs Epic Games Store: UI
In terms of user interface, both stores are stylish and modern in design. However, Steam undoubtedly has richer functionality, a large number of all kinds of tabs and various elements.
The same can be said for the game libraries on both platforms. In 2019, the Steam game library received a more modern design, and each game has its own news feed (something similar to the PlayStation Network). Minus – the library has become heavily cluttered with various interface elements.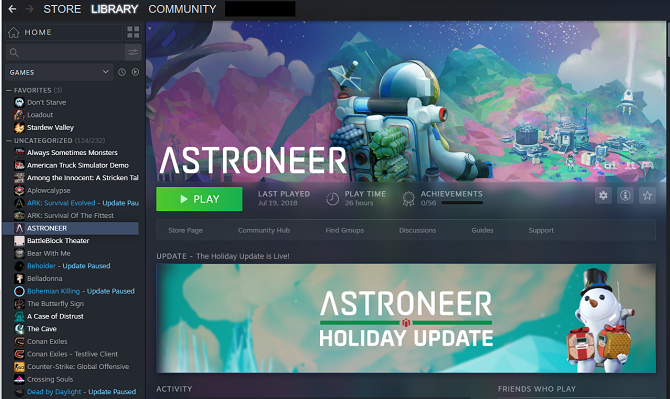 Epic Games, on the other hand, keeps all news feeds in the home tab, which gives the library a minimalist style. By simply clicking on a particular game in the list, you can launch, update or install it.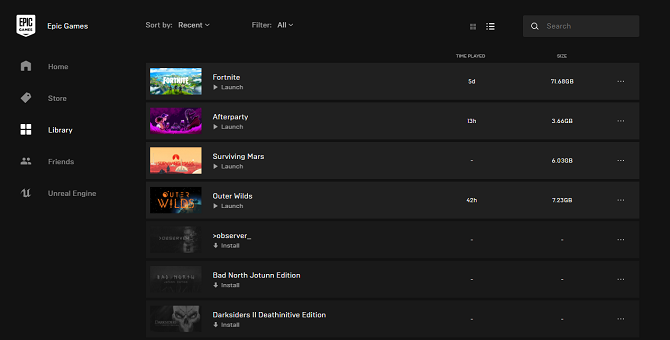 The interfaces of both stores have modern designs, and therefore everything will come down to personal preference in this respect. When it comes to ease of use, the Epic Games Store interface is much more user-friendly.
Fewer tabs and dropdown menus definitely emphasize the minimalism of EGS, while Steam's interface can be a little overwhelming for those who don't use it on a regular basis.
Winner: Epic Games Store
Steam vs Epic Games Store: Game Assortment
When it comes to gaming, Steam undoubtedly includes a wider range of products available. Quantity does not mean quality. One of the reasons to stop buying games on Steam is the presence of low-quality games and clone games on the platform. In this respect, Steam is somewhat similar to the Google Play Store.
Yes, you will have a wider range of options, but really awesome games can end up buried in piles of rubbish. Regarding early access games: unfortunately, in this regard, Valve takes on minimal responsibility – the verification of developers of this type of game is rather weak.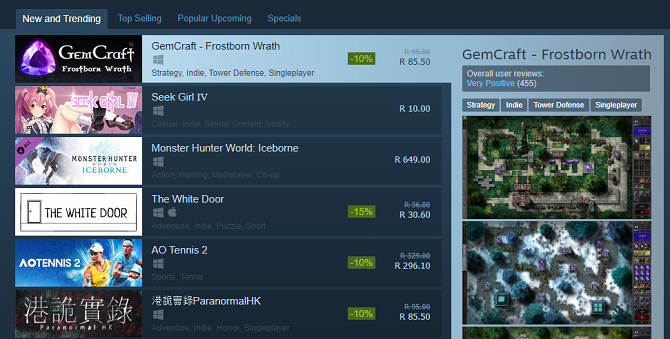 Steam is a paradise for indie gamers, but considering the total number of titles available on the platform, the developers of these games are having a hard time advertising their projects.
The Epic Games Store, in turn, has a much smaller number of games available, but their quality is significantly higher. Both AAA and indie games can be found in this store – and often their quality is guaranteed.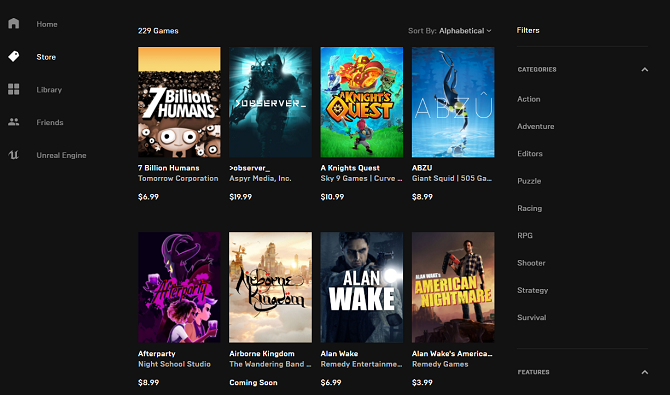 The main disadvantage of the Epic Games store is that some of the popular projects are not available there. For a year and a half of its existence, the range of games on EGS has undoubtedly expanded, but many of the gems of the gaming industry have remained behind. These games include Stardew Valley, Don't Starve and others. Apparently, Epic gives preference to new indie games, not adding slightly outdated projects to their catalog.
Both stores are guilty of actively promoting video game pre-orders (although many industry experts strongly advise against this), even for projects that are due to release in a few months or more. So none of the stores is a winner in this regard.
Game winner: Steam
Quality Winner: Epic Games Store
Steam vs Epic Games Store: Store Features and Benefits
Apart from the user interface, each of the stores has different advantages when it comes to exclusive features and privileges.
Valve has been fine-tuning the game recommendation algorithm for Steam users for years. This means that the store provides the services of an interactive advisor – supervised a list of recommendations that players can use to familiarize themselves with decent platform games in targeted genres.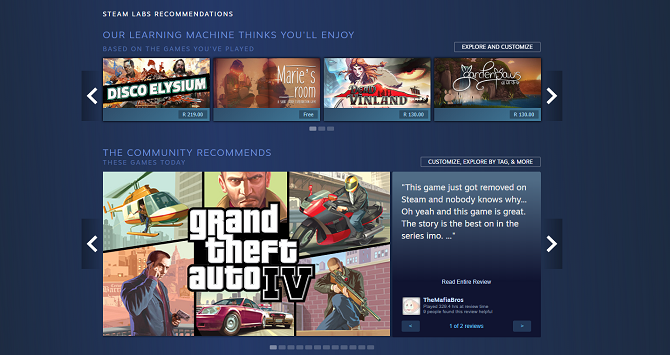 Steam also offers sale minigames, in-game collectibles and a marketplace for in-game items. The Steam Review System helps collect community feedback on games – a useful system by which you can determine the quality of a game. However, the system is vulnerable to the so-called "review bombing".
The Epic Games Store also has a couple of tricks up its sleeves. This includes limited-time free video game giveaways. The store is also rapidly promoting temporary exclusives, with some well-known developers releasing their PC games first on the Epic Games Store and only then on other platforms.
But even with all of the above, Steam still has the edge in the form of a convenient catalog of available goods, game recommendations according to user preferences, collectibles and in-game items to be sold.
Winner: Steam
Steam vs Epic Games Store: Social Features
Both Steam and the Epic Games Store have social features like chat and the ability to add people to your friend list. However, as with other categories, the user-to-user interactions on Steam are far more extensive than the Epic Games store.
To other social. Steam features include: profiles where other users and friends can post entries, the ability to share various media (screenshots, gifs, videos), game recommendations based on what your friends are playing, the ability to invite friends to game sessions, discussions and communities.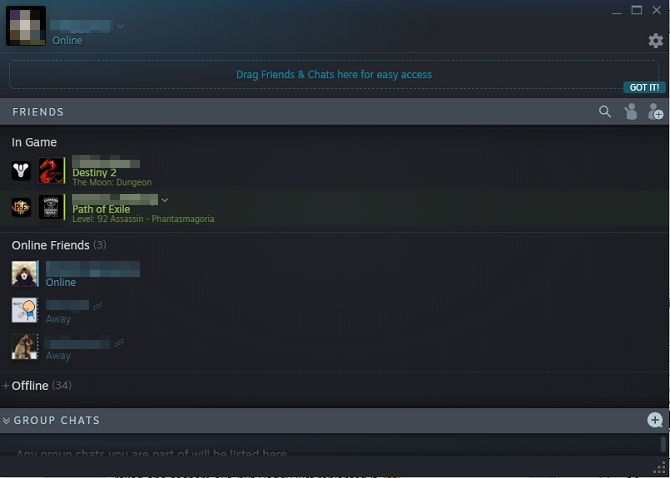 Social Epic Games' features are mostly centered around chat and friends list. However, this store has a noticeable advantage – the ability to connect your Steam profile to console profiles so that you can chat with your friends across all available platforms. This means you can talk to your friends and invite them to games like Fortnite even when you're all on different platforms.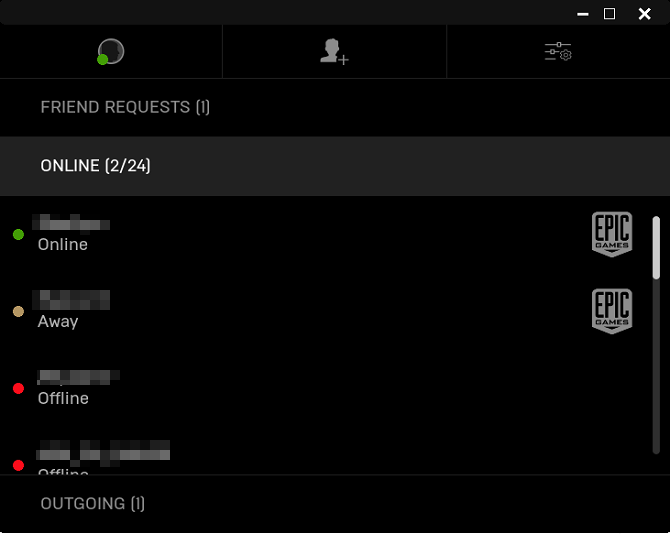 If social. features are really important to you as a gamer, then Steam is your choice.
Winner: Steam
Steam vs Epic Games Store: Pricing and Revenue Distribution
For many gamers, the deciding factor when choosing a platform is not necessarily the user interface or social features, but the prices of the games. So how do Steam and Epic Games Store compare in this aspect?
Neither platform is always more profitable: the difference in prices depends on the specific case or regional prices.
However, because Steam is available in more regional currencies, it often uses market prices rather than a simple dollar conversion. Therefore, in South Africa, for example, retail games are priced at $ 70 rather than $ 60. Instead of setting a regular dollar price, Steam uses the regional price as its base price.
In this case, the direct conversion offered by the Epic Games Store allows you to purchase most of the games at lower prices. However, Epic also occasionally sets their own regional pricing.
For this reason, it cannot be said with certainty that either of these two stores has better prices for players.…
But when it comes to revenue sharing, the Epic Games Store offers a better value for developers than Steam.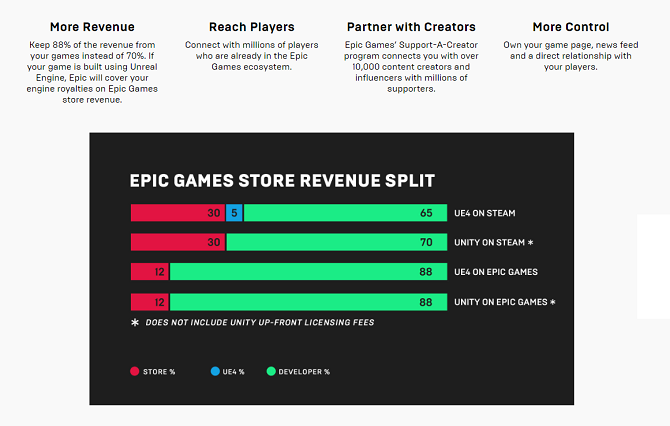 At the time of this writing, the distribution of revenue between Steam and the developers ranges from 30/70 to 20/80 (depending on game sales). This means that Steam takes 20 to 30% of the revenue generated by the game. The company only lowers the percentage if the game manages to earn more than $ 10 million.
On the other hand, the Epic Games Store offers a 12/88 revenue split. Game sales do not affect this ratio in any way. In addition, developers using Unreal Engine 4 in their games are not charged the usual 5 percent royalty that the company forces to pay when games on this engine are published on other platforms.
Revenue Sharing Winner: Epic Games Store
Steam vs Epic Games Store: Technical Draw!
By comparing these two digital distribution stores in different categories, we cannot pick a winner. You must do this yourself. You want more affordable prices (in most cases), a less cluttered store with an intuitive interface, early access to exclusives – you are in the Epic Games Store. Are you an active gamer who uses skins, loves the achievement system, trades in-game currency, or loves having a huge selection of games? Then you should definitely opt for Steam. In real conditions, it is difficult to remain a fan of only one store; often you have to use both platforms. But you can still choose your favorite.
Earn points and exchange them for valuable prizes – details