why it occurs and how to fix it
Some users are facing a license error when installing Minecraft Earth via an APK file downloaded from a third party. The full text of the error contains the following information:
License error

We were unable to verify that you purchased Minecraft on this device. Make sure you download and install Minecraft from the store. Or just reconnect to the Internet and try again.
The function of this message is to stop players who did not purchase Minecraft legally, but downloaded a hacked copy. Wait a minute, Minecraft Earth is completely free: what kind of license can we talk about?
Well, it turns out that this error refers not so much to the recently released Minecraft Earth, but rather to Minecraft Pocket Edition. It became known that the novelty uses some files of the original game for its work. This is why you can see that the message simply says "Minecraft".
Fixing Minecraft Earth License Error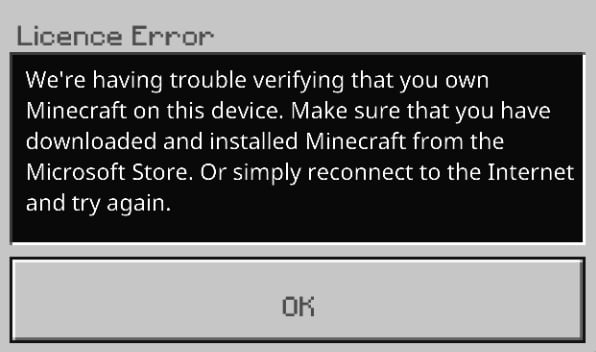 To fix the license error in Minecraft Earth, you need to do the following:
make sure that you have launched Minecraft Earth at least once, installed all updates for it and logged in with a Microsoft account;
go on your smartphone (or tablet) to the Lucky Patcher download page;
go down to the bottom of the window and click on the blue button "Download LP Installer";
download the APK from the link, run it and follow the instructions on the display;
open the "Lucky Patcher" application;
click on the item "Minecraft Earth", and then on the button "Menu of Patches";
then click "Remove License Verification" and "Auto mode";
without changing any settings, click on "Apply".
The process of modifying the game may take some time. Plus, do not forget that the success of removing the license check is only 50 percent. Simply put, you may need to follow the steps above again.
Once the process is complete, close the Lucky Patcher app and open Minecraft Earth. The game should now open without any license errors. If the error still appears, then in the seventh step select the "Make a license for app" option to make the game think you have a license. This should also help you work around the error and log into Minecraft Earth normally.
The free version of the game can be downloaded from this link – Minecraft Earth APK
Earn points and exchange them for valuable prizes – details