Assassin's Creed Valhalla – How to get to Lerion's crypt
Some of the best gear and resource items you can find in Assassin's Creed Valhalla are usually hidden away in little-known places. Off the beaten track in East Anglia, there is a special piece of equipment found inside the Lerion family crypt. But it won't be easy to get there.
How to get gear in East Anglia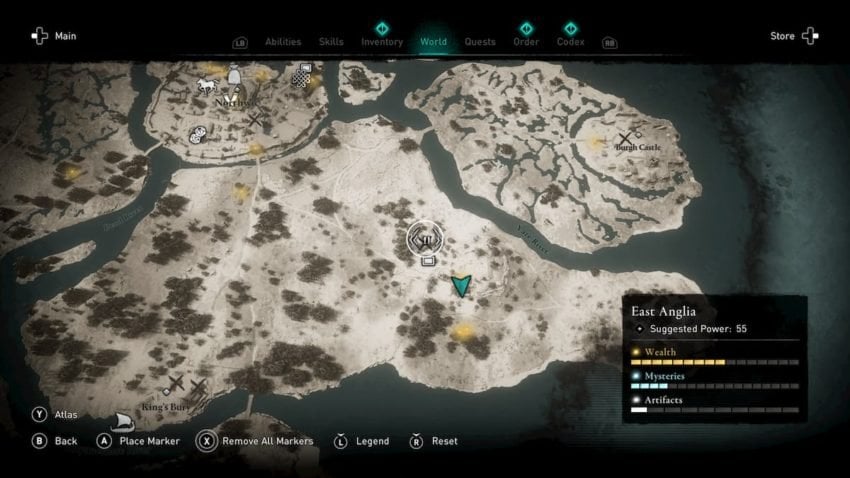 The entrance to the underground, where the crypt of Lerion is located, can be found on the banks of the Yar River, near an abandoned monastery. After entering there, go straight. On the way, you can find several notes detailing the history of the crypt owner and his three daughters. At the end, you will find that a statue with three slots in the back blocks the path to the equipment. Eyvor will walk up to the statue and examine these crevices, commenting that they were probably made in order to insert weapons into them. To obtain this weapon, you will first have to find the three daughters of Lerion.
Location of the daughters of Lerion
While you can easily find Lerion's daughters early in the game, it's best to wait. They are strong opponents, and if you face them too early, you will most likely lose.
Here are the locations where each of the three daughters is located, as well as the number of power or strength points required to defeat them:
Goneril: North of the monastery of Ely Isle in Grantbridgeshire. The required power level is 90.
Regan: East of Elmenham in East Anglia, on Walsham Cliff. The required power level is 160.
Corelia: Southwest of the British Marines in East Anglia, in the Burklow Marshes. The required power level is 340 (the maximum level in the game).
After killing Lerion's daughters, in addition to daggers, you can take three pieces of equipment from them: pants, torso protection and gloves. After you defeat their three sisters, return to Lerion's crypt and use three daggers to access the unique piece of equipment hidden in the chest. This will be Thor's helmet – a worthy gift as a reward for such a difficult task.
Earn points and exchange them for valuable prizes – details